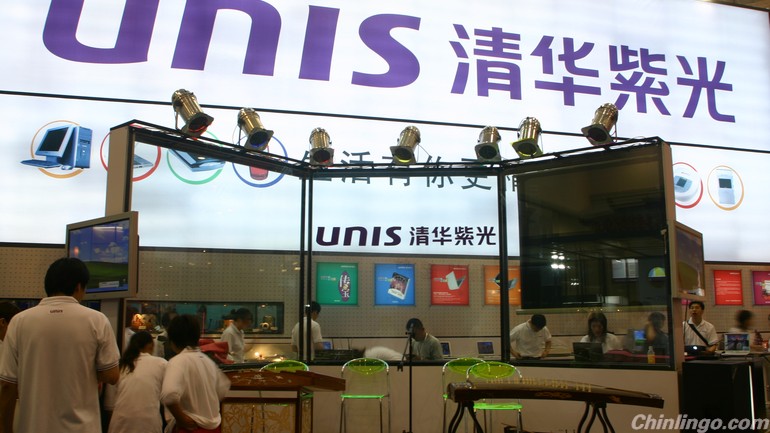 Tsinghua Unigroup Ltd. is in talks to buy a controlling stake in Hewlett-Packard Co. 's China data-networking operations, Mr. Zhao, its chairman, said in an interview earlier this week. Discussions are still taking place over the 51% stake in H-P subsidiary, H3C Technologies Co., he said, in a deal that people familiar with the talks say could value H3C at as much as $5 billion.
清华紫光投资股份有限公司董事长赵卫国,在这周初的一次采访中说,其公司正在和惠普公司谈判,购买其中国数据网络化运营的控股权。他还表示,双方还在惠普子公司H3C技术公司围绕51%的控股权展开讨论。一个知情人士说,若达成协议,H3C将价值50亿。
Some of Silicon Valley's largest firms have deepened their China partnerships in the past year. Chip maker Intel Corp. is already a partner of Tsinghua Unigroup, having bought a 20% stake last year for $1.5 billion. Intel also launched a partnership with Huawei Technologies Co. in March to make cloud solutions for telecom carriers.
清华紫光投资股份有限公司董事长赵卫国,在这周初的一次采访中说,其公司正在和惠普公司谈判,购买其中国数据网络化运营的控股权。他还表示,双方还在惠普子公司H3C技术公司围绕51%的控股权展开讨论。一个知情人士说,若达成协议,H3C将价值50亿。
Mr. Zhao's company has drawn interest from both U.S. firms and support from China's top officials, as Beijing strives to develop a homegrown semiconductor sector. Tsinghua Unigroup became China's largest chip maker after acquiring two of the country's largest mobile-chip firms, Spreadtrum Communications and RDA Microelectronics, in 2013. Intel executives said last year that they believe partnering with Spreadtrum is opening doors for the company in the low-cost smartphone market, a sector that Intel has its eye on.
当北京大力发展国产的半导体产业时,赵卫国的公司已经在美国公司和中国高级官员的支持下产生利息。2013年,清华紫光投资股份有限公司在收购国家最大的移动芯片公司(展讯通信和锐迪科)后,成为中国的最大芯片制造商。去年,英特尔执行主管说,他们相信与展讯的合作为公司在廉价的智能手机市场开启了一扇门,英特尔已经将其目光转移到这一领域。
Mr. Zhao said he believes that by following the lead of Chinese companies like Huawei and investing over the long term, he can build a world-class company.
赵卫国说,他相信,接下来,在中国公司如华为在长期投资的领导下,他可以建立一个世界级的公司。
Little is known about Tsinghua Unigroup outside of China. It was founded in 1988 by China's elite Tsinghua University, the alma mater of many of the country's top leaders, including current President Xi Jinping. It is still controlled by a university holding company and has close ties with the government through Tsinghua's alumni network.
国外很少人知道清华紫光投资股份有限公司。该公司由清华大学精英在1988年创建。清华大学是许多国家高层领导人的母校,包括现在的主席习近平。该公司依旧由大学控股公司管理,并且通过清华校友网与政府密切联系。
Beijing's new chip support fund announced in February it would invest 10 billion yuan in Tsinghua Unigroup in the next five years.
北京新的芯片支持基金在2月份宣布,在接下来的5年里,将在清华紫光投资股份有限公司投资100亿元。
Tsinghua Unigroup is expanding the chip business rapidly, planning to add 1,000 employees by the end of the year to the 4,000 already on the payroll, Mr. Zhao said. He estimated chip revenue to reach $1.8 billion this year, up from $1.5 billion last year—still a drop in the bucket of the $340 billion world-wide chip market, according to tech research firm Gartner's estimate for 2014.
赵卫国说,清华紫光投资股份有限公司正在快速扩展器芯片贸易,计划年底在工资单上增加1000名员工,员工将达到4000名。他估计芯片收益会从去年的15亿美元增加到今年的18亿美元–根据2014年信息技术研究公司高德纳公司推测,这只是全球范围内的芯片市场3400亿美元的九牛一毛而已。
Mr. Zhao said he hopes to forge more partnerships with U.S. companies such as H-P.
赵卫国说,他希望和美国公司创造更多的合作伙伴关系,比如说惠普。
"I believe we are creating a new kind of model for U.S.-Chinese company partnerships," he said.
他说:"我相信我们正在为中美公司的伙伴关系创造一种全新的模式。"