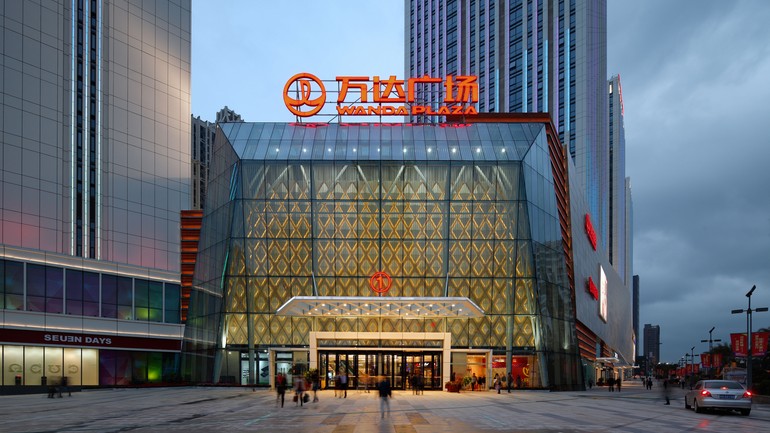 It was a typical display of razzmatazz from
one of China's richest and most flamboyant tycoons – music, strobe
lights, attractive young women and flowing champagne under the
shimmering chandeliers of the Sofitel Hotel ballroom in Beijing's
central business district.
Last
month, Wang Jianlin was celebrating his latest deal in style – a $1.2bn
(£800m) takeover of Infront Sports and Media, the company that holds a
chunk of the marketing rights to the Fifa World Cup.
Just weeks earlier, he had taken a 20pc stake in Atlético Madrid
football club and in December he had floated the property arm of his
vast empire, Dalian Wanda, crystallising a fortune that ranks him behind
only Jack Ma, founder of the online marketplace Alibaba, as China's
wealthiest man.
Wang is on a shopping spree. Having built up one of China's largest companies, he is branching out, snapping up interests around the world on a quest to "make Wanda a brand like Walmart or IBM or Google, a brand known by everyone in the world".
His next stop could be the UK. Wanda already owns Sunseeker, the Dorset-based luxury yacht builder,
which it snapped up two years ago, but the company is thought to be
contemplating a much bigger target: the holiday resorts operator Center
Parcs. At £2.5bn it would be among Wanda's largest foreign forays yet.
The story of Wang's rise is remarkable. A former officer in the
People's Liberation Army, then briefly a bureaucrat, he has turned a
virtually bankrupt state-owned housebuilder into a colossal conglomerate
in just 25 years.
In 1988, after a short spell as a government
official in the Xigang district of the north-eastern port of Dalian,
Wang was appointed general manager of a government-owned property
developer in the city. The business was on its knees but he nursed it
back to health with some lucrative contracts to renovate rundown local
houses. By the early 1990s, Wang had bought out the government's shares
and renamed the company Wanda.
It has stayed true to its roots
while growing at breakneck speed and today Wanda is huge. Its flagship
property arm alone is the second largest commercial property owner and
operator in the world. According to a stock exchange filing when it
listed in Hong Kong last year, the subsidiary oversees 175 projects
across China, including almost 100 Wanda shopping plazas, 60 luxury
hotels, and office and residential towers.
In recent years,
Wang, like many entrepreneurs from emerging markets, has been trying to
reduce his company's exposure to its home market and accumulate broader
interests overseas.Wanda is massively exposed to China's property
market, which has been slowing rapidly since the financial crisis.
It has expanded into: theme parks, where Wang says he can take on Disney; cinema, with the $2.6bn takeover of the US chain AMC in 2012; and even art investment, including 1,000 pieces of Chinese calligraphy, and a $30m Picasso.
Thanks to his foreign empire-building Wang is now box office. In 2013,
Wanda announced plans to build its own Hollywood in the eastern city of
Qingdao – a state-of-the-art $8bn film studio complex – in an attempt to
dominate China's rapidly growing movie market.
The launch party was attended by Nicole Kidman, Leonardo DiCaprio, Ewan McGregor and Catherine Zeta-Jones.
It's not clear how interested Wanda is in Center Parcs at this stage.
Indeed, sources suggest he has been approached by advisers to
Blackstone, the American private equity firm that owns the company, to
gauge his interest. Perhaps holiday parks in places like Bedfordshire
and Cumbria aren't sexy enough when compared with the red carpet of the
movie industry or fine art collecting.
If Wanda does enter the
bidding, it sets up a fascinating tussle between some seriously
deep-pocketed investors. GIC and Adia, Singapore and Abu Dhabi's
sovereign wealth funds, plus CVC, Europe's mightiest private equity
fund, are all interested.
So can Wang, a man who until a few
years ago few had heard of outside China, go up against these titans?
He's just been named mainland China's richest man by Forbes, with a
personal fortune of $25bn.