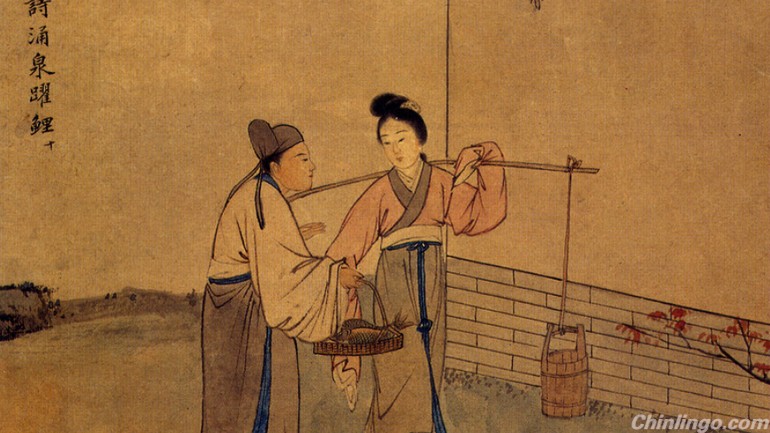 Jiang Shi was a man of Guanghan, Sichuan in the East Han Dynasty. He married
Madam Pang and the couple was pious.
姜诗,东汉四川广汉人,娶庞氏为妻。夫妻孝顺,其家距长江六七里之遥
Madam Pang often went to the riverside to fetch the Yangtze River water 6 to
7 li away from their home for her mother-in-law, which she liked to drink.
庞氏常到江边取婆婆喜喝的长江水。
Her mother-in-law liked to eat fish, so the couple often cooked fish for her.
婆婆爱吃鱼,夫妻就常做鱼给她吃
She didn't like to eat by herself, so they invited the old woman nearby to
eat with her together.
婆婆不愿意独自吃,他们又请来邻居老婆婆一起吃。
Once Madam Pang went to fetch water and came back later for strong wind.
Jiang Shi suspected she neglected his mother and drove her out.
一次因风大,庞氏取水晚归,姜诗怀疑她怠慢母亲,将她逐出家门。
Madam Pang lived in her neighbor's home, wove yarn diligently day and night
and asked her neighbor to send her savings to her mother-in-law.
庞氏寄居在邻居家中,昼夜辛勤纺纱织布,将积蓄所得托邻居送回家中孝敬婆婆。
Later her mother-in-law got to know she was driven out and ordered Jiang Shi
to invite her back.
其后,婆婆知道了庞氏被逐之事,令姜诗将其请回。
On the day when Madam Pang came back home, spring water spurted in the
courtyard suddenly and its taste was similar to that of the Yangtze River water.
Moreover, two carps jumped out from the water every
day.
庞氏回家这天,院中忽然喷涌出泉水,口味与长江水相同,每天还有两条鲤鱼跃出。
Henceforth Madam Pang could offer these to her mother-in-law instead of going
a long way to the riverside.
从此,庞氏便用这些供奉婆婆,不必远走江边了。