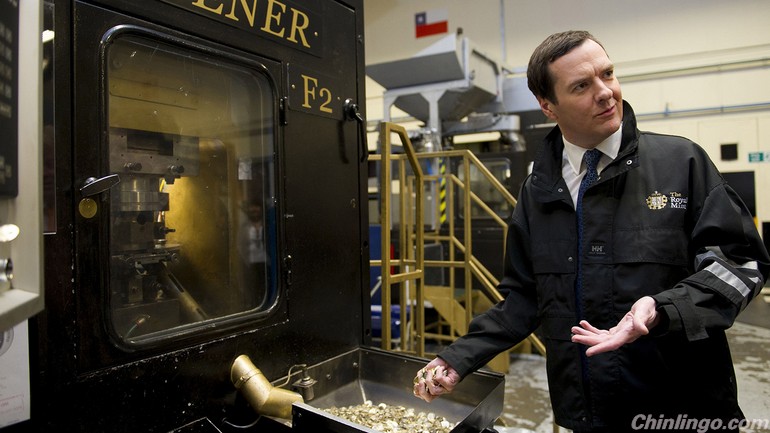 The Bank of England and the People's Bank of China reached an agreement on Wednesday to allow the clearing and settlement of renminbi trades in London, the first such arrangement to be struck outside of Asia and another sign of the British government's determination to make London a leading Western hub for Chinese trading.
本周三,英格兰银行和中国人民银行达成协议,批准伦敦提供人民币交易清算和结算服务,这是中国在亚洲之外达成的首项人民币境外交易清算协议,也是英国政府决意让伦敦成为西方主要的中国境外交易中心的又一标志。
The central banks will sign a memorandum of understanding at the end of the month and a bank will be designated soon, according to the British Treasury.
据英国财政部透露,两国的中央银行将在本月末签订谅解备忘录,并将迅速指定一家银行作为清算行。
"Connecting Britain to the fastest-growing parts of the world is central to our economic plan," said George Osborne, the chancellor of the Exchequer. "It's why I've put such government effort over the last three years into making sure we're the leading Western center for trading in the Chinese currency."
英国财政大臣乔治·奥斯本表示,"把英国与全球增长最快的地区连接起来,对我们的经济规划至关重要。正是由于这个原因,三年来我一直在从政府层面努力,希望确保英国成为人民币在西方的主要交易中心。"
Mark Boleat, policy chairman for the City of London Corporation, said he expected the agreement to affect how businesses in Britain operated. "It should encourage more U.K. firms to use the renminbi as a currency for international trade," he said.
伦敦金融城政府政策与资源委员会主席包墨凯表示,他预计协议会给在英企业的经营方式带来影响,"它应该可以鼓励更多英国公司把人民币用作一种国际贸易货币。"
British officials announced their intent in October to seek approval for a clearing and settlement bank. The British prime minister, David Cameron, and China's president, Xi Jinping, discussed cooperation of the two banks in a bilateral meeting on the sidelines of a nuclear security gathering in the Netherlands this week, leading to the announcement of the arrangement on Wednesday.
去年10月,英国官员宣布了他们谋求建立人民币清算和结算银行的意图。本周,英国首相戴维·卡梅伦和中国国家主席习近平在荷兰核安全峰会的间隙举行了一次双边会晤,探讨了两国央行的合作事宜。随后,两国央行于周三宣布了相关安排。
Analysts say the government sees the potential for growth. "Its vision is to become the No. 1 center for anything that Chinese currency can be used for outside of Asia, including deposits, foreign exchange transactions, debt and loans and dim sum bonds," said Jinny Yan, an economist at Standard Chartered Bank.
分析人士称,英国政府看到了增长的前景。"它希望成为亚洲之外的一切人民币交易的头号中心,无论交易形式是存款、外汇兑换、债务、贷款还是点心债券。"渣打银行经济学家严瑾说。
Ms. Yan said that Standard Chartered Bank developed a renminbi globalization index to measure overall growth in offshore renminbi use. It includes deposits, trade settlements and other international payments, dim sum bonds — Chinese bonds that attract foreign investors — certificates of deposit issued as well as foreign exchange turnover, all from an offshore perspective and denominated in renminbi.
严瑾称,渣打银行推出了人民币全球指数,以衡量人民币离岸使用的整体增长。该指数涵盖存款、贸易结算及其他国际支付、点心债券、已发放存款证明和外汇兑换交易,所有这些都是从离岸角度考虑,并且都以人民币计价。
Mr. Cameron has made clear that he wants to be at the center of the rise of the renminbi. During the October talks, Mr. Cameron told a Chinese business gathering, "If you are investing in Britain, invest more." He later added, "No country in the world is more open to Chinese investment than the U.K."
卡梅伦已经明确表示,他希望站在人民币崛起的中心。10月份的谈判期间,他告诉一些中国企业,"如果你们要在英国投资,那就多投一点。"他后来补充说,"英国是全世界对中国投资最开放的国家。"
According to Swift, the banking payments provider, 62 percent of renminbi payments outside of China take place in London. London is also the largest hub for foreign exchange trading, with about a 41 percent market share. But there are areas where London lags, like deposit-taking, said Ms. Yan of Standard Chartered. Luxembourg and Frankfurt are ahead on that front.
据银行支付服务提供商Swift称,中国境外的人民币支付有62%发生在伦敦。此外,伦敦还是最大的外汇兑换中心,占据着大约41%的市场份额。但渣打银行的严瑾表示,伦敦也有落后的领域,比如吸纳存款。在该领域领先的是卢森堡和法兰克福。
The London Stock Exchange has also been eagerly courting Chinese business and seeking to expand its access to Chinese products. In January, two China-focused exchange-traded funds listed in London.
伦敦证券交易所也一直在急切地招揽中国的企业,希望扩展吸纳中国产品的渠道。今年1月,两支专注中国题材的交易所交易基金在伦敦上市。