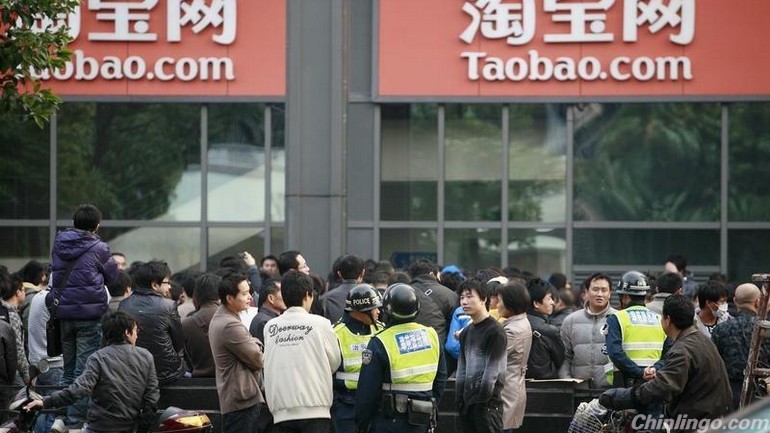 A China regulator has accused Alibaba Group Holding Ltd of failing to clean up what it called illegal business deals on the e-commerce titan's platforms, in an unusually strong government criticism of one of the country's biggest private companies.
中国国家工商行政管理总局批评阿里巴巴旗下淘宝网和阿里巴巴平台网店存在大量假烟假酒、假名牌包等违法商品。
The State Administration for Industry and Commerce (SAIC), in a report published on its website on Wednesday, said many products sold on Alibaba'S e-commerce websites and services infringed upon trademarks, were substandard or fake, were banned or endangered public security.
工商总局周三在其网站上发布报告称,阿里巴巴旗下淘宝网、阿里巴巴平台网店销售的商品或提供的服务存在大量侵犯他人注册商标专用权、商品质量不合格、无合法进口来源证明、国家明令禁止销售等问题。
Alibaba declined to comment on the report.
阿里巴巴拒绝对该报告发表评论。
SAIC said its report summarised a July 16, 2014, meeting between government business regulators and Alibaba, and said it had delayed releasing the report until now to avoid affecting Alibaba's September initial public offering.
工商总局称,该报告总结了2014年7月16日政府商业监管人员和阿里巴巴会议的内容,该局延迟发布报告以避免影响阿里巴巴上市。
"Alibaba Group has long paid insufficient attention to the illegal business activities on Alibaba platforms," the SAIC report said. The company "let that abscess fester until it became a danger," it added.
"阿里巴巴集团对阿里系网络交易平台存在的违法经营行为,长期没有引起足够重视,"工商总局的报告称,"以致养痈成患"。