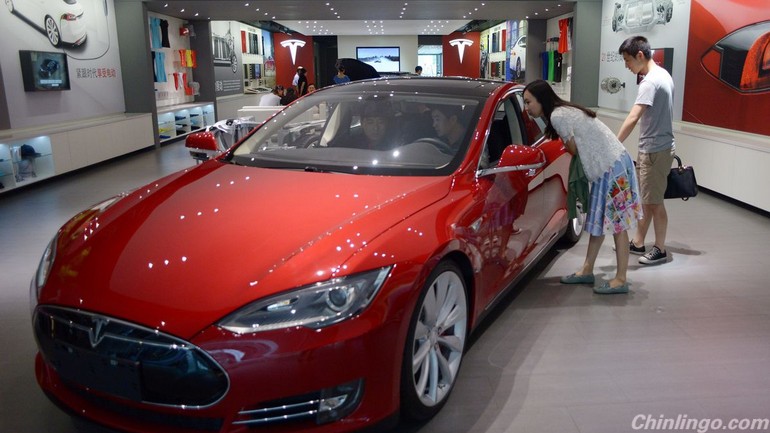 The Chinese government will waive a 10 per cent sales tax on electric vehicles in its latest attempt to spur consumer interest in environmentally friendly transportation.
中国政府将针对电动汽车免征10%的车辆购置税,这一最新举措旨在增强消费者对有利于环境的交通工具的兴趣。

More than 20,400 electric vehicles were sold in the first half of this year, according to the China Association of Automobile Manufacturers (CAAM), exceeding the number of pure electric cars and plug-in hybrids sold in all of 2013.

根据中国汽车工业协会(China Association of Automobile Manufacturers)发布的数据,今年上半年,中国的电动汽车销量超过2.04万辆,超过了2013年全年纯电动汽车和插电式混合动力汽车的总销量。

But in the context of the world's largest auto market, with sales of 18m cars last year, uptake has been anaemic. Wan Gang, China's science and technology minister, said at a briefing on Thursday that there were only about 78,000 electric vehicles – primarily public buses and taxis – on the country's roads.
然而,中国作为全球最大汽车市场,去年的汽车销量为1800万辆,人们对电动汽车接纳热情并不高。。中国科技部部长万钢在周四的一个发布会上表示,中国的电动汽车保有量仅为7.8万辆左右,主要是公交车和出租车。

According to a notice posted on the State Council's website, the tax will be waived from September 1 until the end of 2017. Shares in BYD, an electric carmaker based in southern China, rose 3 per cent in Hong Kong on the news. The 10 per cent sales tax, used to fund road construction, will be waived on locally produced and imported electric vehicles.
根据中国国务院网站发布的通知,从今年9月1日至2017年底,将对国产以及进口电动汽车免征10%的车辆购置税。这笔税收本用来为公路建设融资。受此消息影响,总部位于中国南方的电动汽车制造商比亚迪(BYD)在香港上市的股票上涨3%。

Industry executives and analysts say sales of mass market electric cars are likely to remain sluggish until charging stations and other infrastructure is in place. "Infrastructure is key," Mr Wan said. "We need to build charging posts and stations that are close to users."
行业高管和分析师表示,在充电站和其他基础设施建成之前,大众市场电动汽车的销量可能仍会疲弱。"基础设施是关键,"万钢表示,"我们需要在靠近用户的地方修建充电桩和充电站。"

Both Tesla and BMW will only sell their electric cars to customers who have charging facilities at either their home or workplace, and are working with property developers to install the necessary infrastructure. In May, BMW announced a small pilot charging network in Shanghai.
特斯拉(Tesla)和宝马(BMW)只会向那些在家或办公场所有充电设施的消费者销售它们的电动汽车,它们正与房地产开发商合作,在小区安装必要的基础设施。今年5月,宝马宣布在上海小规模试建充电网络。

Tesla is introducing what it hopes will eventually become a nationwide network of solar-powered charging stations. "The lack of charging facilities is constraining the development of the electric vehicle market," said Dong Yang, CAAM secretary-general.
特斯拉正推出太阳能充电站网络,并希望其最终推广到全国范围。中国汽车工业协会秘书长董扬表示:"充电设施缺乏正限制电动汽车市场的发展。"

The promotion of electric vehicles is in keeping with the Chinese government's "war on pollution", declared in March by Premier Li Keqiang. Beijing will also require all vehicles to adhere to a stricter emissions standard, known as National IV, by the beginning of next year.
中国推广电动汽车的举措与中国国务院总理李克强今年3月宣布的"向污染宣战"行动一致。中国政府还将要求所有汽车在明年初之前符合更为严格的排放标准———国四标准。