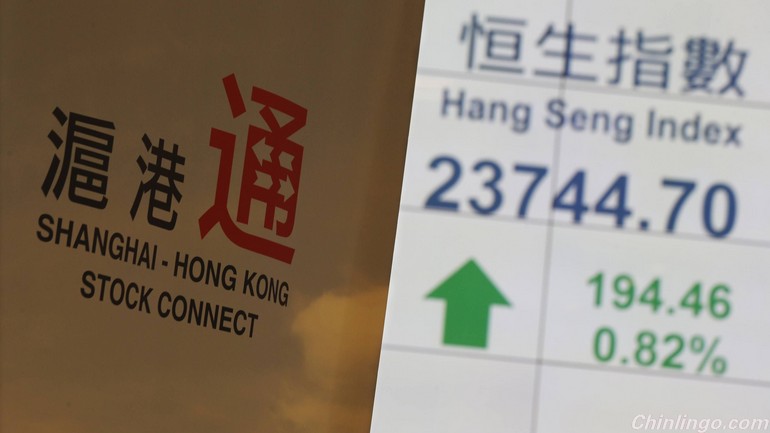 If proxy indicators are to be trusted, investors will welcome with a bang a key further opening of China's Shanghai stock market to foreigners next month, writes James Kynge.
如果各项代理指标值得信任,那么沪市下月向境外投资者进一步开放将受到热烈欢迎。

Several portents of a rousing reception await the launch of the "Shanghai-Hong Kong Stock Connect", which is set to offer Hong Kong and foreign investors with offshore renminbi (CNH) the most unfettered access yet to the Shanghai market.
迹象显示,"沪港通"的启动将受到热烈欢迎。这一项目将让持有离岸人民币(CNH)的香港和海外投资者在进入沪市方面享有迄今最大的自由。

Investors availing themselves of CNH have helped drive the currency's three-month interbank rate to a 2014 high of more than 3 per cent in recent days, up from 1.5 per cent in June.
近日来,投资者踊跃持有离岸人民币,将3个月人民币同业拆借利率从6月的1.5%推高至逾3%的2014年高点。

The price gap between the Hong Kong-listed and Shanghai-listed shares of mainland companies with dual listings has narrowed sharply as arbitrage intensifies.
随着套利活动的加剧,在香港和上海两地上市的内地公司的H股和A股价差近来急剧缩小。

Some financial institutions, including Deutsche Bank, have had to shut Chinese exchange traded funds (ETFs) to new investment because of capacity constraints.
因为吸纳能力有限,德意志银行(Deutsche Bank)等一些金融机构近来不得不关闭中国交易所交易基金(ETF),不再吸收新投资。


Analysts have observed strong interest from investors around the world in the scheme, which is expected to be launched in October, although Beijing has yet to fix a firm date.

分析师们发现,世界各地的投资者对"沪港通"项目兴趣浓厚。这个项目预计将于10月启动,尽管北京方面还未敲定启动日期。

The scheme creates pressures to reorganise global investing.
"沪港通"带来重组全球投资的压力。

One pressure it exerts is upon the vendors of global stock indices, such as MSCI, which face a choice between diluting their influence if they do not accept A-shares into their indices and diluting their standards if they do.
其中之一是对摩根士丹利资本国际(MSCI)等全球股指提供商构成压力,让它们面临两难:不将A股纳入股指,将削弱它们的影响力;将A股纳入股指,将降低它们的标准。

Another force to be unleashed by the Shanghai-Hong Kong link is for the further internationalisation of the offshore renminbi.
"沪港通"将带来的另一影响是推动离岸人民币进一步国际化。

The biggest inhibiting factor in the redback's march toward acceptance as a global currency has been the paucity of investment opportunities.
投资机会的稀缺一直是阻碍人民币成为全球货币的最大不利因素。