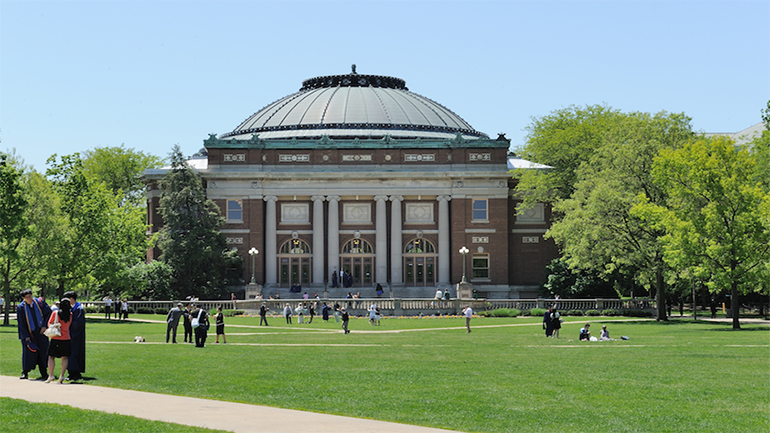 In the 1970s, they came from Iran, riding the wave of the oil boom. Then in the first decade of the second millennium, they came from India, filling up graduate programs in business and science. Now, it's Chinese students who comprise the largest group of international pupils in the United States, buoyed by a growing Chinese middle class that's willing to pay top dollar for their children's educations. 
20世纪70年代,他们来自伊朗,借着石油繁荣的东风。在第二个千禧年的前十年,他们来自印度,填满商业和理科类的研究生项目。现在,中国学生成为美国国际学生当中最大的群体。
According to an annual report by the Institute of International Education (IIE), in the 2014-2015 academic year more than 304,000 Chinese students were enrolled in U.S. colleges and universities, an almost five-fold increase from just a decade earlier. This means Chinese students have become a far more visible presence on U.S. campuses. B
根据国际教育学会的一项年度报告,在2014至2015学年有超过30.4万名中国学生进入美国的大学,比10年前几乎增长四倍。这意味着中国学生在美国大学校园里已经成为一种极其突出的存在。
But which ones, exactly? It's a simple question that is surprisingly difficult to answer — there is no complete, publicly available data set that documents the origins of international student populations by school, at every college and university in the United States. Via the Freedom of Information Act, Foreign Policy requested information from the U.S. Department of Homeland Security (DHS), which collects statistics on F-1 visas, the most commonly issued student visa, including the students' countries of origin and which institutions they attend. FP received a complete set of data on the F-1 visas issued in all of 2014 and until late March 2015, which indicated the schools for which each was issued. (FP did not receive this data from DHS until late October.) Those numbers are a strong proxy for the most Chinese campuses in America, and provide an apples-to-apples method to compare them. In the rankings* below, toggle to see school F-1 visa numbers weighted by total (main campus) enrollment; in that regard, Illinois Institute of Technology ranks first.
但是,具体是在哪些学校呢?这个问题很简单,回答起来却意外得困难:没有记录美国各所大学国际学生来源的完整公开的资料。美国外交政策网站基于《信息自由法》要求国土安全部提供有关信息——国土安全部收集F-1签证(最常见的学生签证)的统计资料(包括学生来自哪个国家并进入哪所大学),得到了2014年全年以及截止2015年前三个月的有关F-1签证的完整数据,弄清了针对哪些学校向学生发放签证。这些数据有力地显示了哪些美国校园的中国学生最多,并且在这些学校之间提供了比较。以下排名依据加权F-1签证数在总录取人数中占的比例,伊利诺伊理工学院排名第一。
Rank (by # of visas)

School

1

University of Illinois Urbana-Champaign

伊利诺伊大学厄巴纳-尚佩恩分校

2

University of Southern California

加利福尼亚南部大学

3

Purdue University

普渡大学 

4

Northeastern University

东北大学 

5

Columbia University

哥伦比亚大学 

6

Michigan State University

密歇根州立大学 

7

Ohio State University

俄亥俄州立大学 

8

University of California, Los Angeles

加利福尼亚大学洛杉矶分校 

9

Indiana University

印第安纳大学 

10

University of California at Berkeley

加利福尼亚大学伯克利分校 

11

New York University

纽约大学 

12

Pennsylvania State University

宾夕法尼亚州立大学 

13

University of Minnesota

明尼苏达大学 

14

University of Washington Seattle

华盛顿大学 

15

Arizona State University

亚利桑那州立大学 

16

University of Michigan Ann Arbor

 密歇根大学

17

Boston University

波士顿大学 

18

Illinois Institute of Technology

伊利诺伊理工学院 

19

Rutgers, The State University of New Jersey

拉特格斯新泽西州立大学 

20

University of Texas at Dallas

得克萨斯大学达拉斯校区 

21

University of Wisconsin-Madison

麦迪逊威斯康星大学 

22

University of California, San Diego

加利福尼亚大学圣迭戈分校 

23

Carnegie Mellon University

卡内基-梅隆大学 

24

State University of New York at Stony Brook

纽约州立大学斯托尼布鲁克分校 

25

Syracuse University

锡拉丘兹大学 
F-1 visas are not a perfect metric. Some international students and scholars come to the United States on visas other than the F-1; others get an F-1 visa, but don't enroll, or later transfer to another school.
F-1签证不是完美的量度。有些国际学生和学者用其他签证来到美国,有些人拿到了F-1签证,但没有注册,或者后来换到别的学校。
Yet the numbers reveal much. According to DHS data, the campus with the largest number of Chinese students is the University of Illinois Urbana-Champaign, pictured at top. That campus, part of the University of Illinois system, has worked hard to welcome thousands from mainland China, holding clinics introducing the basics of the sport, and in 2015 initiating Chinese-language broadcasts of football games. ("We have a strong historical relationship with China that goes back more than 100 years," Reitu Mabokela, Vice-provost for International Affairs and Global Strategies at Illinois, told FP via e-mail.) Other schools with large Chinese student populations are taking similar steps. Purdue University, third on the list, holds pre-departure orientations for students before they even leave China. With thousands of Chinese now enrolled at Indiana University, ranked ninth, the city of Bloomington, host to Indiana University's main campus, now boasts a new Chinese-language newspaper, the Blooming Times.
但是,这些数字仍然很说明问题。根据国土安全部的统计资料,中国学生最多的大学是伊利诺伊大学厄巴纳-尚佩恩分校。这所学校为吸引来自中国大陆的学生不遗余力,举办讲习班介绍橄榄球运动,2015年还提供对橄榄球比赛的中文广播,其他有大批中国学生的学校也在采取类似举措。排名第三的普渡大学在学生赴美之前就举办行前情况介绍会。录取成千上万名中国学生的印第安纳大学的主校区设在布卢明顿,那里现在多了一份中文报纸《布城周末》。
Most of the universities in the top 25 are large public institutions, with a few exceptions including Columbia University, Boston University, and Carnegie Mellon University. This is due in part to the large overall student population of the schools, but also perhaps to the more modest tuition at public institutions — Chinese students are often ineligible for federal financial aid. Some public schools, short on cash, actively recruit international students, who typically pay tuition at the higher out-of-state rate.
排名前25的大学基本都是大型公立学校,只有哥伦比亚大学、波士顿大学和卡内基-梅隆大学除外。这在一定程度上是因为这些学校总体学生人数较多,但也因为公立学校学费较低——中国学生往往没有资格获得联邦财政支持。有些缺少资金的公立学校积极录取国际学生,因为他们支付的学费通常较高。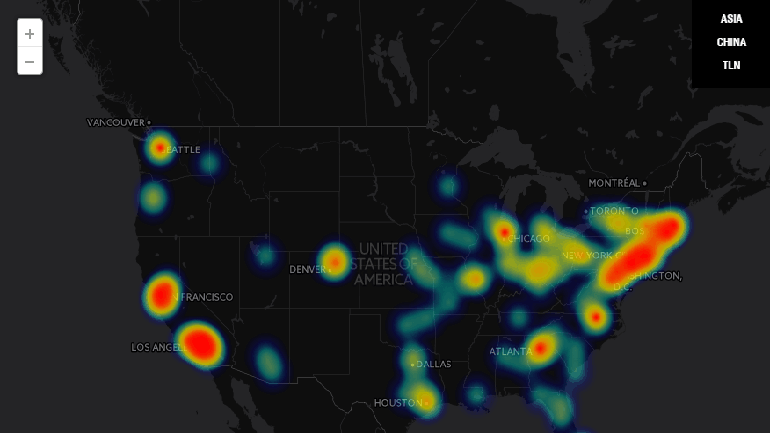 A look at the geographic distribution of Chinese students studying in the United States indicates that they are likely to attend schools in coastal states and the eastern half of the country. FP also ranked the eight Ivy League schools by Chinese student population. Among the Ivies — a well-known and coveted group of schools even among many everyday Chinese — Columbia University has the largest number of Chinese students.
对在美中国学生地理分布的考察显示,他们大都去沿海各州和东部地区的学校。美国外交政策网站还基于中国学生人数给八所常青藤大学排了名——常青藤盟校非常著名,是很多中国人梦想的目标,甚至成了日常中文里的用语——结果发现,哥伦比亚大学的中国学生人数最多。
Rank (by # of visas)

School

1

Columbia University

哥伦比亚大学

2

Cornell University

康奈尔大学

3

University of Pennsylvania

宾夕法尼亚大学

4

Harvard University

哈佛大学


5

Yale University

耶鲁大学 

6

Brown University

布朗大学 

7

Princeton University

普林斯顿大学 

8

Dartmouth College

达特茅斯大学 
Liberal arts and women's colleges typically have small overall student populations, and thus relatively small numbers of international students. But liberal arts education has become increasingly well known within China, even as domestic institutions have been slow to adopt the practices. That has made U.S. liberal arts colleges an increasingly popular choice among young Chinese. FP has also created a ranking for the Seven Sisters, a loose grouping of historically women's liberal arts colleges in the Northeast, which now numbers only six, after Radcliffe's official absorption into Harvard in 1999. (Vassar is now co-ed.) Sorted by total number of F-1 visas.
文科和女子学院的学生总数通常较少,因此国际学生也比较少。但是,文科教育在中国越来越为人们所熟悉,即便中国国内大学适应这种情况的速度较慢。这使美国文科院校成为中国年轻人日益欢迎的选择。美国外交政策网站还列出"七姐妹学院"的中国学生人数排名:这是一个松散的团体,包括东北部地区历史悠久的女子文科学院。目前只剩下"六姐妹",因为拉德克利夫学院1999年正式并入哈佛。根据加权F-1签证与总录取人数的比例,排名如下:
America must embrace.
Rank (by # of visas)

School

1

Mount Holyoke College

芒特霍利奥克学 

2

Bryn Mawr College

布林莫尔学院 

3

Smith College

史密斯学院 

4

Wellesley College

韦尔斯利学院 

5

 Vassar College

瓦萨学院