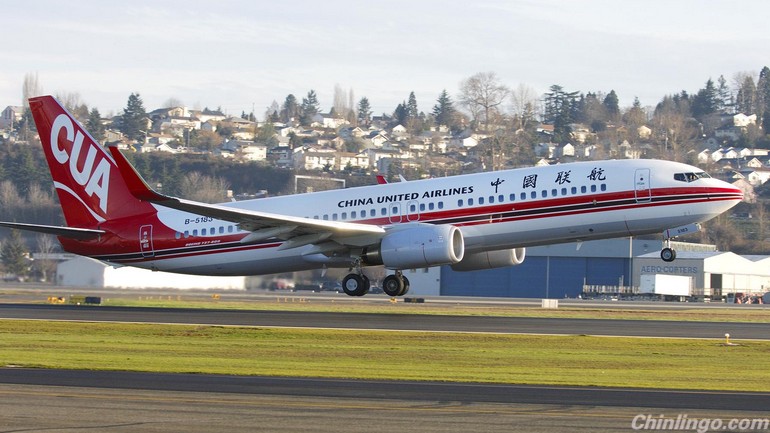 China Eastern Airlines has become the first of the country's big three carriers to launch a budget airline, in a move that may accelerate the sector's development in northeast Asia.

中国东航在中国三大航空公司中率先成立了一家廉价航空公司。此举或许会加速东北亚廉价航空业的发展。

Shanghai-based China Eastern announced yesterday that it had decided to relaunch a subsidiary, China United Airlines, as a budget carrier.

总部位于上海的中国东航昨日宣布,决定将子公司中联航转型为廉价航空公司。

Beijing-based China United, which plans to base itself in an airport under construction south of the capital, will more than triple its existing fleet to 80 aircraft by 2019.

以北京为大本营的中联航,计划将总部迁至北京以南一个在建的机场,并最迟于2019年将现有机队规模扩大两倍多,至80架飞机。

China Eastern's two biggest rivals, Air China and China Southern, have yet to launch budget carriers despite steps by China's aviation administration to encourage their growth.

尽管中国民航局出台了鼓励廉价航空公司发展的政策,但中国东航的两大竞争对手——中国国航和中国南航迄今仍未成立廉价航空公司。

China United operates a fleet of 26 Boeing 737s, which it plans to increase to 31 by the end of the year. But some analysts cautioned that it would take years for China's budget airline industry to develop.

中联航目前运营26架波音737飞机,并计划到今年底扩充至31架。但一些分析师告诫称,中国廉价航空业可能需要数年时间才能发展起来。

China's budget carriers include small players such as Qingdao Airlines and Zhejiang Loong Airlines.

中国的廉价航空公司包括青岛航空和浙江长龙航空等规模较小的航空公司。

China Eastern has been trying to establish a joint venture budget carrier in Hong Kong with Jetstar, the budget offshoot of Australia's Qantas Airways, and Shun Tak Holdings, a conglomerate controlled by Macau gaming magnate Stanley Ho.

中国东航试图与澳洲航空旗下的廉价航空公司捷星,以及澳门赌王何鸿燊控股的信德集团有限公司合资,在香港成立一家廉价航空公司。

But the plans have been delayed by objections from Hong Kong's flag carrier, Cathay Pacific. China Eastern said that It remained confident that Jetstar Hong Kong would win approval.

但上述计划因遭到香港载旗航空公司国泰航空的反对而延迟。中国东航表示,仍对捷星香港获准经营有信心。