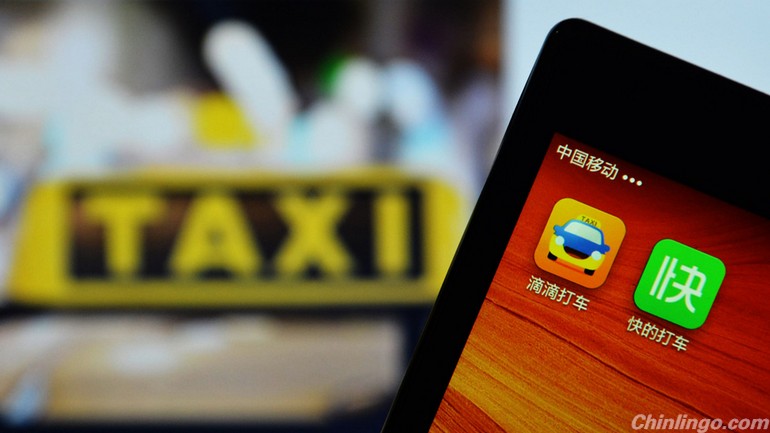 Didi Dache and Kuaidi Dache, two of China's leading taxi-hailing apps, said on Saturday they would merge to create one of the world's largest smartphone-based transport services. The combined entity would be valued at roughly $6 billion, according to person familiar with the deal. The shareholding structure is unknown.
中国打车软件公司滴滴和快的周六宣布合并。据知情人士透露,合并后的公司估值将在60亿美元左右。持股结构目前还不明朗。
The firms said the two companies, which have not announced a name for the combined entity, would operate independently under separate brands.
合并后公司的名称尚未宣布。双方表示,合并后业务将继续平行发展,并将保留各自的品牌和业务独立性。
Didi chief executive Wei Cheng and Kuaidi chief Dexter Chuanwei Lu would become co-chief executives and formally introduce the new business after the Lunar New Year, which begins on Feb. 19, the companies said.
双方称,新公司将实施联合CEO制度,滴滴打车CEO程维及快的打车CEO吕传伟将同时担任联合CEO。双方确定,将在春节后的适当时间召开新闻发布会。
Didi and Kuaidi, backed by Chinese Internet giants Tencent Holdings Ltd and Alibaba Group Holding Ltd, respectively, have been locked in a bitter price war for the past year as each seeks to corner the massive Chinese market despite rumors of mounting losses. Didi was estimated to have a roughly 55 percent market share, with Kuaidi claiming nearly all of the rest in a December study by Analysis International.
过去一年,由腾讯支持的滴滴和阿里巴巴支持的快的深陷激烈价格战,以争夺中国移动出行市场份额。Analysis International去年12月发布的研究报告称,估计滴滴市占率在55%左右,快的则基本占据余下市场份额。
The two companies have been vying for the world's largest transport market – more than 150 million Chinese hailing taxis using their smartphones, according to analysts. They have received more than $1 billion from private investors in recent months to sustain their battle for market share.
Didi raised $700 million from Tencent and Russian private equity fund DST in December, while Kuaidi raised $600 million from backers including Softbank and Tiger Global.
An Alibaba spokeswoman said on Saturday the company is "supportive of this merger as it will promote the healthy development of the taxi-app and expand city travel options for users."
Baidu, the Beijing-based search engine and rival to Tencent and Alibaba in China's Internet sector, said in December it would invest in Uber to help bring the $40 billion U.S. firm to the Chinese market.
China Renaissance, an independent investment bank headquartered in Beijing, acted as the exclusive financial advisor to both Didi and Kuaidi on the deal.