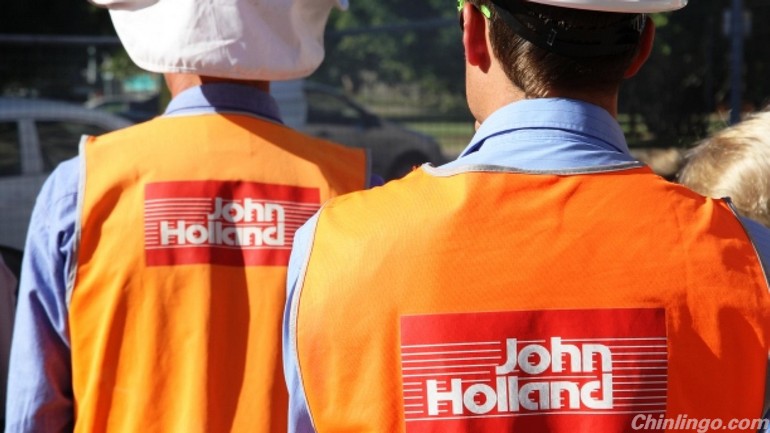 Australian Treasurer Joe Hockey issued a statement on Wednesday, approving the acquisition of John Holland, the country's biggest construction firm by a Chinese company.
"Today I have approved the foreign investment proposal by CCCC (China Communications Construction Company) International Holding Limited to acquire John Holland Group Pty Limited," the statement said.
John Holland is one of Australia's largest engineering and construction companies and employs over 5,600 people in eight countries and regions.
CCCC International is a wholly-owned subsidiary of China Communications Construction Company, the fourth-largest construction company in the world by revenue, with a presence in over 80 countries and regions.
The deal is reported to be 1 billion AU dollars (768 million U. S. dollars) in value.
"The government welcomes foreign investment where it is not contrary to our national interest. Foreign investment has helped build Australia's economy and will continue to enhance the wellbeing of Australians by supporting economic growth and prosperity," Hockey said.
"I note there have been some media reports about CCCC in relation to a World Bank debarment in 2009. I have sought advice and action on these and other issues in relation to CCCC. As a result, appropriate arrangements have been put in place to mitigate any concerns in relation to this issue and I am satisfied that this investment is not contrary to our national interest."
The Australian Financial Review (AFR) commented that by approving the deal, Hockey is "sending out the right signal".
"Despite the irrational and at times xenophobic fear of China's growing interest in the nation's engineering, agriculture and property assets, direct investment from the region in Australia is only going to increase," AFR writer Michael Smith in his report.
"Strengthened trade ties between the two nations will inevitably lead to a surge in direct investment in Australia in the same way it did with the United States in the 1950s and Japan several decades later," Smith said.