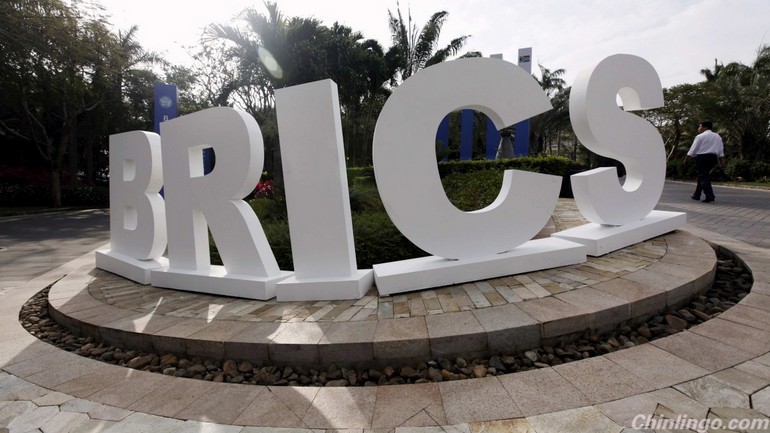 Leaders of the Brics group of large emerging countries have named Shanghai as the headquarters of their new development bank and nominated India to provide its first president.
由大型新兴国家组成的"金砖国家"(Brics)集团领导人已决定将上海作为其新建开发银行的总部,并决定由印度选出首任行长。

Brazilian president Dilma Rousseff, accompanied by the leaders of Russia, India, China and South Africa, announced the plans at their sixth summit in Fortaleza after a last-minute debate between China and India over who should host the New Development Bank.

在俄罗斯、印度、中国和南非领导人的陪同下,巴西总统迪尔玛?罗塞夫(Dilma Rousseff)在巴西福塔莱萨召开的金砖国家第六次年度峰会上宣布了这一计划,此前中国和印度在最后一刻就新开发银行(New Development Bank)总部设在哪里进行了辩论。

A statement from the group, titled the "Fortaleza Declaration", also said a "regional centre" would be established in South Africa concurrently with the headquarters.

金砖国家的联合声明"福塔莱萨宣言"(Fortaleza Declaration)还表示,在设立总部的同时,还将在南非设立一个"区域中心"。

The declaration said Brazil would head the bank's board of directors and Russia would lead the board of governors of the institution, which will have initial authorised capital of $100bn aimed at fighting financial crises and initial subscribed capital of $50bn.
宣言称,巴西将派出代表担任新银行董事会董事长,俄罗斯将选出代表担任该银行理事会主席,该银行的法定启动资金为1000亿美元,旨在应对金融危机,而各成员国认缴的启动资金额度为500亿美元。

"Based on sound banking principles, the NDB will strengthen co-operation among our countries and will supplement the efforts of multilateral and regional financial institutions for global development," the declaration said.

宣言称:"在稳健银行的原则下,新开发银行将加强各成员国之间的合作,并对多边和区域金融机构致力于全球发展的努力提供补充。"

Ms Rousseff told journalists later the establishment of the bank had turned the Brics into "a partnership based on institutions".
罗塞夫随后告诉记者,该银行的设立将金砖国家变成了"一种基于体制的合作关系"。

Having won the right to host the head office, China is expected to be the last of the countries to receive the revolving presidency.

中国已赢得设立总部的权利,因此预计中国将是五国中最后一个担任该银行轮值行长的国家。