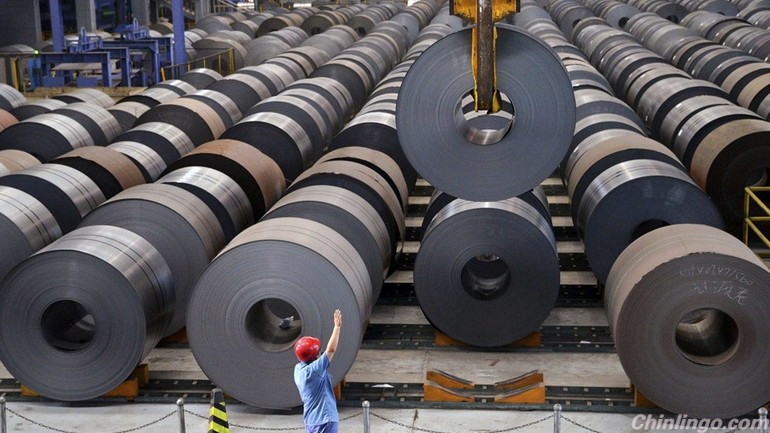 The US has hit China with another trade penalty.

美国再次对中国做出贸易处罚。

A month after imposing sanctions on Chinese makers of solar panels, the US Department of Commerce placed duties of as much as 110 per cent on carbon and alloy steel wire rods imported from China, according to a preliminary decision on Tuesday.

1个月前,美国对中国太阳能电池板制造商实施了制裁。周二,美国商务部又宣布初裁结果,对从中国进口的碳素及合金钢盘条征收110%的关税。

Chinese producers of the wire rods, which can be used to make nails and chain link fences, will be forced to pay a cash deposit when the wire arrives in the US.

当盘条运抵美国时,中国盘条生产商将被迫支付现金保证金。盘条可以用来生产钉子和铁丝网围栏。

The rate represents the level below fair market value the department says Chinese makers have sold the wire for.

这一税率体现美国商务部所称中国生产商出售盘条价格低于市场公允价值的幅度。

The tariffs, which could be made permanent in November, are set at 106 per cent for manufacturers specifically probed by Commerce and 110 per cent for all other Chinese producers.

这项关税可能在11月变成永久性关税。对于具体受到美国商务部调查的生产商,税率定为106%,对于所有其他中国生产商,税率定为110%。

Fresh tariffs are the latest in a protracted fight between the two trade partners. Commerce has aggressively targeted solar panel makers in China, who had shifted manufacturing to Taiwan in a bid to avoid taxes.

新征关税是美中两个贸易伙伴之间长期争斗的最新一起。美国商务部已咄咄逼人地瞄准了中国的太阳能电池板制造商。这些制造商已把生产业务转移至台湾,以规避关税。

ArcelorMittal, Gerdau Ameristeel, Charter Steel, Keystone Consolidated Industries and Nucor Corporation were among the companies that petitioned for the investigation.

安赛乐米塔尔、Gerdau Ameristeel、Charter Steel、Keystone Consolidated Industries和纽柯钢铁公司等公司请求美国商务部发起了上述调查。