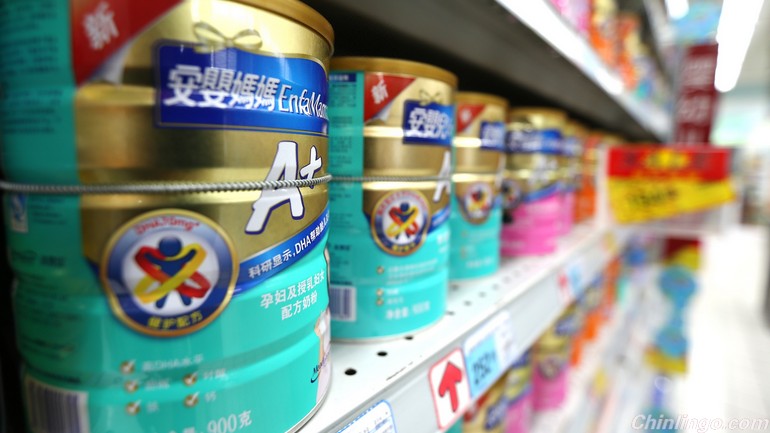 The green fields of Ireland's County Kerry are a long way from a stuffy Beijing hotel room, but a Chinese man playing the bagpipes did his best to bridge the gap at the launch of "Green Love Plus" baby formula.
爱尔兰凯里县的绿色牧场与北京酒店空气污浊的房间远隔千山万水。不过,在"绿爱+"婴儿配方奶粉发布会上,一名吹着风笛的中国男士正竭尽全力地拉近两者之间的距离。

The skirling music along with milk dripping down an ice sculpture marked Kerry Group's tie-up last month with Chinese formula seller BeingMate , the latest in a series of moves by foreign dairy producers to position themselves in China before a flood of new milk hits the market.

悠扬的风笛乐曲声、还有那从冰雕上汩汩流下的牛奶,象征着Kerry Group与中国配方奶粉销售商贝因美之间在上个月开展的合作。这是在大量新增牛奶冲击中国市场之前,为了在中国建立立足点,国外乳制品生产商推出的系列举措中的最新一例。

European dairies have been ramping up output ahead of the expiration of EU milk output quotas on March 31 next year.

欧洲牛奶生产配额将会于明年3月31日到期。尽管这一最后期限还未到来,欧洲乳品厂已经开始提高了产能。

Under the 30-year-old system, each member state incurs a penalty if it produces more than its allocation, which for the EU overall was 154.6m tonnes last year – or about one-fifth of world milk output, according to UN Food and Agriculture Organization estimates.

根据这一沿用30年之久的生产限额制度,只要欧盟成员国生产的牛奶超过限额,就会招致罚款。去年,欧盟总体限额为1.546亿吨。据联合国粮农组织估计,这大约是全球牛奶产量的五分之一。

Much of the additional milk will go to China, which buys roughly two-thirds of world trade in dry whole milk powder and over a third of global shipments of fresh milk. China itself is the world's fourth-largest milk producer, but after less than two decades of rapid expansion its domestic dairies cannot match the quality or the prices of traditional producers.

大部分新增牛奶产品会流向中国市场。目前,中国进口的脱水全脂奶粉约占全球贸易量的三分之二,进口鲜奶则超过全球出货量的三分之一。中国自身也是全球第四大牛奶生产国。不过,在经历了不到20年的迅速扩张后,中国国内乳品厂生产的乳制品无论质量还是价格都无法与传统的牛奶生产国相比。

"It's important to have access to markets because the increase in milk that's expected is destined for global markets," says Rabobank dairy analyst Matthew Johnson.

荷兰合作银行乳制品分析师马修·约翰逊表示:"获取进入各市场的通行证至关重要,因为如期增加的牛奶产能冲击的将是全球市场。"

With that in mind, New Zealand co-operative Fonterra signed a deal with BeingMate earlier this year, while Arla Foods of Denmark and France's Danone together own a stake in Chinese producer Mengniu Dairy.

出于这种想法,新西兰联营企业恒天然在今年早些时候曾与贝因美签署一份合作协议,而丹麦的阿尔拉食品公司及法国的达能则共同持有了中国乳品生产商蒙牛乳业的股份。

The expected increase in milk comes as competition in the international milk market has heightened following years of strong prices.

而且,就在牛奶产能将如期增加的同时,在奶价多年居高不下之后,国际牛奶市场的竞争已开始加剧。

Milk prices soured this summer as Russia, the world's largest importer of fresh milk, cheese and butter, banned European products in retaliation for international pressure over the conflict in Ukraine.

今年夏天,为报复国际上因乌克兰冲突而对它施加的压力,全球最大的鲜奶、奶酪和黄油进口国俄罗斯发出了对欧盟农产品的进口禁令,导致牛奶价格一落千丈。

The Russian ban coincided with a reduction in demand from China, as it digests a 70 per cent rise in milk imports in the first half of the year.

此外,今年上半年中国牛奶进口量增加了70%,被俄罗斯禁令堵在门外的奶产品又遭遇了中国因消化上半年进口量而大大减少的需求。

The looming quota relaxation offers the opportunity of expansion for producers in countries such as Ireland, which has among the world's lowest costs of milk production.

同时,欧盟放宽牛奶配额来临在即,也为爱尔兰等国的生产商创造了扩张的机会。目前,爱尔兰是全球牛奶生产成本最低的国家之一。