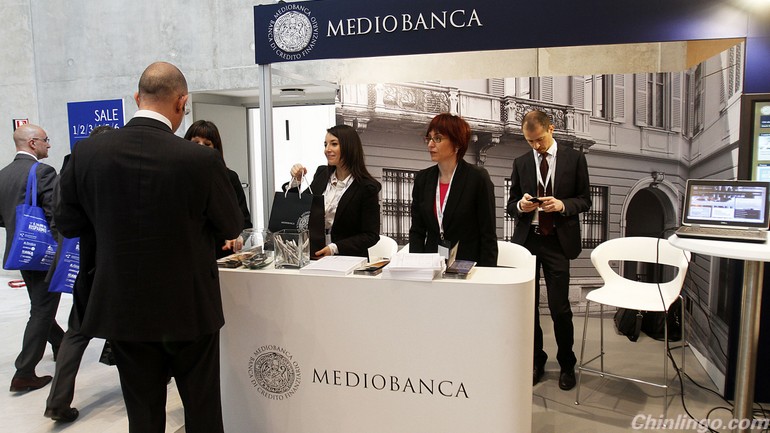 Funds affiliated with China's central bank have bought a minority stake in Mediobanca, Italy's pre-eminent investment bank, highlighting China's willingness to place a long-term bet on the eurozone's troubled periphery.

中国央行下属机构已购入意大利知名投行Mediobanca少数股权,突显出中国愿意长期押注于陷入困境的欧元区外围国家。

The disclosure that the People's Bank of China had taken a 2.001 per cent stake in the Italian lender this month was made in a note by the Italian stock market regulator yesterday.

意大利股市监管机构昨日在简报中披露,中国央行本月已购入该意大利银行2.001%股权。

It marks the latest foray into the eurozone's third-largest economy by the central bank's investment arm, the State Administration of Foreign Exchange (Safe), which manages the country's $4tn in reserves.

这是中国央行下属投资机构——中国国家外汇管理局进军欧元区第三大经济体的最新举措。外管局管理着中国4万亿美元的外汇储备。

Safe has spent an estimated more than ¢2.5bn on stakes of about 2 per cent each in five of Italy's largest companies: Fiat Chrysler Automobiles, Telecom Italia, Prysmian and state-controlled energy groups Eni and Enel.

据估计,外管局已斥资逾25亿欧元分别购入意大利5家最大企业约2%的股权,这些企业包括菲亚特-克莱斯勒汽车公司、意大利电信、普睿司曼以及国有控股的能源集团埃尼和意大利国家电力公司。

The move demonstrates how the central bank's semi-autonomous investment arm has departed from its traditionally conservative strategy as yields on fixed income assets have fallen in recent years.

此举表明,随着最近几年固定收益资产收益率下滑,隶属于中国央行的这家半自治投资机构已放弃传统上的保守战略。

Italy has been one of the main focal points of Chinese investment into Europe in recent years with an estimated ¢5bn spent in what has been dubbed as the dawn of a second Marshall Plan for the continent's troubled periphery.

最近几年,意大利成为中国投资欧洲的主要关注点之一,据估计,中国已投资50亿欧元,这被称为针对欧洲陷入困境的外围国家的第二个马歇尔计划的开端。

"I don't think these are strategic investments, I think these are financial investments, and they will continue," said Innocenzo Cipolletta, an economist at the University of Trento.

特伦托大学经济学家因诺琴佐·奇普列塔表示:"我不认为这些是战略投资,我认为它们是金融投资,这些投资将继续。"

"If you believe the euro will remain, it's better to invest in a country at the low point in its economic cycle than one at a high point – you can take the upside," Mr Cipolletta added.

奇普列塔补充称:"如果你相信欧元仍将存活的话,那么在一国经济周期低点投资于该国要比在高点时投资更好,你可以获利于上升周期。"

The Italian government has been enthusiastically supporting Chinese investment in the eurozone's troubled third-largest economy, with few signs of any political backlash to the cash pouring into the country from Beijing.

意大利政府一直热情支持中国对欧元区这个陷入困境的第三大经济体的投资,该国政界没有什么反对中国资金大量涌入的迹象。

"We must bring more China to Italy and take more Italy to China," Matteo Renzi, the Italian prime minister, said last week as he met with Li Keqiang, the Chinese premier, in Rome and signed ¢8bn of commercial deals between the two countries.

意大利总理马泰奥伦齐上周在与中国总理李克强会晤时表示:"我们必须让更多的中国进入意大利,也让更多的意大利进入中国。"两国签署了价值80亿欧元的商业协议。

"We are welcoming every new institutional investor," Mediobanca said.

Mediobanca表示:"我们欢迎每一个新的机构投资者。"

Safe's emergence as a shareholder of Mediobanca comes just as Italy's largest investment bank is in the middle of a strategic drive to internationalise its business and sell ¢1.6bn in equity stakes that have held it at the centre of Italian corporate power for half a century.

在中国外管局成为Mediobanca股东之际,这家意大利最大的投资银行正在实施业务国际化的战略举措,并出售16亿欧元的股权——半个世纪以来这些股权使其处于意大利企业实力的核心。

Alberto Nagel, the lender's chief executive, unveiled a wide-reaching plan a year ago aiming to cut its stakes in insurer Generali, Telecom Italia and RCS Mediagroup as it switched to focus on European expansion, investment banking and its retail banking business.

Mediobanca首席执行官阿尔贝托纳格尔一年前拿出一份影响深远的计划,目的是减持其在忠利保险、意大利电信和RCS Mediagroup的股份,转而专注于欧洲范围的扩张、投行业务以及该行的零售银行业务。

He also hired Stefano Marsaglia from Barclays last year to co-head its investment bank with a view to transform Mediobanca's London office into its European hub for all sector and capital market teams. Shares in Mediobanca rose 4.1 per cent to ¢6.61, giving the bank a market capitalisation of ¢5.7bn.

纳格尔去年还聘请巴克莱的斯特凡诺马萨格利亚担任其投行业务联合主管,目的是将Mediobanca的伦敦办公室转型为所有行业和资本市场团队的欧洲中心。Mediobanca的股价上涨4.1%,至每股6.61欧元,使该行市值达到57亿欧元。