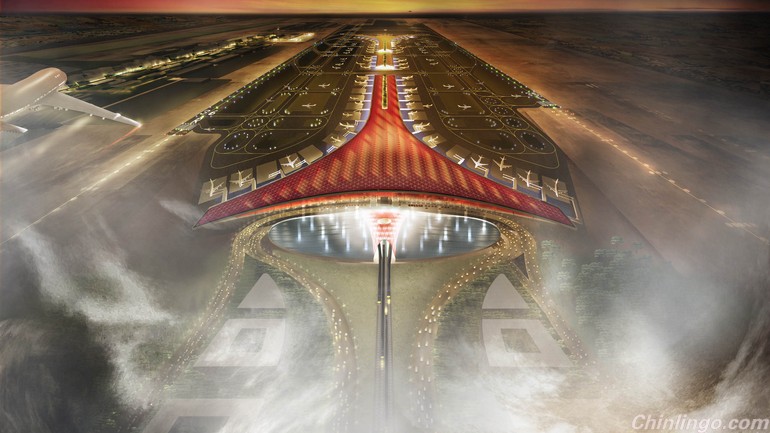 China's top economic planner has approved a Rmb80bn ($13bn) new airport in Beijing as part of government efforts to boost flagging growth by accelerating construction of state-led infrastructure projects.
中国最高经济规划机构已批准在北京建设一座800亿元人民币(合130亿美元)的新机场。中国政府正通过加快建设国家主导的基础设施项目来提振疲弱的经济增长,北京新机场项目就是这项努力的一部分。
The new airport will be located in the far south of the city and is intended to relieve pressure on Beijing's delay-stricken airport, which was only completed in 2008.
这座新机场将建在北京市南端,其目的是减轻北京经常误点的现有机场的压力,尽管该机场的最新一座航站楼是在2008年才建成的。
Some commentators have questioned the wisdom of an entirely new airport in such a remote location.
一些评论人士质疑在如此偏僻的地点建设一座全新的机场是否明智。
China has built scores of new airports in recent years but barely a quarter of the 200 facilities in operation are making any money, with about 150 surviving on government subsidies, the head of Chinese civil aviation said this month.
中国近年来建设了数十座新机场,但中国民航部门负责人本月表示,在已投入运行的200座机场中,只有将将四分之一处于盈利状态,大约150座机场依靠政府补贴维持。
The new Beijing airport is just the latest in a string of megaprojects approved in recent months aimed more at boosting construction activity to support sagging growth than providing essential infrastructure.
北京新机场只是近几个月获批的一连串大型项目中的最新一个。这些项目的目的在更大程度上是提振建筑活动以支撑疲弱的经济增长,而非提供不可或缺的基础设施。
China's economy is on track for its worst performance this year since 1990, when the country faced international sanctions following the Tiananmen Square massacre.
中国经济今年的表现将是1990年以来最糟糕的;而那一年中国面临着天安门事件过后的国际制裁。
Most economists expect the economy to grow by about 7.3 per cent for the full year but Beijing is poised to lower its annual growth target from "around 7.5 per cent" this year to "around 7 per cent" in 2015.
多数经济学家预计中国经济今年全年的增幅将达到约7.3%,但北京方面看来已准备好把2015年的年度增长目标从今年的"7.5%左右"调低至"7%左右"。
Faced with a sharp slowdown in real estate and huge overcapacity in heavy industries such as steel and cement that feed the construction sector, the government has ramped up infrastructure spending to cushion the slowdown.
面对房地产业急剧放缓、以及向建筑行业供应原料的钢铁和水泥等重工业严重产能过剩,中国政府已加大基础设施支出以缓解经济放缓。
In the past month and a half the National Development and Reform Commission, China's top economic planning agency, has approved more than Rmb1tn in infrastructure projects, including 28 new rail lines.
在过去一个半月里,中国最高经济规划机构国家发展和改革委员会已批准逾1万亿元人民币的基础设施项目,包括28条新的铁路线。
The NDRC said yesterday it had just approved Rmb112bn of investment in new roads in southern and western China in addition to the new Beijing airport. Investment in infrastructure, especially real estate, has been the key driver of the Chinese economy for decades. But since the global financial crisis this investment has increasingly been financed by government and private sector borrowing and the efficiency and usefulness of much of the infrastructure is questionable.
国家发改委昨日表示,除了北京新机场以外,它还批准了中国南部和西部的1120亿元人民币的新建道路项目。几十年来,基础设施(特别是房地产)投资一直是中国经济的主要驱动力。但是,自全球金融危机爆发以来,这方面的投资越来越多地依靠政府和私营部门借款,而很多基础设施的效率和效用都是有问题的。
"Fixed asset investment remains the key to stabilising the world's second-largest economy at present but its marginal effectiveness is weakening," said Li Xuesong, deputy director of quantitative and technical economics at the Chinese Academy of Social Sciences, in comments to state media.
中国社会科学院数量经济与技术经济研究所副所长李雪松在对官方媒体表态时表示,固定资产投资对于稳定世界第二大经济体仍是关键的,但其边际效用在减弱。
Official data show investment in China grew by 15.8 per cent in the first 11 months from the same period a year earlier, the slowest pace in nearly 13 years.
官方数据显示,今年前11个月,中国的投资同比增长15.8%,这是将近13年来最慢的增速。
The NDRC said the newly approved Beijing airport would take five years to build and feature four runways and a terminal building covering 700,000 sq m. It will be able to handle 72m passengers, 620,000 planes and 2m tonnes of cargo a year by 2025.
国家发改委表示,新批准的北京机场要5年才能建成,该机场将有4条跑道和一座70万平方米的航站楼,到2025年达到旅客吞吐量7200万人次、飞机起降量62万架次、货邮吞吐量200万吨。
Despite expansion, Beijing's existing airport has struggled to cope with the growth in passenger and cargo traffic, and last year saw 83.7m passengers pass through, even though the facility was designed to handle only 76m.
尽管进行了扩张,但北京现有的机场仍难以跟上客运和货运量的增长。该机场去年的旅客吞吐量达到8370万人次,而其设计吞吐能力只有7600万人次。
Beijing has the world's busiest airport after Atlanta in the US but consistently rates as the worst airport in the world in terms of delays. In some months, fewer than 20 per cent of flights out of Beijing are able to leave on time, according to data from Flightstats.
北京机场是世界上第二繁忙的机场,仅次于美国亚特兰大机场,但按照延误指标衡量一直是全球最差的机场。航空数据网站FlightStats的数据显示,在某些月份,北京始发的航班只有不到20%是准点起飞的。