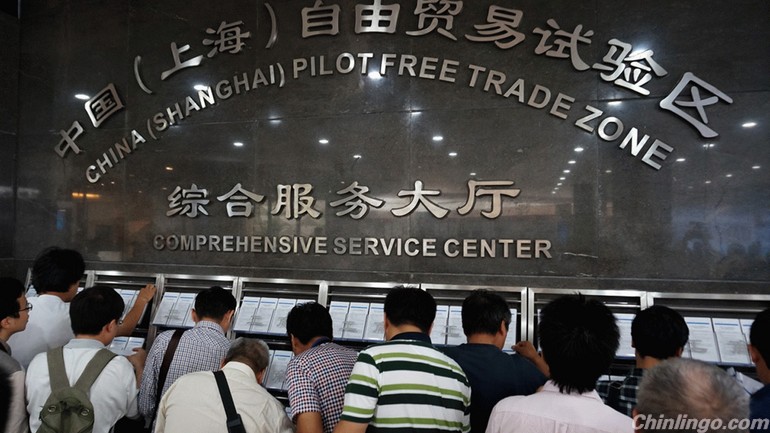 China is set to use the Shanghai free-trade zone as a testing ground to grant Chinese people greater freedom to make overseas investments, according to the most senior official in Shanghai.

据上海最高官员透露,中国将利用上海自由贸易区作为一个试验场,扩大中国人的海外投资自由。

"One of our key objectives is allowing qualified individuals within the free trade zone to open capital accounts in a gradual and orderly manner, on condition of good risk control," said Han Zheng, party secretary of Shanghai and a member of China's 25-strong politburo, in an interview with the Financial Times.

"我们下一步的工作目标之一,就是在风险可控的条件下,以渐进、有序的方式,允许自贸区内合格的个人开设资本账户,"

Mr Han's comments came on the eve of Monday's debut of the Shanghai-Hong Kong stock connect. He did not give details on how the new initiative would be rolled out.
上海市委书记、也是中共中央政治局25名委员之一的韩正,在接受英国《金融时报》专访时作了上述表示。

According to people close to the relevant central government agencies, the free-trade zone trial of the initiative could start as early as 2015. All moves concerning the free-trade zone are subject to Beijing's final approval.

韩正是在沪港通周一启动前夕接受专访的。他没有说明这一新的举措将如何推出的具体细节。

The move to ease regulations governing Chinese cross-border capital flows is seen as a substantial step in Shanghai's drive to become an international financial centre.

接近中央政府有关部门的人士称,上述举措最快有望在2015年由上海自贸区展开试点。涉及上海自贸区的任何举措,都需要得到北京的最后批准。

If the trial goes ahead it will allow individual Chinese investors much greater freedom to move money overseas and invest in financial assets such as stocks and bonds as well as physical assets such as real estate.

此举将放宽针对中国跨境资本流动的管制,被视为上海向其国际金融中心的目标迈出一大步。

At present, the main channel through which individual Chinese investors access overseas markets is the qualified domestic institutional investor programme. That scheme, launched in 2006, licenses Chinese asset managers to sell mutual funds comprising overseas stocks and bonds to local investors.

如果这个试点项目如期推进,它将在向海外转移资金、投资股票和债券等金融资产,以及投资房地产等实物资产方面,让中国的个人投资者享有更大的自由。

China's foreign exchange regulator had granted in total $87bn to Chinese fund managers under QDII by the end of October.

目前,中国个人投资者进入海外市场的主要渠道是合格境内机构投资者(QDII)机制。该机制于2006年启动,授权中国资产管理公司向本地投资者销售包含海外股票和债券的共同基金。

China's cabinet also said in May that the government planned to establish a qualified domestic individual investment (QDII2) programme to allow Chinese residents to invest in overseas capital markets. The "capital accounts" planned for the free-trade zone would offer an additional channel beyond these two programmes. 截至10月底,中国外汇监管机构已向中国各基金管理公司批出总共870亿美元的QDII额度。

Wealthy Chinese have become big buyers of overseas real estate. But there is still no officially sanctioned channel to allow Chinese people to convert renminbi to foreign currency for this purpose, leaving many of them to rely on grey-market money changers or fake trade invoicing to move money abroad.

中国国务院在今年5月份表示,政府计划建立合格境内个人投资者(QDII2)机制,让中国居民投资海外资本市场。拟在上海自贸区试点的"资本账户"计划,将提供QDII和QDII2以外的又一条途径。

When asked about the prospect of the stock connect between his city and Hong Kong, Mr Han, a former mayor of Shanghai, said he believed it would pave the way for financial innovations but that the top priority was to make it safe.

近年来,中国富人已成为海外房地产的大买家。但是,目前还没有官方认可的渠道让中国人为此将人民币兑换为外币,迫使许多人为了转移资金出国而依靠黑市外汇贩子,或伪造贸易发票。

"What concerns me most is that the stock connect programme be sustainable," he said. "We must manage well all potential risks because this is an area that we have never touched before.

在被问及沪港通的前景时,曾担任上海市长的韩正表示,他相信这将为金融创新铺平道路,但首要任务是确保安全。

"Why adopt a quota system? Without quota management, the large-scale capital inflows and outflows can create uncontrollable risks. I believe with the quota system in place we should be able to cover risks that we could think of, including the biggest possible risks. I am confident that the stock connect will at least not encounter disruptive risks."

"我最关心的是沪港通通了以后,能够持续地发展," 他表示。"持续的发展就是一定要把风险防范好。因为这个市场,我们以前没有碰到过。"

Under the current quota system for the stock connect programme, investors in Hong Kong heading north will be able to buy a net total of Rmb13bn ($2.1bn) of Shanghai-listed shares per day. In return, a net Rmb10.5bn can head south to buy Hong Kong shares each day. Both markets are subject to aggregate limits at Rmb300bn and Rmb250bn respectively.

"为什么要采用额度管理?如果没有额度管理,大量的资本进出可能会产生不可控制的风险。我相信,采用额度管理以后,这个制度至少可以把目前所能想到的各种风险、包括最大的风险,都覆盖了。我们目前是有信心的,至少不会发生颠覆性的风险。"

More than 150,000 mainland investors have registered their interest in trading Hong Kong-listed shares with the Shanghai Stock Exchange.

按照沪港通计划目前的额度制度,投资于内地市场的香港投资者每日可买入共计130亿元人民币(合21亿美元)的上海上市股票。在另一个方向上,内地投资者每日共计能够净买入105亿元人民币的港股。两个市场总额度分别是3000亿元人民币和2500亿元人民币。

When asked if stock connect would give Shanghai a new advantage in competing with Hong Kong as a financial centre, Mr Han was candid.

目前,已有超过15万内地投资者登记,有意在上海证交所买卖在港上市股票。

"Shanghai still cannot yet compare with Hong Kong in areas such as environment for business development, talent, legal environment and market maturity," he said. "Frankly speaking, Hong Kong's market is much more mature than Shanghai's. We need to learn from Hong Kong."

在被问及沪港通是否给予上海一个新的优势、使其与香港竞争金融中心的地位时,韩正很坦率。