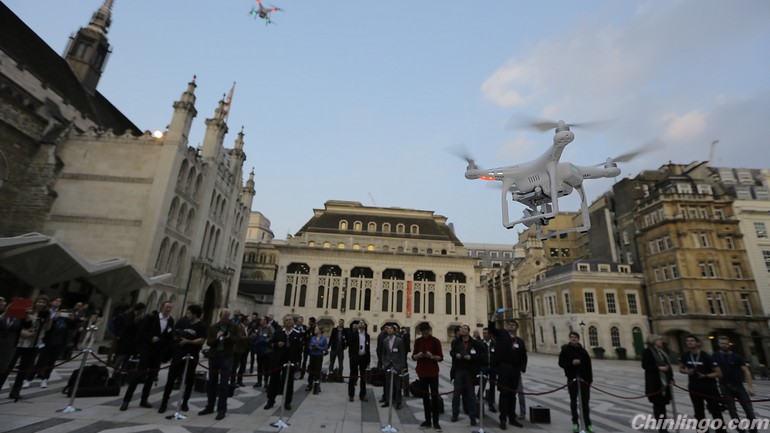 Chinese drone maker SZ DJI Technology Co Ltd has established a strong early lead in the U.S. commercial market as companies turn to its inexpensive, light-weight flying devices for a host of uses from shooting films to mapping and site inspections.
中国无人机制造商深圳大疆创新科技有限公司在美国市场取得初期的重大领先,此刻,美国公司纷纷转向便宜、轻型的飞行器用于拍摄电影、绘制地图和现场考察等活动。
Sixty-one of the 129 companies that received regulatory approval to use unmanned aircraft are using DJI drones, or 47 percent, far ahead of its nearest rival, a Reuters review of federal records as of April 9 shows. Nearly 400 other companies, more than half of the 695 businesses still awaiting approval, have applied to use DJI drones.
截止4月9日的联邦记录显示,在获批使用无人机的129家公司中,有61家在使用大疆创新的无人机,比例达47%,遥遥领先于排名第二的竞争对手。在另外695家仍等待批准的公司中,有近400家公司已申请使用大疆创新的无人机。
Shenzhen-based DJI, whose best-selling Phantom 2 Vision+ drone retails for around $1,200 in the United States, estimates that it already has about 70 percent of the commercial market worldwide and a larger portion of the consumer market.
这家总部设在深圳的公司估计,它已占到全球商用市场的约70%,而在消费市场上占的份额更大。
DJI accounted for about a third of the roughly 50 exemptions granted by the Federal Aviation Administration (FAA) from last September through mid-March. But it has claimed just over half of the 89 exemptions received since then.
从2014年9月到今年3月中旬期间,美国联邦航空局批准的约50例监管豁免申请中,大约三分之一是大疆创新的无人机。但自那时起,获得监管豁免的89例申请中,超过一半是大疆创新的无人机。
Founded in 2006 by Chinese entrepreneur Frank Wang, DJI generated nearly $500 million in revenue in 2014, up from $130 million in the prior year. It expects to exceed $1 billion in sales this year.
由中国企业家汪滔创建于2006年的大疆创新去年营收近5亿美元,远远超出了2013年的1.3亿美元,预计2015年的销售额将超过10亿美元。