China's long transition from a closed, state-run economy to a more open and market-driven model has new helmsmen in President Xi Jinping and Premier Li Keqiang. With China joining the U.S. in the plus-$10 trillion GDP club, Beijing's shifts have big implications for the world.

Here are five charts showing China's move from being the world's factory to a source of capital and demand: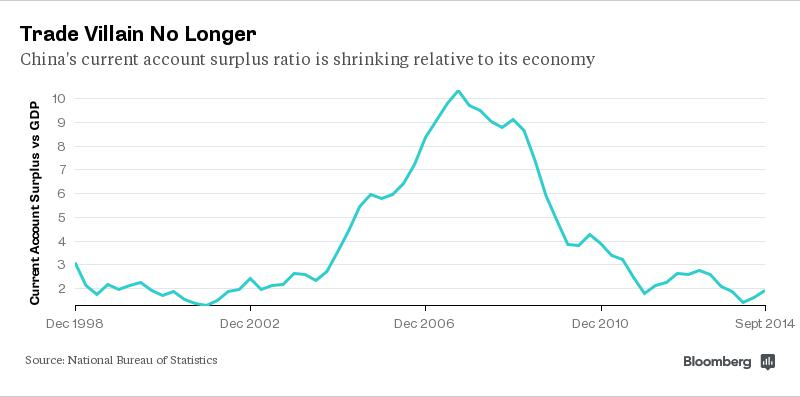 1) Trade villain no more. China's vast current account surpluses–accrued by exporting way more than what it imports–have spurred perennial claims the yuan is undervalued and that the nation is stealing jobs from Americans. But the actual share of its surplus to the size of its entire economy shrank to below 2 percent, after hitting a peak of more than 10 percent right before the global financial crisis.
一、经常账户盈余逐步降低。由于长期以来出口远超进口,中国维持着庞大的经常帐盈余,并因此长期招致"人民币被低估、中国人抢走美国人的饭碗"等无端的尖锐批评。但现在,中国经常账盈余占经济总量的实际比重已降至2%以下,远远低于全球金融危机前逾10%的峰值。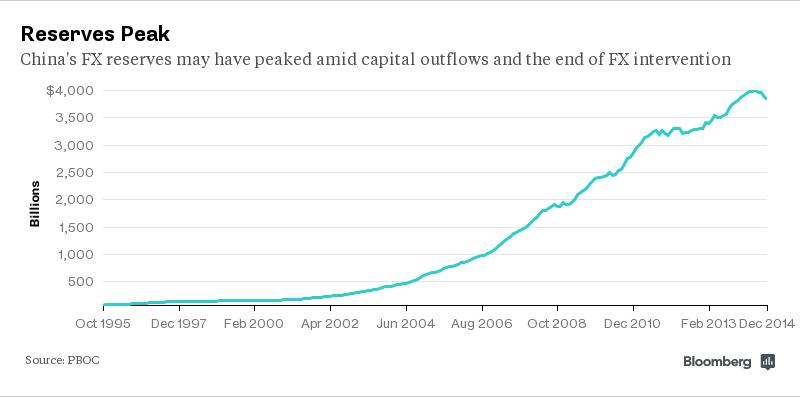 2) Slimmer piggy bank. A by-product of China's export-led growth model was rampant growth in foreign-exchange reserves, which reached about $4 trillion in the middle of last year and have since slipped back a tad. Now, China seems more intent on putting that cash to work to help its companies expand abroad than adding to its pile of U.S. Treasuries. Meanwhile, the cessation of currency intervention and evidence of capital outflows mean the pool may have passed its peak.
二、外汇储备减少。中国出口导向型增长模式带来的副作用就是外汇储备快速增加,中国的外汇储备去年年中已达4万亿美元左右,但此后开始小幅回落。现在,中国政府正为外汇储备资金寻找更切实的用途,如帮助国内企业"走出去",拓展海外业务或开展海外并购等,而不仅仅是用来购买美国国债。与此同时,中国央行停止干预外汇市场以及近来出现的资本外流现象,或许都意味着中国外汇储备规模的最高峰时期已成为过去。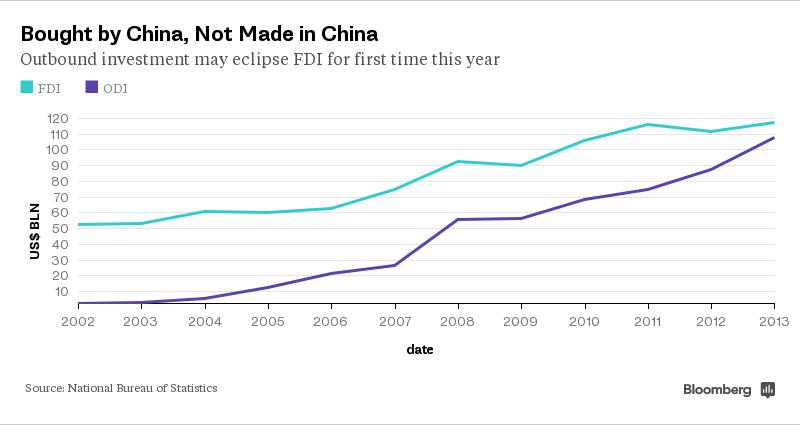 3) Bought by China, not Made in China. China has been a magnet for foreign investment from global companies wanting their slice of the manufacturing-fueled miracle. As that fades and excess capacity sends Chinese companies abroad, outbound investment is set to exceed inbound investment for the first time this year.
三、从吸引外商直接投资国向对外投资国转变。中国一直是吸引外商投资的磁石,全球企业竞相来华投资并争取在制造业推动经济快速增长的中国市场"分一杯羹"。随着外商投资热潮逐步降温以及产能过剩推动中国企业走出国门,今年中国对外投资规模势将超过利用外资规模。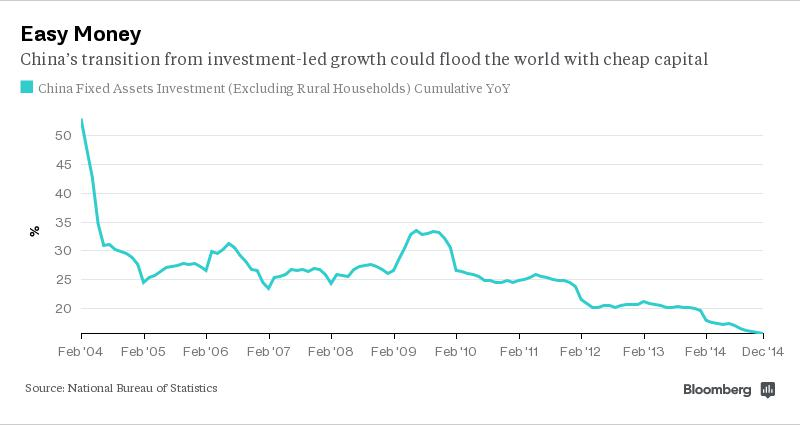 4) Cheap capital. China's transition from investment-led growth could flood the world with cheap capital, Deutsche Bank's global strategist wrote this month. China's domestic investment accounts for a disproportionate 26 percent of world investment, up from a mere 4 percent in 1995, according to the report. Excess capacity and an aging society will drive that lower, creating surplus capital that will head abroad.
四、低成本资金充足。德意志银行全球策略师Sanjeev Sanyal在本月发布的一份报告中称,中国经济从投资拉动型增长模式转型可能将导致低息资金充斥全球。报告指出,当前中国国内投资额已占到全球投资总额的26%,而1995年时这一比例仅为4%。由于产能过剩及人口老龄化将造成国内投资下降,中国的大量剩余资本势必将涌向国外。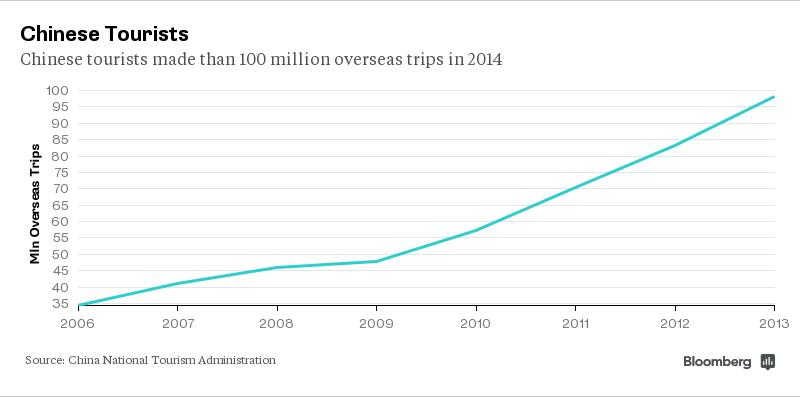 5) Chinese tourists. Thirty years ago, a mainland Chinese tourist overseas was almost as rare as a panda. In 2014, they made more than 100 million overseas trips, providing a growth driver for South Korea and Japan's struggling economies.

五、中国出国旅游人数增长迅速且规模巨大。三十年前,到海外旅游的中国游客还是少数。2014年,中国海外出境游突破一亿人次,为在困境中挣扎的欧洲、韩国和日本经济提供了一定的增长助力。