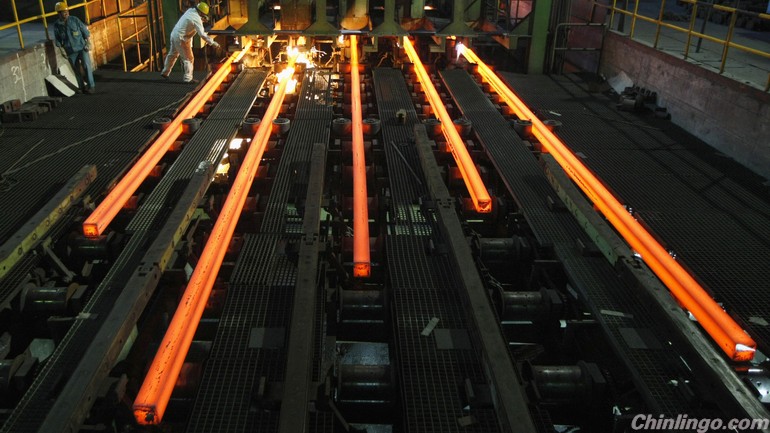 Miners have watched iron ore sink precipitously this year to a five-year low. That has been repeated for oil and coal, as expectations of global demand have weakened.
今年,矿企先是眼看着铁矿石价格猛跌到了5年低点,如今石油和煤炭价格也重复了这样的轨迹,原因是投资者对全球大宗商品需求的预期减弱。

Yet despite slower growth in China, the world's largest consumer of commodities, analysts say demand remains robust for some industrial metals, which are set to benefit from any long-term shift towards more private investment and consumption.
不过,尽管全球头号大宗商品消费国中国经济增长放缓,分析人士表示,一些工业金属的需求依然保持强劲——中国经济朝着扩大私人投资和消费的方向转变,必然利好这些金属。

The benchmark Standard & Poor's GSCI Commodity Index has fallen 23 per cent from a peak in June, making the past five months the weakest period for commodity prices since the onset of the financial crisis, according to Barclays Capital. However, the industrial metals in the index – which is used to reflect overall commodities markets – are up 0.68 per cent.
根据巴克莱资本的数据,基准大宗商品指数——标普高盛商品指数自6月达到峰值以来下跌了23%,使过去5个月成为金融危机爆发后,大宗商品价格最为低迷的时期。不过,在这个综合指数中,工业金属价格一项却上涨了0.68%。

That reflects, in part, expectations for continued demand from China.
这部分反映了中国工业金属需求将保持强劲的预期。

Analysts point to growth from the car and railway sectors as well as the rollout of a 4G telecoms network across the country.
分析人士指出,原因在于中国汽车和铁路行业的需求增长趋势,以及在全国铺设的4G电信网络。

China Mobile, the world's largest cellular company, will have built the world's biggest 4G network, with 500,000 base stations and 50m subscribers, by the end of the year.
全球最大移动运营商中国移动今年内将建成全球规模最大的4G网络,包含50万个基站,可覆盖5000万名用户。

While the days of double-digit growth are over, the greater size of the economy means lower growth still translates into strong absolute demand. Julian Kettle from consultancy Wood Mackenzie calls it "slower not lower".
尽管两位数增长已成为过去,但中国庞大的经济体量,意味着即使增长放缓,绝对需求也依然强劲。研究咨询公司Wood Mackenzie的朱利安凯特尔称其为"放缓,而非下降"。

Five per cent growth in copper demand today is equivalent to 13 per cent during the boom years of 2002-2012 in terms of the additional tonnes, according to JPMorgan.
根据摩根大通估算,以增量衡量,当前铜需求增加5%,等同于2002-2012年大宗商品繁荣期时增长13%。

George Cheveley, a fund manager at Investec Asset Management, says Chinese buyers of commodities have run down stocks this year because of tight credit at home. Nevertheless overall demand remains strong.
天达资产管理公司的基金经理乔治切维利表示,由于国内信贷紧缩,中国的大宗商品买家今年减少了库存,即便如此,总体需求依然强劲。

"It's not a whole-scale collapse in end-use demand," he says. "What we have seen this year is iron ore prices collapse and oil come down due largely to worries over supply, whereas nickel, aluminium and zinc prices are up because demand is good and supply has not met that."
"这不是终端需求的全面崩溃,"他说,"我们今年看到铁矿石价格暴跌以及石油价格下降,主要是由于对供应过多的忧虑,而镍、铝和锌的价格上升,则是因为需求状况良好,而供应未能满足需求。"

For example, galvanised steel, which contains zinc, is benefiting from increased use by Chinese carmakers because it does not rust. Car sales in China rose 7 per cent year on year to 17m units from January to September, driven by sales of the more zinc-intensive sports utility vehicles and so-called multipurpose vehicles, according to Société Générale.
比如,镀锌钢因不会生锈,被越来越多地应用于中国汽车制造业,这对其价格起到了提振作用。根据法国兴业银行的数据,1-9月中国汽车销量1700万辆,同比上升7%,一个原因是锌使用量较多的运动型多功能车和多用途车热销。

Underlying zinc demand will rise during 2015 in all the major economies, the bank forecasts.
该银行预计,所有主要经济体2015年对锌的潜在需求都将增加。

Another industrial metal that is set to benefit is aluminium, which is increasingly used as a lighter replacement for copper as well as a substitute for steel in some vehicles.
铝是另一种看好的工业金属。铝比铜更轻,越来越多地被用作后者的替代品,同时在一些汽车的生产中替代钢材。

Lead is also expected to get a boost from China's attempts to lift consumption. While sales of electric bicycles have slowed, the lead-acid batteries they use are also used in hybrid cars. China's lead-acid battery output is expected to grow about 6.6 per cent in 2015, according to consultancy Shanghai Metals Market.
中国促进消费的努力也将利好铅价。尽管电动自行车销量有所放缓,但它们所使用的铅酸电池同样也应用于混合动力汽车。据咨询机构上海有色网预计,2015年中国铅酸电池产量有望增长约6.6%。

Tin has the advantage of being a commodity that has little connection to China's slowing residential property market. "Tin should actually be a beneficiary of any rebalancing of the Chinese economy towards more consumption-driven growth, given that its primary use is in consumer electronics," said Capital Economics in a report this month.
锡的优势在于,虽然是大宗商品,但基本不会受中国住宅地产市场放缓的影响。凯投宏观在本月一篇报告中称:"中国经济转向更多依靠消费拉动增长,这一再平衡进程应该会给锡带来利好,因为这种金属主要应用在消费类电子产品。"

Still, growth in demand from industries brings with it the unpredictable risk of substitution of one metal for another. For example, increased use of aluminium by the car sector could lead to less demand for zinc, which is used to galvanise steel.
不过,工业需求增长也伴随着一种不可预知的风险,即一种金属被另一种金属替代。比如在汽车行业,铝的使用量增多就会造成锌的需求降低,后者用于生产锌镀钢。

"There are different curves of consumption as development happens," says Mr Cheveley. "There are classic cycles looking from American and European data, but there are wrinkles around substitutions of materials."
"在不断发展的过程中会呈现不同的消费曲线,"切维利称,"从美国和欧洲的数据能看到典型的周期,不过金属替代品的曲线会出现褶皱。"

Industries also become more efficient in using raw materials. For example, smaller electronic devices are using ever less tin in solder, which is used in circuit boards.
工业部门在使用原材料方面也变得更加高效。例如,小型电子设备在电路板的焊接物中使用的锌越来越少。

While the commodities supercyle is over, the market is unduly pessimistic on commodities, according to Capital Economics. Slower growth in emerging economies has been priced into the market already, and the lower oil price should also help a recovery in the global economy, boosting demand for various metals.
凯投宏观认为,虽然大宗商品"超级周期"已经结束,但市场对大宗商品的看法过度悲观。新兴经济体增长放缓已经被市场消化,油价下跌也会有助于全球经济复苏,刺激对各种金属的需求。

SocGen forecasts that for base metals the influence of cheaper oil is "trivial" and demand and prices should pick up on lower oil prices during the next couple of years.
法国兴业银行预计,油价下跌对基础金属的影响"微不足道",未来几年,在低油价的背景下,这类金属的需求和价格应会上扬。

"Instead of investors buying commodities," says Caroline Bain, an analyst at Capital Economics, "we are going to see more differentiation between commodities – and which ones are in short supply."
凯投宏观的分析师罗琳贝恩称,"我们不会看到投资者购买各种大宗商品,而是将看到不同大宗商品之间出现更多差异——关键是哪些大宗商品会出现供应短缺。"