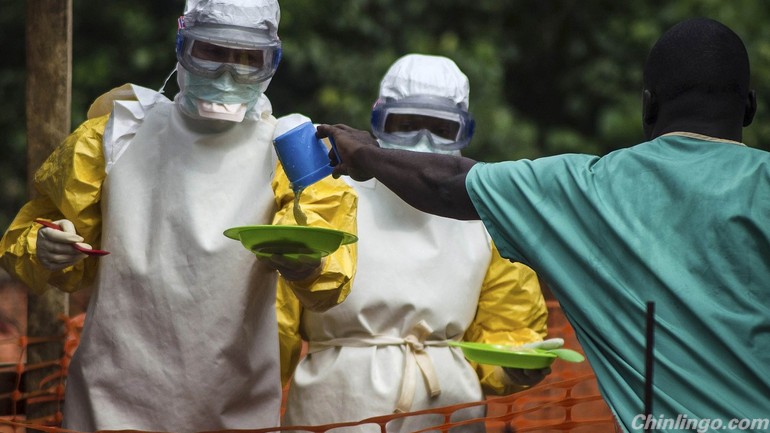 Recently, an analysis from American Bloomberg News disclosed that China's being the largest trading partner of Africa increases its chance of incurring Ebola virus. But drawing from the experience of 2003 when SARS broke out, China may have some edges when Ebola hits.
据美国彭博社近日分析称,中国作为非洲最大的贸易伙伴,这也使得埃博拉病毒传入中国的风险有所增加。但中国在2003年爆发的SARS疫情的控制中获得的经验教训,现在或许能让中国在埃博拉侵入时拥有优势。
The SARS has claimed hundreds of casualties in China and China's public health system has strengthened since then. Associate professor of epidemic and infectious diseases of Hong Kong University Public Health Institute, Ben Collin said:"in the past decade, they (China) have established powerful response abilities towards circumstances like the break out of SARS, in order to protect public health and the ensuing economic and social issues."
2003年SARS造成数百人死亡,中国公共卫生体系在SARS以后得到了加强。香港大学公共卫生学院的传染病流行病学副教授本·考林说:"在过去10年中,他们建立了对类似SARS情况做出反应的强大能力,以避免公共卫生受到损害,并且防止伴随而来的社会经济问题。"
As the invasion of Ebola into America and Europe, China has equipped designated hospitals with facilities, sterilant and protective equipments and provide detailed guide to medical staff.
随着埃博拉传入美国和欧洲,中国已经命令指定的医院储备设备、杀菌剂和防护装置,并为医护人员制定了详细的指南。
Over a hundred of flights come directly from Africa every month in Guangdong, tens of thousands of the passengers under examining. Recent two months up to Oct. 21th, 8672 passengers from Ebola epidemic areas are being tracked.

广东每个月有100多趟来自非洲的直飞航班,数千人正受到监控,截至10月21日的两个月中对来自埃博拉疫区的8672人进行了追踪。
Henk Beckzaaiman, ex-representative in China of World Health Organization said that China has become one of the closest partners of WHO.
曾担任世界卫生组织驻华代表的亨克·贝克达姆表示,中国已成为与世卫组织合作最好的国家之一。