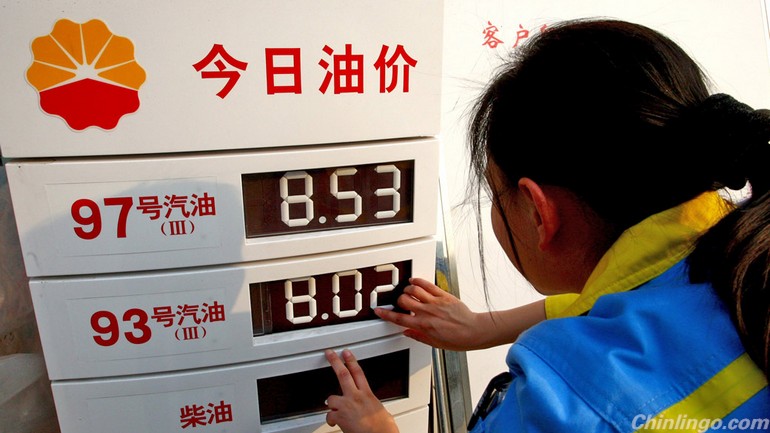 The slide in crude prices to a five-year low this week following Opec's decision to keep oil output unchanged should have been welcomed in energy-hungry China.
在欧佩克(OPEC)决定维持原油产量不变后,油价本周下跌至5年来的最低点。这本应该受到渴求能源的中国的欢迎。

On the surface, falling crude prices benefit the world's largest oil importer.
表面看来,原油价格不断下跌会让这个全球最大的石油进口国受益。

Imports of crude into China are rising faster than refinery output, implying elevated commercial and strategic stocks. Beijing last week offered the first formal estimate for the level of crude stored as part of phase one of its strategic stockpiling exercise – 91m barrels in four locations – and a second phase is well under way.
中国原油进口增速超过了炼油厂产出,这意味着其增加了商业和战略储备。北京上周首次正式公布了战略石油储备一期工程部分储备原油的估计规模,4个储备基地中有9100万桶,而二期工程早已启动。

"The plunging oil price benefits China," says Li Yan, oil analyst with Oil Chem, a petrochemicals information provider. "It helps the country reduce the cost of imports and shore up oil storage that will in turn beef up energy security."
石化信息提供商隆众石化网石油分析师李彦表示:"油价暴跌让中国受益。它有助于中国降低进口成本,增加石油储备,从而提高能源安全性。"

However, the picture is more complicated because China is also the world's fourth-largest producer.
然而,情况比这更为复杂,因为中国同时也是全球第四大石油生产国。

As such it is vulnerable to falling prices just like any other oil-producing nation. China last year produced 4.45m barrels a day of crude, behind only Saudi Arabia, Russia and the US. It has also been pumping more than all the members of Opec barring Saudi Arabia. China has increased oil production by nearly 750,000 b/d over the past decade, but in the same period, oil consumption has risen by 3.7m b/d.
因此,中国和其他所有石油生产国一样容易受到油价下跌的影响。中国去年原油产量达到445万桶/日,仅次于沙特阿拉伯、俄罗斯和美国。中国的原油产量也超过了除沙特以外的其他所有欧佩克成员国。中国在过去十年的石油产量增长了近75万桶/日,但在同一时期,石油消费增长了370万桶/日。

For China, the fall in crude prices have added to concerns over the prospect of regional deflation in the country's resources-dependent hinterland, even as coastal manufacturers welcome lower input costs.
对中国来说,即便沿海地区的制造商乐见成本下降,但原油价格下跌让人更加担心,依赖资源的内陆地区可能出现区域性通缩。

Falling prices can make it difficult for some of China's regional governments to meet local budget obligations. More worryingly, they also create vulnerable links in the chain of lending rings that can often prop up local economies.
油价下跌可能让中国一些地方政府难以实现当地预算。更令人担忧的是,它也让通常可以提振当地经济的信贷链条出现薄弱环节。

Arthur Kroeber, head of Gavekal Dragonomics in Beijing says: "Particularly [the remote northeast province of] Heilongjiang is getting hammered by falling resource prices."
北京龙洲经讯(Dragonomics)的负责人葛艺豪(Arthur Kroeber)表示:"尤其是(偏远的东北省份)黑龙江正遭受资源价格下跌的打击。"

In the northeastern province of Heilongjiang, bordering Siberia and home to the nation's largest oilfield at Daqing, strikes by teachers have been spreading, with the indebted local governments unable to increase salaries or benefits. Heilongjiang's economy grew 5.2 per cent in the first three quarters of this year, well below the 7.4 per cent figure for the country as a whole.
在黑龙江省,教师罢课现象在多地蔓延,债台高筑的地方政府无法提高工资或福利。该省位于中国东北部,与西伯利亚接壤,是中国最大油田——大庆油田的所在地。该省经济今年前三个季度增长5.2%,远低于中国7.4%的整体增速。

That mirrors the much bigger problem in China's coal producing heartland. It is coal, rather than oil, that has powered China's rapid economic growth; China is by far the world's largest producer and consumer of coal.
中国内陆煤炭产区的问题更大。煤炭,而非石油,才是中国快速经济增长的推动力;中国是遥遥领先的全球最大煤炭生产国和消费国。

But international coal prices hit a five-year low last month, ravaging the hinterland that supplies China's coastal manufacturing base. In Shanxi province, which produces a quarter of China's coal, debt-laden private mining groups and steel mills have collapsed while an anti-corruption purge has ensnared hundreds of officials whose favour they sought in happier times.
国际煤价上月跌至5年来的最低点,给为中国沿海制造业基地供应煤炭的内陆地区带来重创。在煤炭产量占到中国四分之一的山西省,负债累累的私人煤矿集团和钢厂破产,同时,他们在景气时期曾前往寻求庇护的数百位官员在反腐整肃运动中落网。

Despite the pain, falling commodities prices have at least provided the opportunity to restructure the way resources are taxed, which has eluded the authorities for years. Restructuring taxes when prices are low delays the immediate impact on large energy producers.
尽管有这些困难,但大宗商品价格下跌至少为调整资源税征收方式提供了机会——多年来中国当局一直回避这种调整。在价格处于低位时调整资源税,可以让这种调整不会立即对大型能源生产商产生影响。

For example, for years the resource tax on coal – collected by provinces – was a low flat levy based on production volume. As of this month it will be assessed on value. A similar reform for oil and gas began in 2010, and the rate was raised in the autumn.
例如,多年来由各省征收的煤炭资源税是从量计征,税率很低,而从本月开始,它将改为从价计征。对石油和天然气的类似改革开始于2010年,今年秋季还上调了税率。

Xinjiang, the ethnically divided region that is home to 40 per cent of China's coal as well as large oil and gasfields, recently wrested the right to tax local retail products sales from China National Petroleum Corp, the state-owned parent of listed group PetroChina. That should help Xinjiang meet its massive infrastructure spending commitments, and keep China's domestic energy flowing even with commodities prices at multiyear lows.

多民族的新疆地区拥有中国40%的煤炭储量,以及大型石油和天然气田。最近新疆取得了对中国石油天然气集团公司(CNPC)——上市公司中石油(PetroChina)的母公司——在当地零售产品的征税权。这应该会帮助新疆实现其庞大的基础设施支出承诺,并在大宗商品价格处于多年低点的情况下,帮助保持国内能源的流动。