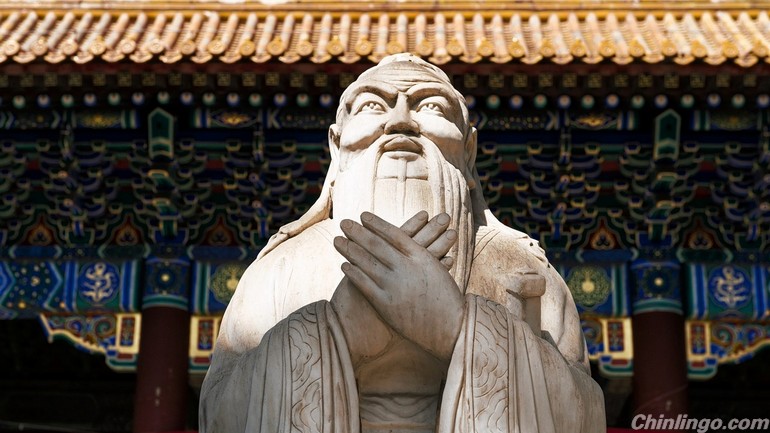 One of the striking elements of "The Governance of China," a book published this past fall in several languages (including English) by Chinese President Xi Jinping, was his reliance on the "brilliant insights" of Confucius to explain his own political and social philosophy. Mr. Xi quotes, for example, this pithy saying from the ancient master: "When we see men of virtue, we should think of equaling them; when we see men of a contrary character, we should examine ourselves." And Mr. Xi is clearly channeling Confucius when he writes that the Chinese have always "developed their country through studying the nature of things, correcting thoughts with sincerity, cultivating the moral self, managing the family…and safeguarding peace under Heaven."

中国国家主席习近平2014年秋天出版的多语种(包括英语)《习近平谈治国理政》一书中,其中一个突出元素是他利用孔子的"睿智",解释了他的政治和社会理念。例如,习近平主席引用了这位先人的一句精辟的话:"见贤思齐焉,见不贤而内自省也。"此外习近平清晰地表达了儒家文化,当他写到中国人一贯"物格而后知至,知至而后意诚,意诚而后心正,心正而后身修,身修而后家齐,家齐而后国治,国治而后天下平。"
Leaving aside the question of Mr. Xi's own sincerity in invoking these ancient and decidedly noncommunist ideas, there can be no doubt that the Confucian values he invokes have been the foundation of one of the great social, cultural and economic success stories of the last few decades. Despite Asia's difficulties and imperfections (and the impressive achievements over the same period of such disparate places as Canada, Scandinavia and Israel), we have been living, since the closing years of the Cold War, in a Confucian moment. The rise of the Pacific "tigers" in the 1970s began a process that has made Asia the geographic organizing principle of the world economy. Countries like China and Vietnam couldn't have discarded communism in all but name, switched to a riotous form of capitalism and remained as stable as they have been without the essential tolerance and respect for authority, hierarchy and social order embodied in Confucianism.
且不论习近平自己热衷于引用这些古代的而非共产主义思想方面的问题,毫无疑问的是,他所引用的儒家思想是近几十年来在社会、经济、文化取得极大成就的根基所在。尽管亚洲存在诸多困难和不足(与在同一时期不可比拟的加拿大、斯堪的纳维亚和以色列等地区所取得的突出成就相比),但自冷战结束以来,我们一直处于儒家时代。1970年代太平洋地区"亚洲四小龙"的崛起开启了一个阶段——亚洲成为世界经济的地域组织原则。中国和越南等国家不可能完全废除共产主义,转变成动荡不堪的资本主义国家,且一如继往的保持稳定,但丢弃了儒家思想中关键的包容心,对权威、社会等级和社会秩序的服从。
Confucianism is best described as a philosophy rather than a religion. It both competes with and complements Asian religions such as Buddhism and Taoism. To say that Asia is Confucian is an oversimplification, but to say that a Confucian sensibility helps to define East Asia is not.
儒家思想与其说是一种宗教,还不如说是一种哲学思想,既能与亚洲一些宗教,如佛教和道教,竞争又能互为补充。认为儒家在亚洲当道过于简单,但说东亚地域概念的形成得到了儒家的相助,则不为过。
The rise of Asia in our time has a great deal to do with how the social stability encouraged by Confucianism has interacted with modern capitalism. We have seen the rise of dynamic, enlightened authoritarianism in China, South Korea, Taiwan and Singapore—all of which, save for China, have evolved into parliamentary systems. China's regime might yet be forced to change too, thanks to the kind of relatively peaceful and restrained democratic stirrings we have seen in Hong Kong and might eventually see on the mainland itself.
亚洲的崛起与儒家思想所倡导的社会稳定与现代资本主义之间交融有着极大的关系。我们见证了中国、韩国、台湾、新加坡等国家和地区里变化而开明的集权主义的崛起——这些国家——除了中国——都已发展成议会制国家。在香港出现的平和而有限制的民主萌芽最终也可能在内地出现,中国的政体或许也会不得不出现转变。
Indeed, the founders of many of the most robustly modern Asian states—South Korea's Park Chung-hee, Taiwan's Chiang Kai-shek, Singapore's Lee Kuan Yew—were all very consciously Confucian as they navigated the rigors of creating modern societies. As for China, its transition away from the corruption and inefficiencies that have built up over the past third-of-a-century of unprecedented economic growth will require (among other things) a reinvigoration of the Confucian ethos.
确实,众多生机勃勃亚洲国家的创建者,如韩国的朴正熙,台湾的蒋介石,新加坡的李光耀,在引导现代社会的创建的艰难过程中,都意识到了儒家思想的重要性。对于中国,要从过去史无前例的30多年的经济发展所产生的腐败和低效率转型,在众中努力之中,还需要重振儒家思潮。
What exactly is Confucianism? Confucius is the Latinization of Kong fuzi ("the Master Kong"), who lived around 2,500 years ago, in the northern Chinese vassal state of Lu during the waning days of the Zhou dynasty. Looking back at the golden age of the early Zhou, Confucius presented his disciples with what the scholar and translator Raymond Dawson calls the "seminal expressions" of Chinese civilization.
儒家文化是什么?孔子生于大约2500年前,居住在周朝衰落时期的北方诸侯国之一鲁国。回顾早期周王朝的黄金时代,孔子中国文化"精髓思想"——如学者兼翻译家的道森所说的——来教育他的弟子。
Many of these ideas are on display in "The Analects," the limpid philosophical extracts written by the Master Kong's disciples. The work's two most crucial concepts are "humaneness" and "virtue," which together are supposed to shape a person's psyche and help in all interpersonal relations.
孔子的许多思想在《论语》中都有所体现。《论语》是由孔子的门徒们写下的哲理语录。这部作品中的两个关键思想是"仁"和"德"。两者合在一起则认为是能塑造个人的心灵,有助于人际交往。
There is nothing squishy or naive in these admonitions: Everyone else must be held to an equally high standard, all of it based on respect for the experience of previous generations. As the Master Kong says, "Being fond of the truth, I am an admirer of antiquity."
这些格言警句一语中的:基于对先人经验的尊重,对他们应以同样高标准要求。如孔子所说:"我非生而知之者,好古敏以求之者也。"
In Confucianism, the past isn't something to disparage as primitive or retrograde; it constitutes the very record of human experience, and the present depends on it. Particularly in times of profound technological and social change, Confucians find the best insurance against chaos in tradition, especially in the virtues of loyalty and filial piety.
在儒家文化看来,不能将过去视为原始或倒退;它构成了人类历史的记录,当下也是基于过往而存在。特别是在复杂的技术和社会变革时期,儒家学者认为对抗混乱的最好方法在传统,尤其是忠和孝的思想。
Postmodern Western life, by contrast, is sometimes described as decadent because of its worship of youth. For someone like me, who has observed both cultures, it is hard to resist the thought that the West might benefit just now from a dose of Confucianism, as might China itself, whose one-child policy—only recently relaxed—has resulted in a generation of spoiled children.
相反的,后现代的西方生活有时被描述为"堕落",这源于年轻的崇拜。例如,像我这样见证了两种文化的人,很难拒绝西方能从受益于儒家文化的想法,而中国自己也是如此——它的独生子女政策——仅从最近才放松——使得出现了一代"小皇帝"。
Confucianism also strongly encourages tolerance and discourages insubordination, which, like egoism, it never equates with courage. It is about conserving the delicate equilibrium that exists between people themselves and between those inside social and political organizations. As the Master Kong says: "The gentleman has universal sympathies and is not partisan. The small man is partisan and does not have universal sympathies." The demonstrators in Hong Kong may have demanded political change, but their discipline, organization and general politeness were very Confucian.
儒家文化强烈提倡容忍,反对逆从,这就像利己主义一样绝不等同于勇气。它是要维持人之们之间,社会政治组织自身内部的微妙平衡。正如孔子所说:"君子坦荡荡,小人长戚戚。"香港的示威者也许要求政治变革,但他们的纪律性、组织性和礼节度是非常儒家的。
Much of this may sound, to Western ears, like classical Burkean conservatism, with its aversion to radical change but embrace of gradual improvement. Edmund Burke, horrified at the spectacle of the French Revolution, believed in evolution and gradualism. East Asia's enlightened authoritarianism has to be seen in this light: as an economically productive transition phase, not as an end in itself.
这许多的声音在西方人听来仿佛伯克式的保守主义——厌恶彻底变革却支持渐变的发展。埃德蒙·伯克震惊法国大革命的壮观,相信发展和渐进主义。东亚开明当局必须在这一方面所见:作为经济生产过渡阶段而非自我结束。
The world as a whole is in tumultuous transition, as traditional family structures and ways of life come undone on every continent. In this crucible, social and political survival will come most easily to cultures that can preserve a time-tested ethical foundation as a defense against destructive change. East Asia has been the undeniable success story of the last four decades, even as its dramatic growth phase now seems over. I would bet that the Confucian moment will live on for a while longer yet.
全球正处于动荡的过渡时期,每一大陆上的传统家庭结构和生活方式都在发生变化。在这个大熔炉里,相比起要保护经受时间考验的道德基础,并抵抗社会变革的文化来说,社会及政治的留存下来是最为容易的。在过往的40年里,东亚的成功不可否认,即便它大规模的成长阶段似乎已结束。我敢打赌孔子时代将会继续存在。