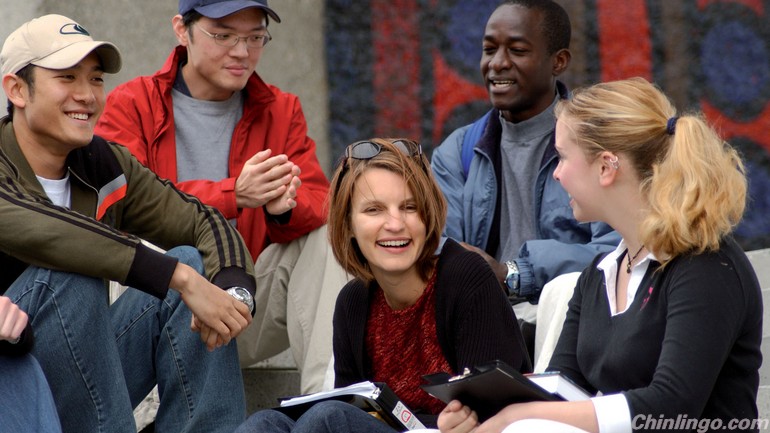 When Westerners come to Shanghai, their first impression is often that Chinese people are assholes. Passengers crowd around the subway doors to board first. Cars speed through crosswalks on red lights. Public urination is common.
西方人来到上海时,第一印象往往就是中国人都很讨厌。搭乘地铁时,乘客都围堵在地铁门口,争先恐后。人行道上,汽车飞速行驶,闯红灯。公共场所,随地小便司空见惯。
Of course, none of what I say can describe 1.4 billion unique human beings, whom we crudely label "China." My conclusions come from a few friends I met in Shanghai, Guangzhou, and Boston. But whether they're a representative sample or not, I've learned a lot from them. So what can a Westerner, especially a Northeastern American like me, learn from the Chinese about relationships?
当然,我所说的并非放之四海而皆准,无法代表贴着"中国"标签的14亿人口。我得出的结论来源于我在上海、广州和波斯顿遇到的朋友。但是,不管他们是否具有代表性,我从他们身上学到了很多。所以,就人际关系而言,西方人能从中国人这里学到什么呢,尤其是像我一样的来自美国东北部的人?
1.The Generosity Reflex
1. 惯性慷慨
In China, generosity is a reflex, like saying "please" or "thank you." This covers obvious things, like picking up the tab at restaurants, but it covers subtler things too — handing your neighbor a napkin as soon as her old one gets dirty, or serving her the moment she lays eyes on a dish, before she asks. It's as if everyone is scanning each other for the tiniest inconvenience so that they can jump in and fix it.
在中国,慷慨是一种习惯,就像是我们说"请"或是"谢谢"一样。这包括很多显而易见的事情——比如在餐厅门前叫的士,当然也包括很多不易察觉的事情——比如吃饭时,你旁坐的女士餐巾脏了,你得立马给她递条新的;或者,当她的目光刚落到某道菜上,尚未开口之时,你就得赶紧为她服务。好像每个人都在扫描对方,看他们有没有一丁点的不便之处,以便能及时帮助他们。
When my father flew to Fuzhou to give a lecture, the host university assigned a graduate student named Lily to accompany him. Once, she offered to carry his notebook for him, and he said "no, I'm fine." Lily looked so dejected that he changed his mind and handed it to her anyway.
一次,我的父亲飞往福州演讲。主办大学指定一名叫莉莉的本科生陪同他。莉莉有次想帮父亲拿笔记本,父亲说"不用,我自己可以拿"。后来,看到莉莉很沮丧,父亲改变了注意,把笔记本交给了她。
A related principle: one should always offer much, much more than is needed.

一个相关原则就是,不管别人需不需要,你都应该多付出。
2.Actions, Not Words
2. 行而少语
My Chinese teacher, Su Wei, is a master of bold, considerate actions. Once, during Christmas holiday, I took the train up from New York to see him. Even though I only had two hours, he drove 40 minutes to the train station and 40 minutes back, just so he could show me his new house. He gave me a book, a case of jasmine tea for my mom, and a giant bag of pistachios to bring back to China.
我的中文老师苏伟是一个胆大心细、富有行动力的人。有一次,圣诞期间,我坐火车去纽约看望他。即使我只有两个小时的时间,他还是开了40分钟的车来火车站,然后又开了40分钟回去,只为带我去看他的新房子。他给了我一本书,给了我妈妈一罐茉莉花茶,还准备了一大袋开心果让我带回中国。
Since college, Su Wei has opened his house to his favorite students, saying "this is your home!" Whenever I visit, his wife Liu Mengjun always cooks a huge meal, and there's always a bed made in the guest room in case I want to spend the night. Once, I casually asked for orange juice, and from then on, there was always was a quart of Tropicana in the fridge whenever I visited. Unique among my college professors, Su Wei has taken an active interest in his student's lives, and continued to support them as a friend and mentor long after graduation. As a novelist, teacher, and poet, he is more expressive than Jane, but he still leads with his actions.
自从大学以来,苏伟家的大门一直向他的爱徒敞开。他说:"这就是你们的家!"无论何时我去拜访,老师的妻子刘梦君总会做一桌丰盛的菜。还有,客房总有张床收拾得整整齐齐,以便我留在这里过夜。有一次,我随便要了杯橙汁,此后,无论我什么时候去,冰箱里总有一夸脱纯果乐。在我的大学老师中,苏伟可以说是独一无二的,因为他对学生们的生活有兴趣,甚至大学毕业后多年,还像良师益友那样继续支持他们。作为一个小说家、教师和诗人,他比简更上一层楼,但他仍然是行动至上。
This emphasis on action goes back to Confucius. In Book IV, Verse XXIV of the Analects, he declared: "The superior man wishes to be slow in his speech and earnest in his conduct." He could easily be describing Jane or Su Wei.
这种强调行动的思想要追溯到孔子。在《论语》第四章第二十四则里,孔子讲道:"君子欲讷于言,而敏于行。"这用来描述简或苏伟恰如其分。
3.Introversion and Sincerity
3. 内向真诚
My Chinese coworkers prefer to stay quiet in unfamiliar social settings. The thought is, "I don't want to go first" or "I don't want to say the wrong thing." This makes team lunches dreadfully boring. Our American office manager, Melissa, has tried to force employees to be social with Friday Happy Hours at the office, but instead of socializing, most employees rush to grab a beer or a popcorn and then return to their desks.
我的中国同事在不熟悉的社会环境里更喜欢保持沉默,心里想着"我不想先讲话"或"我不想说错话",这会让团队午餐很无趣。我们美国办公室经理玛丽萨试过强迫员工在办公室举办"星期五欢乐时刻"联欢,但大多数员工跑来抢一杯啤酒或是一包爆米花后,就回到他们的桌旁,根本不是联欢。
These two stances, introversion versus extroversion, sincerity vs. small talk, lead to different outcomes. The first stance leads to a few close friendships, the second leads to lots of acquaintances. There is no word for "networking" in Chinese. How could there be, after Confucius himself said, "Have no friends not equal to yourself"? On the flip side, small talk can open up friendships, but too often, these "friendships" get stuck in a sort of Demilitarized Zone of fake cheer and irony. Americans may be more outgoing on average, but that doesn't make them less lonely.
这两种立场,内向与外向、真诚与闲聊,导致了两种不同的结果。第一种立场可以建立为数不多的亲密友谊,第二种则能认识很多熟人。在中国,没有"人脉"这样的词。孔子自己就曾说,"无友不如己者",这怎么可能有"人脉"呢?另一方面,闲聊能打开友谊之门,但是通常这些"友谊"会陷入一种虚伪的欢呼和讽刺的"非武装区"。美国人总体上可能比较外向,但是这并没有减少他们的孤独感。
4.Friendships Are More Intimate
4. 友谊愈亲
When I have made it past the "friend" barrier with a Chinese person, he or she has often becomes as close as a Westerner I've known for many years. Angela, who joined us on the trip to Yixing, is a senior HR manager, but she treats her hires like her children. She's invited me and Dandan to go hiking with her teenage son, and regularly hosts dinner parties at her house. Su Wei, my Chinese teacher, knows more about my love life than my parents do.
当我和一个中国人跨过"朋友"障碍后,他或她通常会变得与我认识多年的西方人一样亲密。与我们一同去宜兴的安吉拉是一位高级人力资源经理,但是她对待下属就像对自家的小孩一样。她邀请我和丹丹跟她十几岁的儿子一起去远足,定期在她家举办晚会。我的中文老师苏伟比我的父母还要了解我的情感生活。
My coworker Lincoln, a thoughtful digital marketer with a pirate's goatee, has already become a swimming buddy and political debating partner. We'll head to the Xuhui District public swimming pool, where of course, we have to strip naked to change into our bathing suits, and swim for an hour or two. Then we'll order noodles at the Lanzhou Noodle restaurant and talk politics and history until the Shanghai Metro hits closing time.
我的同事林肯是一位深思远虑的数字工作者,有着海盗般的山羊胡子,已经成为我的游泳伙伴和政治辩论对手。我们会一起去徐汇区的公共泳池游泳。当然在那里,我们必须要先脱光衣服才能换上泳衣,游上一两个小时。之后,我们会在兰州拉面馆叫碗面条,谈论政治历史,直到刚好赶上上海地铁的末班车。
5.This Ain't Boston
5.此地非波士顿
The friends I've made in China have caused me to question whether this is the best, or only, way to relate to people. They tend to say less and do more, showing their care through considerate actions instead of words. The wall between strangers is higher, perhaps, but once you've crossed that wall, everything is shared.
在中国交到的朋友让我思考这样一个问题:"是否这是最好的,或是人们联系的唯一途径。"他们一般说少做多,用体贴入微的方式来表示他们的关心,而不是话语。也许陌生人之间的墙比较高,但是一旦你穿过那堵墙,一切都可以共享。
Is one culture better than another? There are advantages to a culture in which politeness extends past the "in-group," in which people with little in common still have a habit of talking to each other, in which we maintain privacy. In a place like my hometown of Boston, where no single group has the majority and everyone is from somewhere else, it's essential. And individuals can accomplish more, be more creative, and take bigger risks when they aren't tied down in a web of obligations to their friends, family, and lovers.
一种文化是否比另一种更好呢?礼貌延伸到圈外的文化有其优势,因为这样共同点不多的人们仍然可以相互交谈,并保留隐私。在我的家乡波士顿等其他类似的地方,这一点就显得特别重要,因为它们不存在某个单一群体占据多数的情况,每个人都来自不同的地方。如果个体不受朋友、家庭和爱人的束缚,他们就会有更大的成就,更多的创意,也会去冒更大的风险。
But too much individualism can be lonely. At its best, Chinese culture facilitates intimacy — people act generous as a reflex, show their care through actions instead of words, choose sincerity over small talk, and give their total attention to the people privileged enough to call them friends. People have each other's backs here. And the best part is, they do it without making a big deal out of it.

但是太过独立可能会导致孤独。中国文化最有利于促进亲密——人们下意识地表现得很慷慨,用行为表示他们的关怀之情,而不是话语,选择真诚而不是闲聊,对有幸成为他们朋友的人密切关注。在这里每个人都相互扶持。最好的一点是,他们全无私心,并没有想从中牟利。