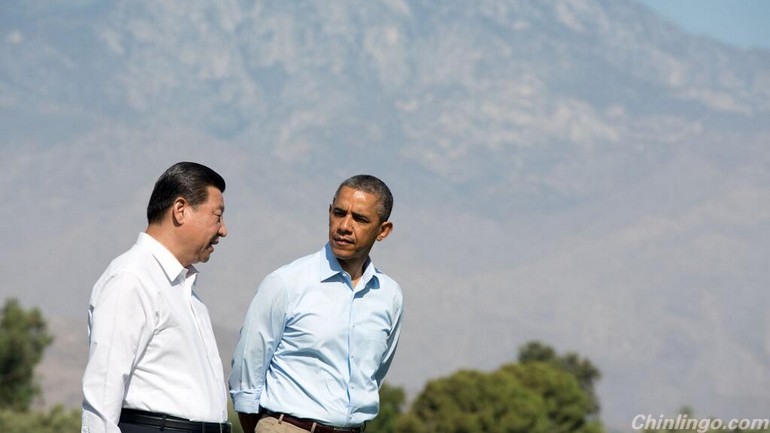 As more U.S. traditional allies such as the United Kingdom, Germany, France, and Italy decide to join the China-led Asian Infrastructure Investment Bank (AIIB), people may start to wonder: Is this a sign that the U.S. is in irreversible decline?
正如英国、德国、法国、意大利这些美国老牌盟友相继加入中国主导的亚洲基础设施投资银行,人们不禁想问:这是否预示着美国不可逆转的衰落?
Actually, the AIIB issue does not necessarily indicate a setback for the U.S. in the overall power game, played with an increasingly ambitious China. For one thing, we've yet to see a true power parity between these two rivals. For another thing, as the AIIB demonstrates, China is still a regional power. However, we should start thinking about the possibility of China taking a truly leading role in a global institute in the future. That would truly pose a substantial challenge to U.S. predominance in the world financial system built by the U.S. after WWII.
实际上,和中国这个国力日益增强且雄心勃勃的国家竞争,亚投行一事并不一定表明美国在这场权力游戏中的失败。而现在,不管是在经济上还是在军事上,人们并未看到中美两国势均力敌。亚投行的成立也显示了现在的中国还只是一个地区大国。但是,我们也应该开始考虑,未来中国很可能在国际组织中起到真正的主导作用,比如世界基础设施银行以及类似的组织。而对美国自二战后建立并主导的国际金融体系而言,这将是一个真正意义上的巨大挑战。
Meanwhile, joining AIIB does not necessarily mean that these U.S. allies truly trust China's financial skills and experience, much less Beijing's possible political intentions. But the significance of these Western economies' involvement is obvious to AIIB and China. And the Europeans seem to have good reasons for their decisions. As Kay Swinburne, economics spokesman for the European Conservatives and Reformists (ECR), said to Xinhua, "Being able to influence the way in which the AIIB operates will help shape infrastructure investments across Asia and ensure that the new bank encompasses high principles of governance and transparency in investment decisions."
同时,加入亚投行也并不一定表明这些美国盟友充分信任中国的金融实力和经验,更不会信任中国潜在的政治意图。但是这些西方大国的加入,对亚投行乃至中国都有显而易见的重大意义。并且,欧洲大国对做出这个决定也有着充分的理由。欧洲保守和改革党经济发言人凯•斯温伯恩告诉新华社称,"欧洲能够影响亚投行的运行方式从而协助亚洲重塑基础设施投资,并确保新兴银行能够在投资决定中涵盖管理体制和政策透明性的高尚准则。"
Nevertheless, the growing popularity of the AIIB could give China the opportunity to take a more proactive role in its intended plan to build new multilateral world institutions. In fact, the U.S. inadvertently helped facilitate such an opportunity, through its de facto containment attitude in its diplomacy toward China, combined with a negative or even exclusionary policy in current multilateral economic frameworks like the International Monetary Fund and the Trans-Pacific Partnership.
不管怎样,随着亚投行日以益增的影响力,中国能够有机会建立新兴国际多边组织,并且在其中发挥着更加积极主动的作用。实际上,美国对华遏制的外交政策,特别在地区领土争端上的政策,以及对当今世界多边经济框架的负面甚至排他政策,都无意中帮助中国促成了这样的机会。
In an ideal scenario, China has the money, while the U.S. has the necessary management skills and experience. Shouldn't this combination pave the way for the two countries to cooperate regarding the reform of world financial system? But yet again, we see political differences rule over political rationality.
理想的情景是,中国手握资金,美国则拥有必要的管理能力和经验。这样的互补是不是可以为两国协作共同应对国际金融体系改革铺平了道路?但遗憾的是,两国政治的分歧支配着其政治理性。
Still, it's too early to conclude that China has already taken predominance in the world financial system from the United States. Both sides should not overreact to the expansion of AIIB's prospective founding members. AIIB is a regional institute, unlike the IMF and the World Bank, in which the U.S. still acts as the leader.
现在认为中国已经取代美国主导世界金融体系还为时过早。两国都不应该对越来越多国家申请成为亚投行创始成员国而反应过度。不同与美国主导的国际基金货币组织和世界银行,亚投行实则还是一个区域性组织。
However, quantitative change may eventually lead to qualitative change; the process has just begun. Could the success and possible expansion of AIIB lead to the birth of a "WIIB" or some other global scale institute in which China truly dominates? That would be more consequential for global financial leadership in the long run.
但是,量变可能会导致最终的质变。而这个过程已经开始了。亚投行是否可能成功地发展扩大,最终成为中国主导的"世界基础设施银行"或其他国际性组织?长远来看,这对国际金融的领导地位具有更重要的意义。