Quora is a place to gain and share knowledge. It's a platform to ask questions and connect with people who contribute unique insights and quality answers.
Quora writes these words on its website. To be honest, I was attracted by these words and indeed I have learned so many useful knowledge from Quora, however I am bothered from time to time, not by the answers but the questions on Quora….




As far as I'm concerned, these questions are hilarious(not stupid). Do you really expect me to believe that a person can ask questions on Quora can't find anything objective about China?  I really don't know the answer.
The answers under the questions are also funny, some of them are even a little mean. I'm not saying these questions are wrong or we shouldn't ask about what we really want to know which clearly aren't the spirit of Quora, I'm just wondering what can we do about this situation. Chinese netizens also talk about this, there is a question on Zhihu — 如何看待 Quora 中「China」话题下存在的偏见?(What do you think of the prejudices about China in Quora?) A Chinese netizen wrote these words under this question.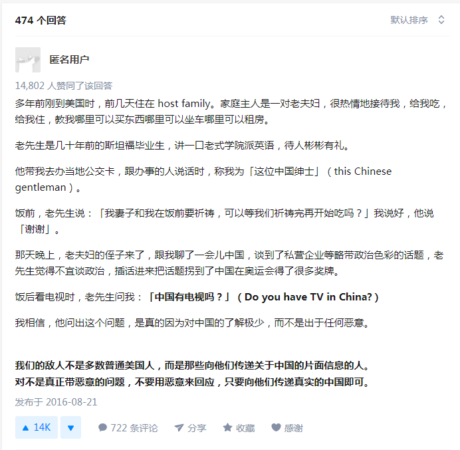 The story is just proof, it's the conclusion that we should focus on, I will translate it for you.
我们的敌人不是多数普通美国人,而是那些向他们传递关于中国的片面信息的人。对不是真正带恶意的问题,不要用恶意来回应,只要向他们传递真实的中国即可。
Our true enemy is not the average beings in America, our true enemy is the people who conveys one-sided information of China to them. We don't need to respond the questions without spite in a spiteful way, all we have to do is to convey a real China to them.   
It's meaningless to answer those questions with hate ,the only thing that matters is to show a real China to the world in a proper way.