弱国无外交!!!!!!
ruò guó wú wài jiāo !!!!!!
No diplomatic preference could be applied to those weak nations.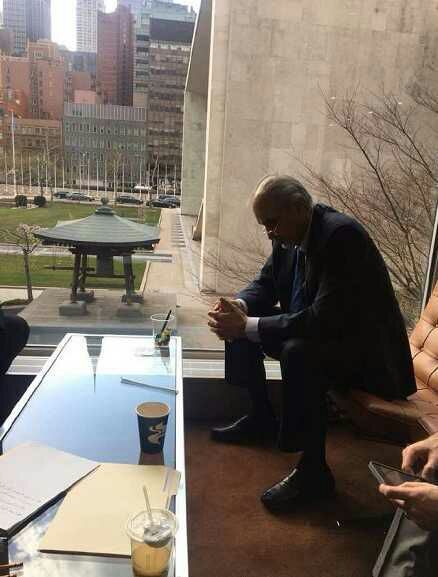 Yesterday, many Chinese relayed a photo of a foreign diplomat on their Weibo homepage.
Not just because it reminds us of the humiliation of modern Chinese history which always been the pain in Chinese heart, but because China is a peace-loving country since ancient times.
The lonely hero of the photo is Syrian Ambassador to the United Nations Jaafari.
This photo was first published on April 11th. Text shows pictures taken on April 10th, after the UN meeting.
A lot of Chinese netzens were moved by this picture, and more were irritated by the unethical actions of the U.S.A, the U.K and France.
Look what Chinese netzens say on Internet:
Diplomats in modern China maybe were this helpless in international conferences.

想想中国近代的外交官在国际会议上应该也是这么无助吧。 

xiǎng xiǎng zhōng guó jìn dài de wài jiāo guān zài guó jì huì yì shàng yīng gāi yě shì zhè me wú zhù ba 。 



There is nothing he can do, it's easy to bury the truth as long as you have power.

没用的,只要拳头硬颠倒黑白指鹿为马都是简单事情。

méi yòng de ,zhī yào quán tóu yìng diān dǎo hēi bái zhǐ lù wéi mǎ dōu shì jiǎn dān shì qíng 。



It reminds of Vi Kyuin "Wellington" Koo,no diplomatic preference could be applied to those weak nations.

让我想起了顾维钧,弱国无外交。

ràng wǒ xiǎng qǐ le gù wéi jūn ,ruò guó wú wài jiāo 。



Basically American government has been lying the crap out, they won't even make up a good pretense, 
they just want a war. There was a good saying, no diplomatic preference could be applied to those weak nations, 
China also had a a time of helplessness.

美国这几天基本上是遮羞布也不要了,借口也懒得好好编,
明摆着就要干你。说的很好,可惜弱国无外交 ,
中国也有过种无助无力的时候。

měi guó zhè jǐ tiān jī běn shàng shì zhē xiū bù yě bú yào le ,jiè kǒu yě lǎn dé hǎo hǎo biān ,
míng bǎi zhe jiù yào gàn nǐ 。shuō de hěn hǎo ,kě xī ruò guó wú wài jiāo  ,
zhōng guó yě yǒu guò zhǒng wú zhù wú lì de shí hòu 。



A same girl showed up three times!!!!! People just wondered why is this kid still alive.

同一个小女孩出现了三次!!!人家都质疑这个孩子怎么还活着。

tóng yī gè xiǎo nǚ hái chū xiàn le sān cì !!!rén jiā dōu zhì yí zhè gè hái zǐ zěn me hái huó zhe 。


The Syrian capital, Damascus, is the oldest capital inhabited in the world. However, once heaven was now purgatory, years of war has destroyed this beautiful ancient city, thousands of innocent citizens died and millions of people ran away from their homeland.
The glory of Damascus was destroyed and the archaeological ruins with thousands of years of history turned into ruins, this land lost its former silence forever.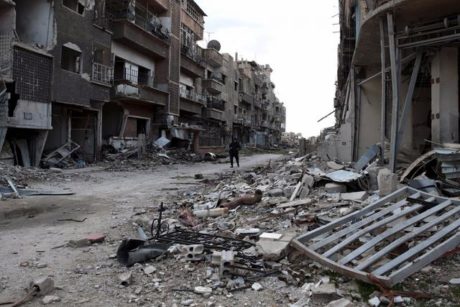 But in fact, before the war burned into Syrian territory, a war without gun smoke had already begun within the United Nations.
Jaafari alone, in the face of the menacing American and British country representatives, argued that he wanted to strive for a moment of peace for his country. This man has fought bravely in his war, but still can't stopped the western world firing those missiles, all he can do was sitting by a window in peaceful New York city which is pretty ironic because he was thinking about the homeland that was almost bombed into ground.