Chinese tones are difficult to master in a short time if you just read and repeat them in class. Chinese phonetics has the strong musical characteristic.
Following the mandarin alphabet song with Chillingo. Learn pinyin in an easy way~
You will find learning Chinese is fun and you can chat with Chinese people more natural.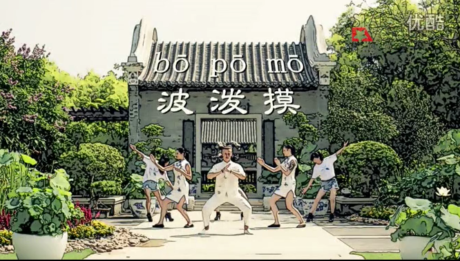 波泼摸 bō pō mō老外学拼音
b p m f
d t n l g k h
j q x
z c s
zh ch sh
b p m f
d t n l g k h
j q x
z c s
zh ch sh
我生在国外,却爱在中国呆。
为魅力中国心花儿开。
汉语说得来, 也没那么困难。
那拼音元素背起来。
二十三个声母,韵母一共三十五。
那四个声调你要分清楚。
(唐宋元明清 I know they are all gone times)
a o e i u ü 别和英文混起来。
用聪明脑袋背下来。
二十三个声母,韵母一共三十五。
那四个声调你要分清楚。
(唐宋元明清 I know they are all gone times)
a o e i u ü 别和英文混起来。
用聪明脑袋背下来。
我从头到脚是老外,
来到中国,我漂洋过海
刚来的时候我不够HIGH,
中文学不来,大门不敢迈
喔, 这样下去不应该,
我学中文, 还懂李白
静夜思,我背起来
床前明月光,疑是地上霜。
我里里外外是老外,
来到中国,我吃个开怀
水饺,汤圆,麻婆豆腐,包子,油条,鱼香肉丝
北京烤鸭,桂林粉,
重庆酸辣,广东汤,
Oh, nice nice delicious
来到中国, 我打拼未来
买买卖卖, 生意做起来
学会中文谈得来更愉快
b p m f
d t n l g k h
j q x
z c s
zh ch sh
b p m f
d t n l g k h
j q x
z c s
zh ch sh
我生在国外,却爱在中国呆。
为魅力中国心花儿开。
汉语说得来, 也没那么困难。
那拼音元素背起来。
二十三个声母,韵母一共三十五。
那四个声调你要分清楚。
(唐宋元明清 I know they are all gone times)
a o e i u ü 别和英文混起来。
用聪明脑袋背下来。
(床前明月光,疑是地上霜)
二十三个声母,韵母一共三十五。
那四个声调你要分清楚。
(唐宋元明清 I know they are all gone times)
a o e i u ü 别和英文混起来。
用聪明脑袋背下来。