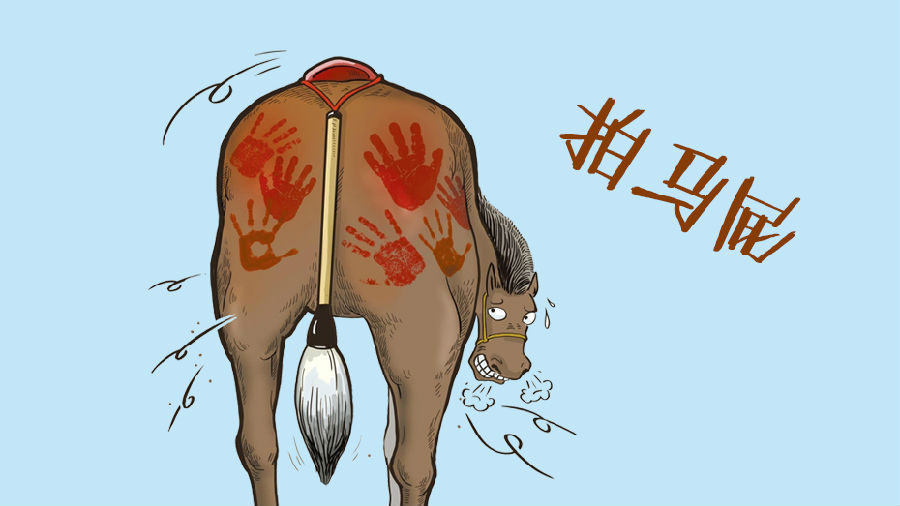 In the Yuan Dynasty, each Mongolian family had a few horses. When two people met each other leading their horses, they always patted the crupper and touched the fat of the other's horse with a casual praise "Good horse!" in order to win the heart of horse owners. But later on, there were some people who gave compliment, no matter whether the horse was strong or not. "拍马屁" (pāi mǎpì) means someone praises a lot to please others without regarding the reality. We can call the suck-up "马屁精" (mǎpì jīng) in Chinese. It can also be expressed as "拍某人的马屁" or "给某人拍马屁" (lick one's shoes).
这个词起源于一个古代风俗,相传元朝时的蒙古人,每家都养有几匹马。两人牵马相遇,都要拍拍对方马的屁股,摸摸马膘,并随口夸奖:"好马!好马!"以此来博得马主人的欢心。但是后来,有的人不管别人的马好坏、强弱,都只是称赞,把劣马也说成是好马了。所以,后来"拍马屁"就指不顾客观现实,一味夸赞、奉承来讨好别人。经常拍马屁的人也被称为"马屁精"。用法上,可以说"拍某人的马屁"或"给某人拍马屁"。
Examples:
1. búyòng pāi mǎpì, nǐ yīnggāi zhuānxīn bǎ zìjǐ de gōngzuò zuòhǎo
不用拍马屁,你应该专心把自己的工作做好。
No flattery! You should focus on your own business.
2. tā zhīsuǒyǐ shēngzhí nàme kuài, wéiyī de yuányīn jiùshì tā měishí měikè dōu zài pāi mǎpì.
他之所以升职那么快,惟一的原因就是他每时每刻都在拍马屁。
The only reason he's moved up so fast is by sucking up all the time.
The article is translated and editted by Chinlingo. Please indicate the source for any use, reproduction or transfer.
本文由Chinlingo编译后发布,如需转载,请标明来源。