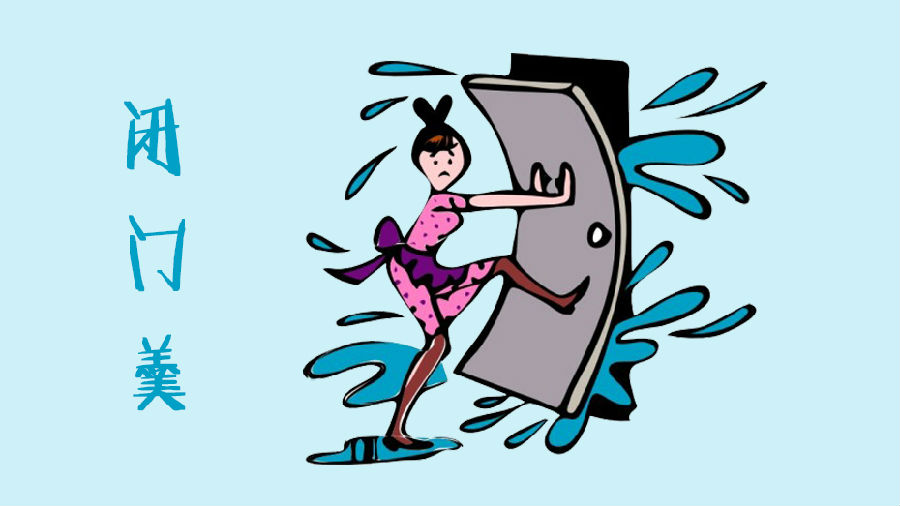 "闭门羹" (bì mén gēng) refers to the situation where the host refuses to allow the guest in. For the guest, he encounters "闭门羹" – a cold-shoulder treatment or the frozen mitten.
闭门羹,指主人拒绝客人进门。对客人来说,他就是"吃了闭门羹"。
It said that in the Tang Dynasty, Shi Feng, a beautiful courtesan proficient in lyre-playing, chess, calligraphy and painting, was so attractive that many young men wanted to visit her and make friends with her. However, few made it, because there's an unwritten rule – Shi Feng would ask the visitor to write a poem for her, and only the touching poem was likely to be preferred, and the visitor who wrote the poem can see her and become one of her friends. If the visitor failed to write a poem, or his poem wasn't that satisfying or interesting, Shi Feng would ask her family to treat him with a bowl of soup, as a way to refuse the visitor. Seeing the soup, the visitor would leave tacitly.
相传在我国唐代,宣城女子史凤长得如花似玉,琴、棋、书、画样样精通,于是很多年轻的男子,便慕名纷纷来拜访她,希望与她成为朋友,但是不少人却因为很难见到她,而不能如愿。为什么很难见到她呢?因为她会客时,有一条不成文的规矩:她首先要求客人献上一首诗,她看中诗文后,才愿意与客人一见,然后才有可能谈到交朋友。如果客人不会作诗,或者献上的诗文不被她看中,她就叫家里人在门口以一碗羹相待,婉言拒绝会客。来访的客人们见了羹,也就心领神会,便主动地告辞了。 
Later, people began to take Shi Feng's soup as a refusal to meet guests, calling it "闭门羹" (bì mén gēng).
以羹待客就是拒绝会见的意思,所以人们便把这羹,称为史凤的"闭门羹"。
Examples:
1. wǒ bù néng yào tā men chī bì mén gēng, yīn wèi zhè bù zhǐ shì wǒ de fáng jiān, wǒ bù néng bǎ tā jǐn suǒ.
我不能要她们吃闭门羹,因为这不只是我的房间,我不能把它紧锁。
I can't lock them out because it's not my room to lock.
2. Tuī xiāo rén yuán jīng cháng chī gù kè de bì mén gēng.
推销人员经常吃顾客的闭门羹。
The salesmen often suffer refusal of entrance from the customers.
The article is translated and editted by Chinlingo. Please indicate the source for any use, reproduction or transfer.
本文由Chinlingo编译后发布,如需转载,请标明来源。