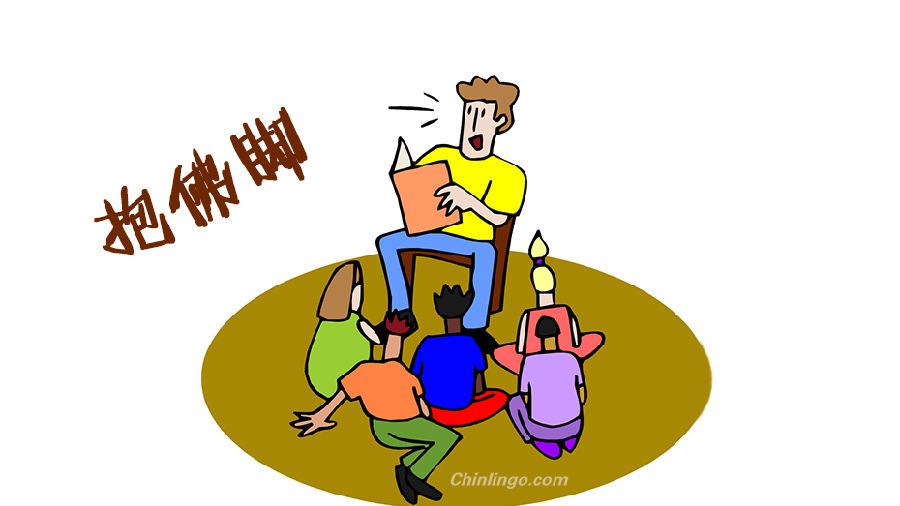 "抱佛脚" (bào fó jiǎo), literally meaning "to embrace the feet of Buddha", actually means dealing with something in a hurry because of no preparations for it. It's a hasty last-minute effort.
"抱佛脚"指平时没准备,等到有事情发生的时候就仓促准备,慌忙应付。
In ancient times, there's a country where the people believe in Buddhism and they're merciful and lenient, even the criminals can be exempted from death penalty. Thus, the government decides to make regulations, in which any condemned criminal can be exempted from death penalty, as long as he embraces the feet of Buddha in a temple, confesses to his sins sincerely and becomes a monk. Later, people use "抱佛脚" (bào fó jiǎo) metaphorically to describe a person who makes efforts in a hurry, without previous preparations.
古时候,有一个信仰佛教的国家,在这个国家里,事事都主张以慈悲为怀,就连犯死罪的人也可以尽量免除一死,于是才朝廷上便作了一个规定,凡是犯了死罪要被杀头的人,只要走进寺庙,抱住佛脚真心实意地忏悔,并且把头发剃光,留下来当和尚,就可免罪,不再追究。后来人们便用抱佛脚来比喻平时没有准备临时慌忙应付的人和事。
Examples:
1. Shì dào rú jīn, nǐ zhǐ néng qù bào fó jiǎo le, kàn hái néng bù néng wǎn jiù.
事到如今,你只能去抱佛脚了,看还能不能挽救。
You have to make a hasty effort now although it's a question whether it works or not.
2. Měi cì kǎo shì nǐ dōu lín shí bào fó jiǎo, nǐ jiù bù néng píng shí hǎo hao xué xí ma?
每次考试你都临时抱佛脚,你就不能平时好好学习吗?
You make hasty preparations before every exam. Can't you study a little harder in peacetime?
The article is translated and editted by Chinlingo. Please indicate the source for any use, reproduction or transfer.
本文由Chinlingo编译后发布,如需转载,请标明来源。