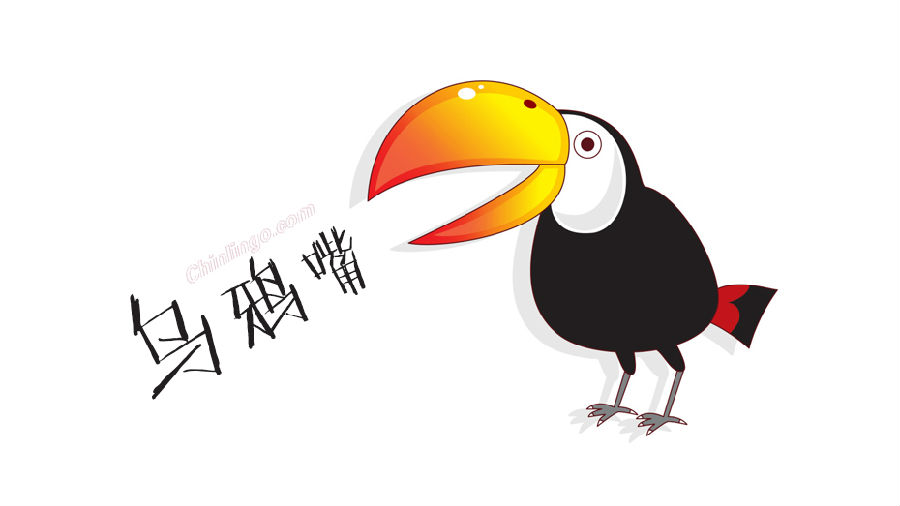 乌鸦嘴 (wū yā zuǐ) literally means "crow's beak". In Chinese culture, a crow is regarded as an inauspicious bird, as it usually predicts and witnesses the death of a person in the rural areas, by cawing outspokenly. Besides, its black feather leaves people with the impression of mystery and gloom.
"乌鸦嘴"的字面意思是"乌鸦的嘴"。在中国中,乌鸦被认为是不祥的鸟,因为它常常在乡间预言并见证了一个人的死亡过程,并且以口无遮拦的方式提前发出了各种不祥的信号。加上乌鸦本身就一身黑羽,自然少不了以神秘阴冷的形象首先进入了人们的内心世界。
Now, it's used to describe a person whose bad luck predictions are efficacious.
现在通常用来描绘某人的嘴巴特可恶,好事说不灵,坏事一说就灵。
For example:
wǒ cóng lái bù diū qián bāo.
A: 我从来不丢钱包。
I've never got my wallet lost.
bié wū yā zuǐ.
B: 别乌鸦嘴。
Don't jinx it.
Usually, the speaker lost his wallet several days after he said that. The word "乌鸦嘴" hit she spot.
zhè jiā huǒ shì ge wū yā zuǐ.
这家伙是个乌鸦嘴。
The guy is a jinx.
We can understand the word "乌鸦嘴" in these ways – jinx, hoodoo or Cassandra.
The article is translated and editted by Chinlingo. Please indicate the source for any use, reproduction or transfer.
本文由Chinlingo编译后发布,如需转载,请标明来源。