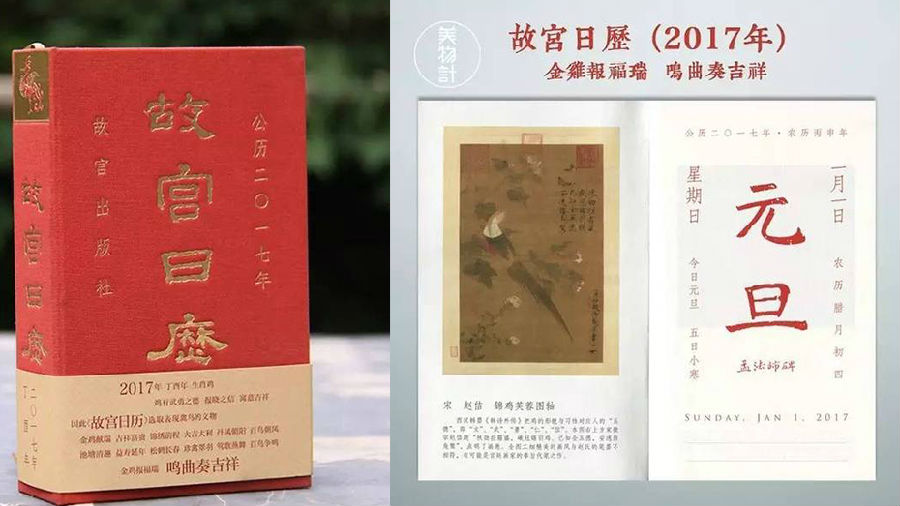 Calendars turned into luxuriously illustrated books, often are highlights of China's book scene at the end of the year.
日历变成了精美的插画书,往往是中国书店年终的亮点。
The most popular is the Palace Museum Calendar, which has sold 1.3 million copies since it was first issued in 2010. The first printing of the 2017 version-300,000 copies-is sold out.
最受欢迎的是故宫日历,自2010年首次发行以来,已销售了130万册。2017年版的第一次印刷——30万份——已售罄。
For 2017, the Palace Museum Press is offering a bilingual version with English and Chinese. The Beijing museum also is known as the Forbidden City.
2017年,故宫出版社将提供中英文双语版本日历。故宫也被称为紫禁城。
"We saw a need abroad for understanding Chinese cultural traditions," said Wang Guanliang, director of the office that plans the calendar.
"我们看到国外需要了解中国文化传统,"计划日历的办公室主任王冠良说。
"We didn't expect that the market treats our publications as collectibles," Wang said. The 2010 version is now worth 80 times its original price, according to online sites for book sales.
"我们没有想到市场把我们的出版物当作收藏品,"王说。根据在线网站的图书销售,2010版现在的价格是原价的80倍。
Wang said that the calendar is inspired by Chinese zodiac animals, and is illustrated with photos of relics from the Palace Museum's collection of some 1.82 million antiques ".
他说,这个日历的灵感来自中国的生肖动物,并附上了故宫博物院收集的大约182万件古董文物照片的插图。
"Most of the calendars are like art books. For young readers, they are portable, affordable, and chic to have," he added.
"大多数日历都像艺术书一样。对于年轻的读者来说很便携、价格实惠且别致。"他补充说。
Their calendar for 2017 is full of cute animals, with a QR code for each day offering updated online content.
他们2017年的日历充满了可爱的动物,带有二维码,每天提供更新的在线内容。
If scanned using an augmented reality app, it displays videos of celebrities reading poems.
如果使用增强现实应用程序扫描,它会显示名人阅读诗歌的视频。
Source: CRI