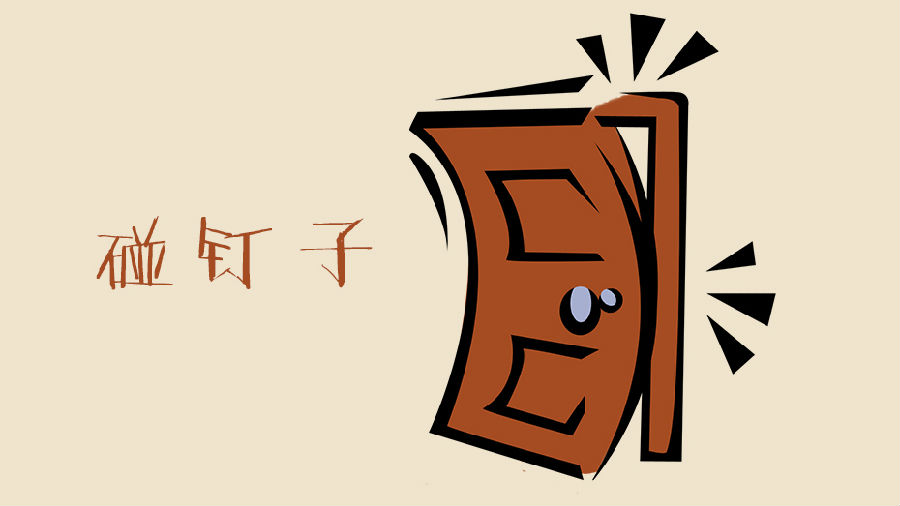 When someone is denounced or his requests are rejected, he can complain by saying "碰钉子" (pèng dīng zi). The word also refers to the situation where someone meets with a trouble or setback. We can say "碰了钉子" (pèng le dīng zi). "碰壁" (pèng bì) is a more formal usage in written Chinese.
"碰钉子"指自己的要求遭到了拒绝或受到斥责,也可以指遇到困难和挫折。在用法上,可以说"碰了钉子",书面语中也说"碰壁"。
Do you know its origin? In the feudal age in China, there are doornails on the gate of the government office and the government officials' houses. It's difficult for the vulnerable common people to seek justice from the government officials. The door is even closed against the people – they meet with a rebuff. They call it "碰了钉子" or "碰了一鼻子灰" (pèng le yì bí zi huī).
知道它的来源吗?封建时代的衙门、官宦人家宅邸的大门上都有"门钉",老百姓常在这地方受制于人,门难进、事难办、脸难看,被拒之门外,谓之"碰了钉子",或说"碰了一鼻子灰"。
Examples:
1. Xiàn zài tā xīn qíng bù hǎo, rú guǒ qù gēn tā shuō zhè jiàn shì, kěn dìng pèng dīng zi.
现在他心情不好,如果去跟他说这件事,肯定会碰钉子的。
He is in bad mood now. If you go to talk with him about this thing, you must get rejected.
2. Yǒu xiē rén jí shǐ pèng le dīng zi, yě bìng bú qì něi.
有些人即使碰了钉子,也并不气馁。
There are some people who never lose heart even though they have met with a rebuff.
The article is translated and editted by Chinlingo. Please indicate the source for any use, reproduction or transfer.
本文由Chinlingo编译后发布,如需转载,请标明来源。