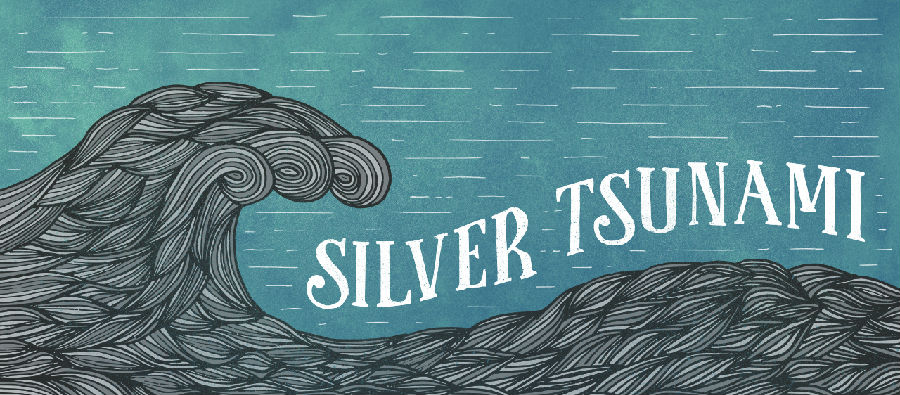 The "silver tsunami" is coming. The baby boomer generation is beginning to hit retirement age, and companies must prepare for what could be a major exodus.
"银发族海啸"(yín fà zú hǎi xiào)就要来了。婴儿潮一代将开始到达退休年龄,公司必须准备好应对劳动力的大量减少。
The US Bureau of Labor Statistics reports that as many as one out of ten workers will retire either this year or the next. Losing 10 percent of its employees can hit a company incredibly hard if it's not prepared. Just how does a business brace for the loss of so many workers?
据美国劳工部的数据,有多达十分之一的员工将在今年或明年退休。如果没有充分应对,失去10%的员工将给公司造成巨大打击。企业如何应付得了这么大量的员工流失呢?
A new study suggests that 2041 will see Hong Kong's overburdened public hospitals face a massive rise in patients due to a "silver tsunami".
最新调查显示,到2041年,由于"银发族海啸",香港本已负担过重的公立医院将面临病患数量的大幅增加。
The "silver tsunami", which refers to aging baby boomers born after World War Ⅱ, will account for 76 percent of the increase by then. To handle the surge in healthcare requirement, researchers have suggested building new facilities, recruiting more foreign doctors and improving chronic disease prevention.
"银发族海啸",也就是二战后出生的婴儿潮一代变老,届时将占到患者增长量的76%。为应对医疗健康需求的增长,研究人员建议修建更多设施,招聘更多外国医生,并改进慢性病预防体系。
Source: China Daily