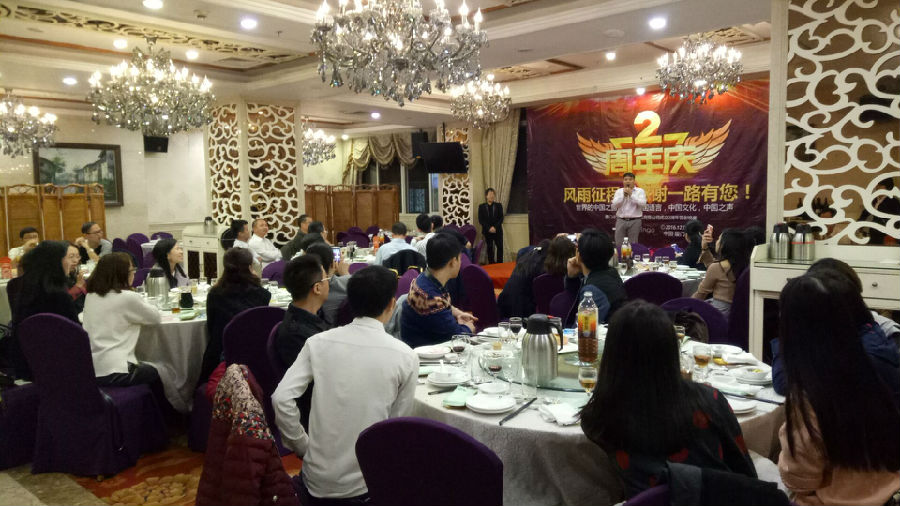 Mr. Lin Meiyang, founder of Chinlingo, gave a speech before the 2nd anniversary celebration feast.
On December 1st, Chinlingo, Xiamen-based Chinese learning platform, celebrated its second anniversary with its employees and partners. Based on the object of becoming the "world's window to China", Chinlingo has developed itself into an online learning platform helping foreigners learn Chinese and better understand China. We've published nearly 4,000 articles about China, ranging from culture, food, Chinese learning to hot social news.
Knowing that language learning is the key to understanding the country, we've made great effort to create easy-to-learn Chinese courses in the past two years. We made 180 video courses, covering the pinyin basics to daily business; We released a self-made pinyin song, helping foreigners learn Chinese through entertainment and appreciate the beauty of the language. Up to now, the interesting learning content has brought us more than 800,000 Facebook followers from more than 50 countries and regions.
Thanks to the effort made by our professional TCFL teachers and technical team, we launched online 1-on-1 Chinese course this October and has many paying subscribers now. Our learners are diversified – from 3-year-old toddler to 75-year-old grandpa. We have white learners, black learners and yellow ones.
In the upcoming days, Chinlingo will continue spreading Chinese culture and language to the rest of the world. Stay tuned!
The article is translated and editted by Chinlingo. Please indicate the source for any use, reproduction or transfer.
本文由Chinlingo编译后发布,如需转载,请标明来源。