Don't drink anything while reading this.

读这篇文章的时候千万别喝东西。
The act itself is familiar to anyone who's ever watched comedy: One character takes a swig or bite of something just as another character says or does something shocking or outrageous, causing the first character to spew out the contents of his or her mouth. It's called a spit take, 笑喷 (xiào pēn) in Chinese.
看过喜剧的人对这样的场景不会陌生:剧中一位人物正在喝东西,另一位人物做了一些让人吃惊或者觉得离谱的事情,正在喝东西的人当场把嘴里的饮品喷出来,这就是"笑喷"。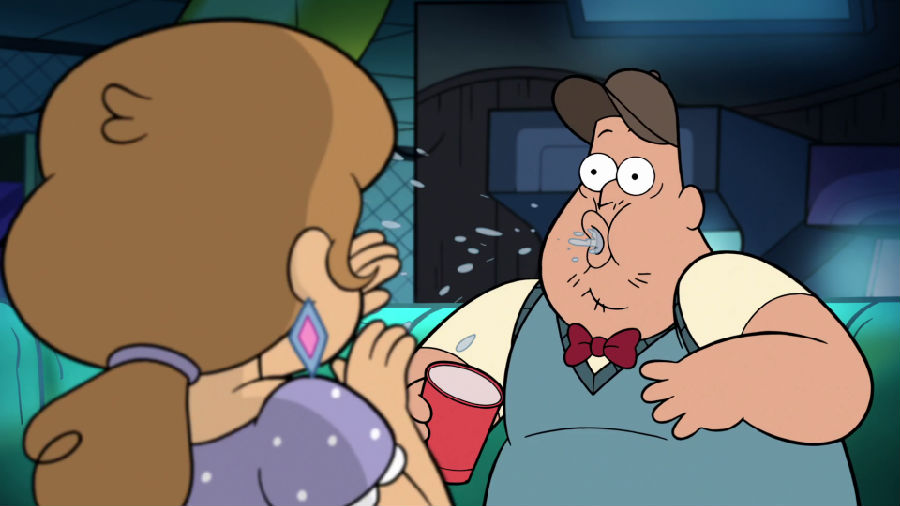 Spit take is an act of suddenly spitting out liquid one is drinking in response to something funny or surprising:
"笑喷"指的是在听到或看到一些有趣或惊讶的事情时,口中突然喷出正在喝的饮品。
'Spit take' originated as a showbiz term, but it's increasingly seen in general contexts.
这种说法最初源自娱乐界,现在越来越多的用于生活情景中。
Example:
tā shuō nà xiē huà shí wǒ zài hē dōng xī, wǒ kěn dìng xiào pēn le
她说那些话时我在喝东西,我肯定笑喷了。
If I'd been drinking something when she said that, I'd have done a spit take
Source: China Daily