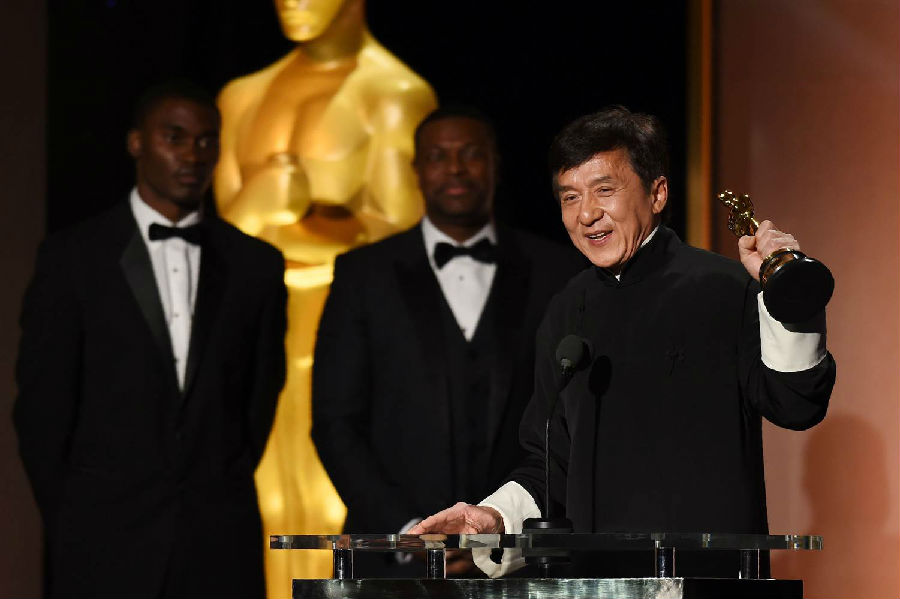 Chinese actor Jackie Chan, British film editor Anne V. Coates, American casting director Lynn Stalmaster and American documentary filmmaker Frederick Wiseman were presented with the Academy's Honorary Awards Saturday night to recognize their lifetime contributions to the film industry.
上周六晚,中国演员成龙、英国电影剪辑员安妮•考斯特(Anne V. Coates)、美国选角指导林恩•斯达马斯特(Lynn Stalmaster)、以及美国纪录片导演德瑞克•怀斯曼(Frederick Wiseman)等人被授予奥斯卡荣誉奖,以表彰他们对电影行业一生所作出的贡献。
The honors were presented at the eighth annual Governors Awards ceremony at the Ray Dolby Ballroom at Hollywood & Highland Center.
颁奖仪式在第八届年度"州长颁奖典礼"上举行,地点在好莱坞海兰中心杜比剧院。
"The Honorary Award was created for artists like Jackie Chan, Anne Coates, Lynn Stalmaster and Frederick Wiseman — true pioneers and legends in their crafts," Cheryl Boone Isaacs, president of the Academy of Motion Picture Arts and Sciences, said, "The Board is proud to honor their extraordinary achievements."
美国电影艺术与科学学院主席谢丽尔•布恩•艾萨克斯说道:"荣誉奖是为了像成龙、安妮•考斯特、林恩•斯达马斯特、以及瑞克•怀斯曼这样的艺术家而创立的–他们是各自领域中真正的先锋和传奇。理事会非常自豪能够嘉奖他们的非凡成就。"
Chan, as an actor, writer, director and producer, has been performing since the age of eight, appearing in dozens of martial arts films in Hong Kong before becoming an international film star. He charmed audiences with his dazzling athleticism, inventive stunt work and boundless charisma.
作为一名演员、作家、导演和制片人,成龙从8岁就开始登台表演,在成为国际影视巨星前,他在香港参演了数十部武侠电影。他卓越的运动天赋、自己发明的特技表演、以及无穷的个人魅力都让观众们深深着迷。
Since "Rumble in the Bronx" in 1996, he has gone on to enormous worldwide success with the "Rush Hour" movies, "Shanghai Noon", "Shanghai Knights", "Around the World in 80 Days", "The Karate Kid" and the "Kung Fu Panda" series of animated films.
自从1996年的《红番区(Rumble in the Bronx)》以来,成龙凭借《尖峰时刻(Rush Hour)》系列电影、《西域威龙(Shanghai Noon)》、《皇家威龙(Shanghai Knights)》、《环游世界80天(Around the World in 80 Days)》、《功夫梦(The Karate Kid)》、以及《功夫熊猫(Kung Fu Panda)》系列动画电影取得了巨大的世界性成功。
Wearing a typical Chinese gown, Chan said with his golden Oscar statuette, "I still can't believe I am standing here. It's a dream."
穿着传统中式长衫、手拿小金人,成龙说道:"我仍然不敢相信我真的站在这儿了。这一切就好像做梦一样!"
"Twenty-three years ago, I saw this little thing (Oscar statuette) in my friend's house. I touched it, kissed it, and smelled it; I believe there are still my finger prints on it," Chan joked.
成龙开玩笑说道:"23年前,我在我朋友家里看到这个小东西(奥斯卡小金人)。我摸了摸、亲了亲、还闻了闻;我认为现在那上面都还有我的指纹。"
"After 56 years in the film industry, making more than 200 films, and broke so many bones, finally, this is mine," he said, "I want to thank Hong Kong, an incredible city, my hometown. (Thank) who made me, China, my country, I am proud to be Chinese."
成龙说道:"我在电影行业摸爬滚打了56年、拍了超过200部的电影、还骨折了很多次,最终,我得到了这个奖。我想感谢香港,那是一个不可思议的城市,是我的家乡。(谢谢)我的祖国中国塑造了我,我为自己是中国人而自豪!"
"Millions of thanks to all my friends, fans around the world, because you I have a reason to continue to make movies, jumping out of a window, kicking and punching and breaking my bone, thank you so much!" he added.
成龙继续说道:"非常非常感谢我所有的朋友、以及全世界的粉丝们,正是因为你们我才有理由继续拍电影–从窗户跳出来、又踢又打、把自己弄骨折,真的很谢谢你们!"
The Governors Awards ceremony attracted lots of celebrities in the film industry. Tom Hanks, a two-time Oscar winner, said Chan's movies had combined serious and comedic factors together.
州长颁奖典礼吸引了电影界的许多名人。两届奥斯卡得主汤姆•汉克斯表示说,成龙的电影将严肃和喜剧因素结合在了一起。
"It is especially gratified to be able to acknowledge Jackie's enormous creativity, his great gift for physical performance, and incredible dedication to his work," Hanks said.
汤姆•汉克斯说道:"非常高兴能够鸣谢成龙巨大的创造力、他在动作表演方面的巨大天赋、以及对自己工作令人难以置信的奉献。"
Aaron Eckhart, who starred Harvey Dent in "The Dark Knight", said Chan deserves the award.
《蝙蝠侠前传2:黑暗骑士》中"双面人"哈維•丹特的扮演者阿伦•艾克哈特表示说,成龙获得这个奖当之无愧。
"He is an artist, I mean the passion which he does his jobs. He is so creative, he always has a smile on his face, he is a great role model, he is a legend, he is an icon," he said.
他说道:"他是一个艺术家,他在自己的工作中投入了巨大的激情。他非常有创意,他脸上还总是挂着微笑,他是一个伟大的榜样、他是一个传奇、他是一个偶像。"
Source: Global Times