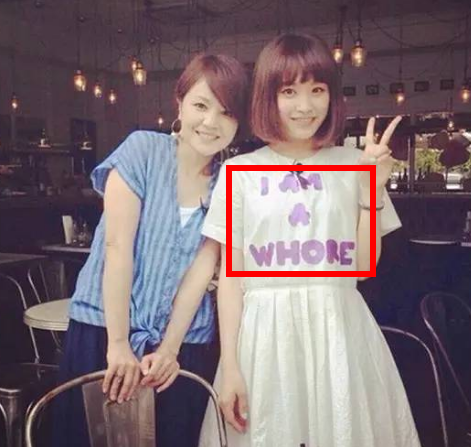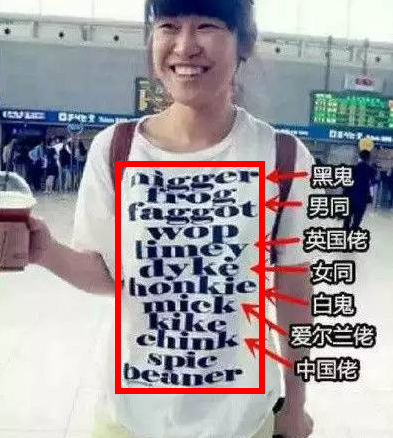 It is quite common to see Chinese people wearing clothes printed with English words, many of which may turn out to be a ridicule.
中国人穿印有英文字母的衣服的现象已经屡见不鲜,也闹了不少笑话……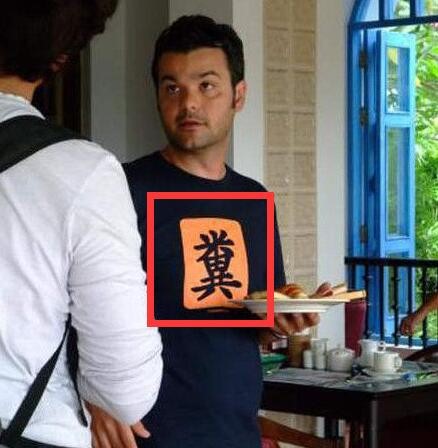 However, the Chinese are not alone to experience such an embarrassment. A foreigner wearing a T-shirt printed with special Chinese characters may also experience the same embarrassment.
然而,这样的尴尬并不是只出现在中国人身上,当外国人印有带特殊汉字的衣服,也会有令人哭笑不得的效果。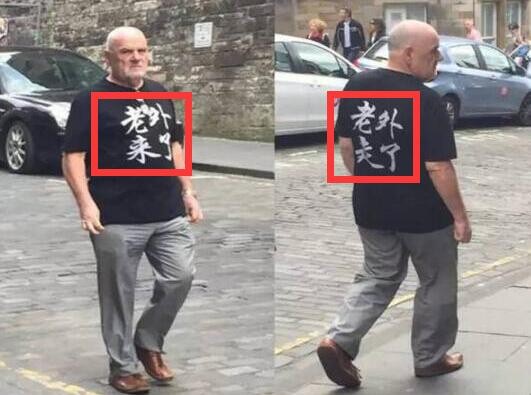 A foreigner is coming … a foreigner is leaving.
老外来了……老外走了……
Many netizens are much amused by the foreigner!
许多网友都被这位"老外"萌到了!
Recently, such a "Chinese fever" has gone viral in the fashion circle as well. The fashion brands (SANKUANZ, Han Kjøbenhavn) from Denmark, originally keeping to the European and American style, have shifted to the Chinese style dramatically. Traditional Chinese characters, too big to be neglected, are printed on their apparels, like "shopping fighter", "leather chair fight", "roundhouse kick and white toast".
最近,这股"中文热"还刮进了时尚圈。下面这些来自丹麦的时尚品牌,原本走的是欧美风,如今突然画风一转,学咱们走起了中国风,在服装上印上了超大中文繁体字,字体大到无法忽视,例如"购物战士"、"皮椅战斗"、"回旋踢和白烤面包"等。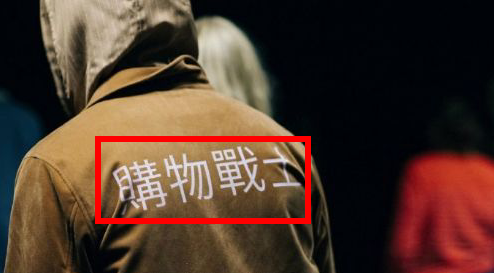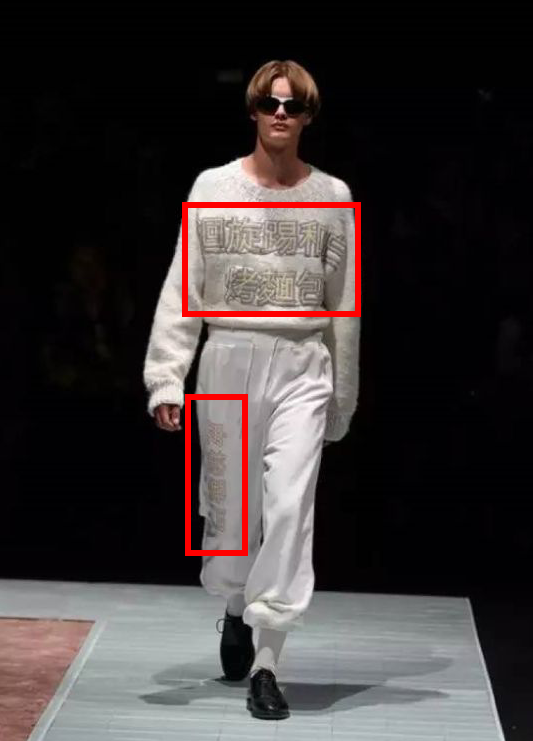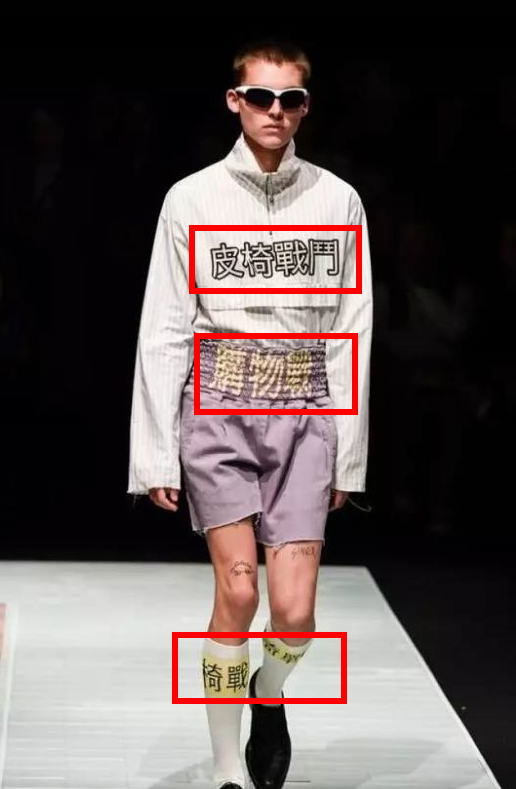 Well, speaking of fashion, how can we leave out the square dancing that gets popular all over China?
说起时尚,怎么能少了红遍中国的广场舞呢!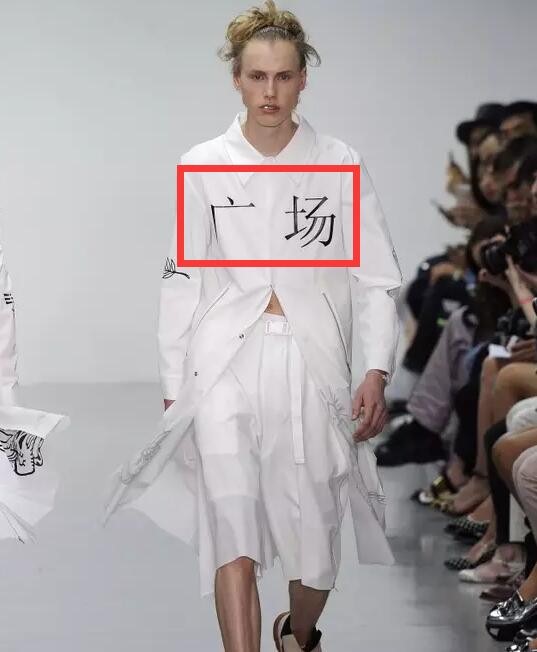 The designer of the apparel below must be a foodie. Gosh! That drives me hungry now!
设计下面这件衣服的人一定是个吃货,小C现在好饿!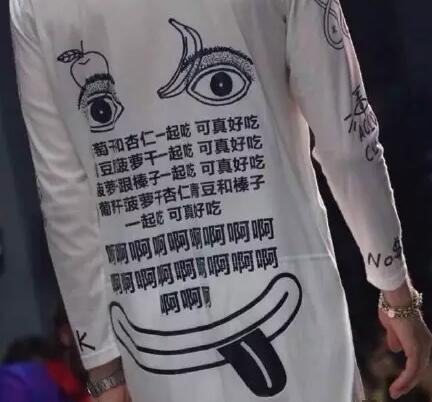 Raisin plus almond, yummy yummy
葡萄干和杏仁一起吃 可真好吃
Green beans plus dried pineapple slices, yummy yummy
青豆和菠萝干一起吃 可真好吃
Pineapple plus hazelnuts, yummy yummy
菠萝和榛子一起吃 可真好吃
Dried grape, dried pineapple slices, almond, petits pois and nuts
葡萄干菠萝干杏仁青豆和榛子
all together, yummy, yummy,
一起吃 可真好吃
yuuuuuuuumy
啊啊啊啊啊啊啊啊啊啊啊啊啊
To be serious, it reminds me of PPAP (Pen-Pineapple-Apple-Pen) that went viral online shortly ago.
讲真,这件衣服让我想起了不久前很火的PPAP(Pen-Pineapple-Apple-Pen)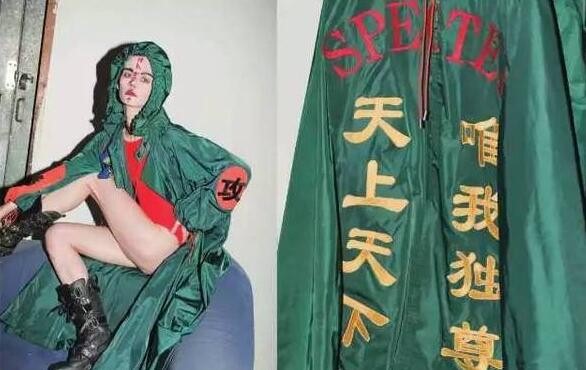 "From heaven to earth, I'm the one." Oh, my girl, you are dressed so dramatically! Such a domineering coat surely doesn't suit an ordinary person like me.

"天上天下,唯我独尊。"姑娘你穿上这件衣服是要上天了吗?如此霸气的衣服想来不是我这样的凡人可以驾驭得了的。
And in the pictures below, the exaggerated splicing and mixing of colors collocates with the characters "浑", "呸", "呵呵" and "正常" (meaning "silly", "pooh", "hoho", and "normal" respectively) Do you like such a fashion?
还有下面这组图片,大胆的色彩拼接混搭,再配上"浑""呸""呵呵""正常"等字,这样的时尚,你喜欢吗?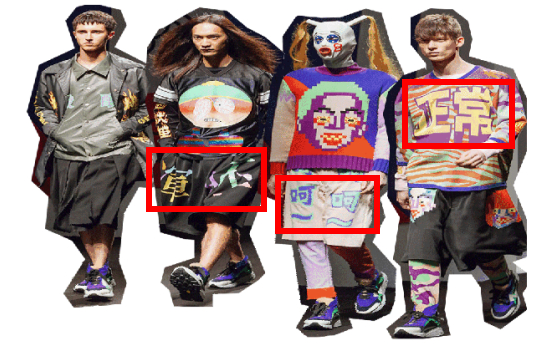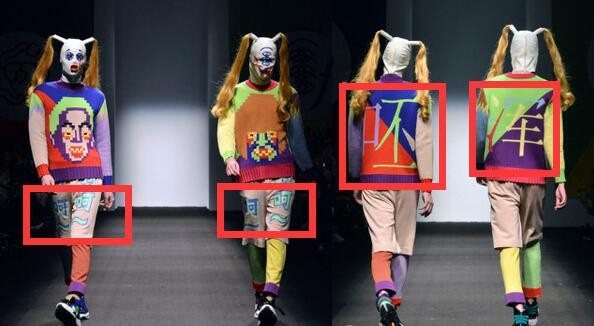 Here are the comments by Chinese netizens:
来自中国网友们的评价:
"Are you sure they are not translated by Google?"
"真的不是谷歌翻译吗?"
"Finally I know what foreigners feel about the English words on our clothes."
"终于知道外国人看到我们衣服上的英文是什么感受了。"
"Aren't they exactly the WordArt?"
"这字体设计不就是Word文档艺术字吗!"
"Such deigns would probably be undesirable in China."
"衣服设计成这样,在中国恐怕是卖不出去的。"
"Oh, awesome Chinese characters!"
"厉害了我的汉字!"
Thus, get to understand the culture of a language before putting on a coat printed with the language. Characters or words that are hard to understand do not mean fashion, but may be ridicules for the native speakers of the language.
所以,无论是穿带着哪门外语的衣服,都应该了解这门外语的语言文化,并不是带着几个看不懂的字就是时尚,也可能就成了别人眼里的笑话了。
The article is translated and editted by Chinlingo. Please indicate the source for any use, reproduction or transfer.
本文由Chinlingo编译后发布,如需转载,请标明来源。