Today, we'll talk about a smiley:

今天我们的主人公是一个表情: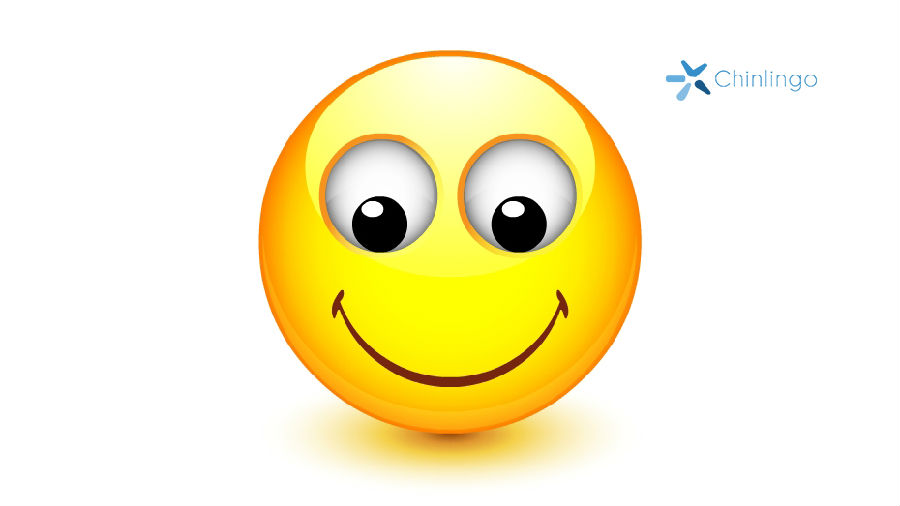 Everyone knows it is a smile.
很简单,这个表情一看就知道是"微笑"。
But what is the definition of "smile"?
我们先来看一下什么是"微笑"。
Smile is the expression that you have on your face when you are happy, amused, etc. in which the corners of your mouth turn upwards.
微笑,轻微地笑,是弯曲的嘴两端附近的肌肉所形成的面部表情。它是人与人之间的一种表达方式,表示愉悦、欢乐、幸福,或者乐趣。
Now, let's take a closer look at the smiley.
那我们再来看看这个"微笑"表情。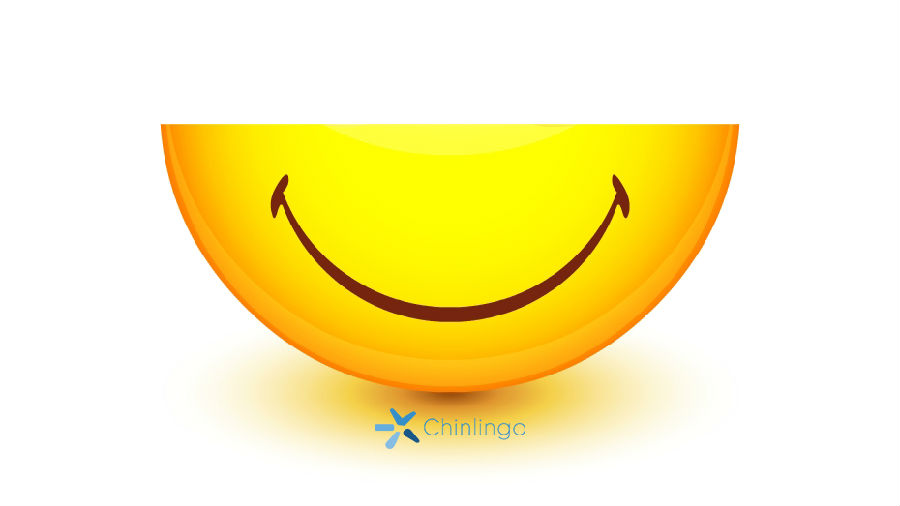 The lower part is the typical "笑不露齿", or "smile without showing teeth". It is a restrained smile, a "light smile" truly.
表情的下半部分是一个典型的"笑不露齿",嘴角收敛,是一个非常抑制的笑容。嗯,符合"轻微的笑"这个标准。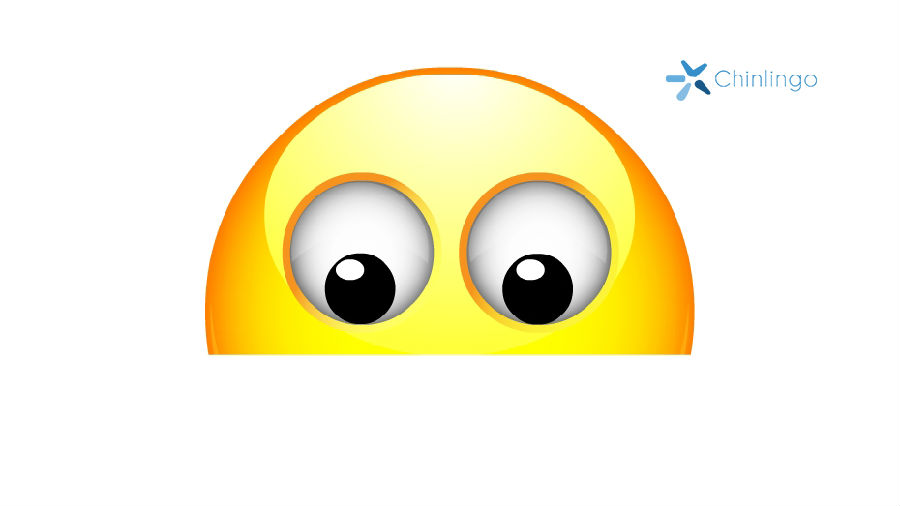 However, the upper part looks weird. The big, round eyes stare down at you silently. Moreover, with the large white parts in the eyes, do you feel chilly in your back. It is absolutely not a smile!
咦,这表情的上半部分怎么看起来怪怪的?一双眼睛瞪得滚圆滚圆,视线向下,眼白过多,它就这样静静地盯着你……看着看着不禁觉得背后凉飕飕的。这绝对不是在笑!
Let's have a look at some more emojis to make a comparison.
我们来对比一下。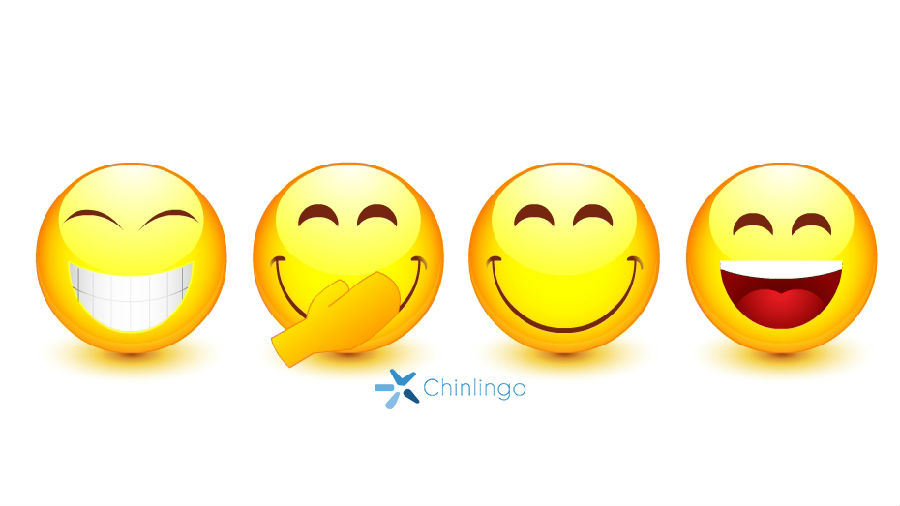 These four emojis represent "grin", "titter", "joyful smiling" and "simper" respectively. They are all provided with the bent eyebrows, which indicate sincere smiling.
这四个表情分别为:呲牙、偷笑、愉快、憨笑。他们的共同点是眉眼弯弯的,让人感觉是在非常真诚地笑。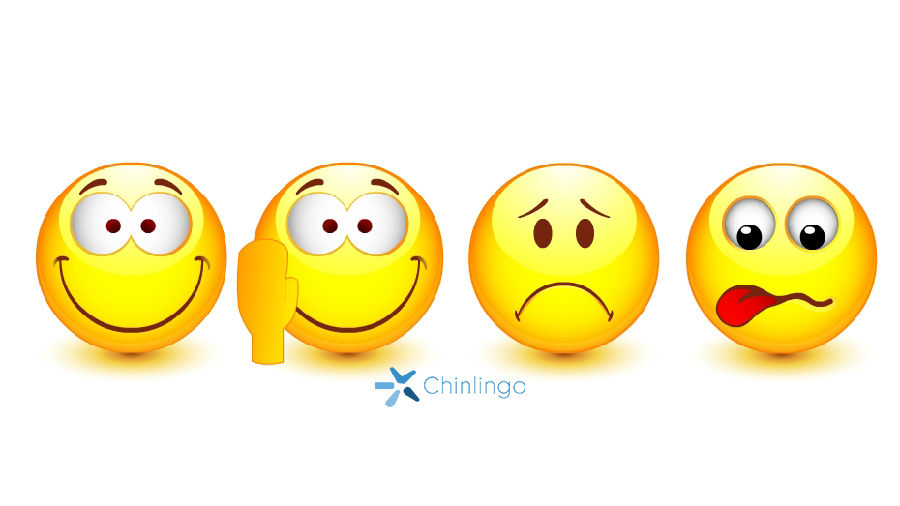 Then, these four emojis represent "smile", "farewell", "sad" and "hungry" respectively. What they have in common is the big and round eyes looking downwards. When one looks downwards, he or she is negatively emotional, guilty, dissident, angry, etc.. Of course, a downward look simply suggests you look down upon or laugh at somebody.
而这四个表情分别是:微笑、再见、难过、饥饿,他们的共同点就是——一双瞪得大大的向下看的眼睛。当视线向下转移的时候,人们一般处于一种负面的情绪之中,例如愧疚、不同意、生气、心虚等。当然,视线向下还有一个更简单更直白的解释——你这是在俯视我?你看不起我?你在嘲讽我?
Thus, the smiley mentioned at the beginning, with the up-turned mouth corners and the downward look, is probably a fake smile. Let's see the real expression of this emoji.
所以,这个"微笑"表情,嘴角向上翘起,视线向下转移,这个笑容,十之八九是一个假笑。
The pictures explain the emoji well and correctly, don't they?
这张图片是不是很好地诠释了这个表情。
To the Chinese young generations, the emoji of "smile" has obviously carried the meaning of "mocking" and "holding oneself aloof". It must be used carefully, otherwise chatting might end up with a smiley.
在中国的年轻一代眼里,这个"微笑"表情显然已经带上了"嘲讽"和"高冷"的意思。要谨慎使用哦,不然聊天可能就要止于微笑表情了。
The article is translated and editted by Chinlingo. Please indicate the source for any use, reproduction or transfer.
本文由Chinlingo编译后发布,如需转载,请标明来源。