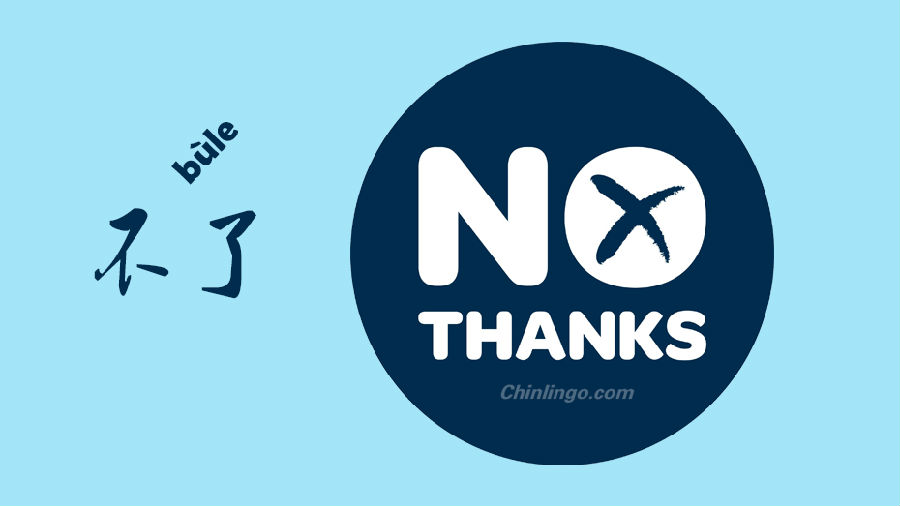 What can you say to reject someone when he offers help or wants to invite you to join him? The phrase "不了" just hits the spot and allows you to decline an offer politely.
当别人提供帮助或想邀请你跟他一起做某事的时候,你想拒绝,却又不知道怎么说。"不了"刚好能帮到你,让你有礼貌地拒绝邀请。
不了 (bù le) = No thanks (I don't want to do something)
It's best used between friends or someone you can speak informally with rather than shop owners or your boss. Here are the two situations it used:
最好是用在朋友之间或者你可以与之非正式交流的对象,而不是商店老板或你的老板。以下是两种适用的场景:
1. A friend on her balcony waving to a friend walking past:
一位在阳台的朋友向路过的朋友挥手。
A: Nǐ yào bú yào shàng lái hē chá?
你要不要上来喝茶?
Do you want to come up and have some tea?
B: Bù le. Wǒ huí qù le.
不了. 我回去了.
No thanks. I'm going home.
In this situation "bù le" is short for "bú yòng le" (不用了) meaning "that's not necessary."
这里,"不了"是"不用了"的简称,意思是"那没必要"。
2. Two friends (A and B) chatting at a sidewalk cafe. A third friend (C) walks past.
A和B在街边咖啡馆聊天,C刚好路过。
A: Nǐ hǎo! Gēn wǒmen yìqǐ chīfàn ba.
你好!跟我们一起吃饭吧.
Hi! Eat with us.
C: Bù le. Wǒ yǐjīng chī le.
不了. 我已经吃了.
No thanks. I already ate.
Notice in both situations they are friends. Also notice that "bù le" 不了 is immediately followed by a jièkǒu 借口 (excuse or explanation) of some sort.
注意,这两种场合中,他们都是朋友。"不了"后面一般要跟上某个"借口"。
The article is translated and editted by Chinlingo. Please indicate the source for any use, reproduction or transfer.
本文由Chinlingo编译后发布,如需转载,请标明来源。