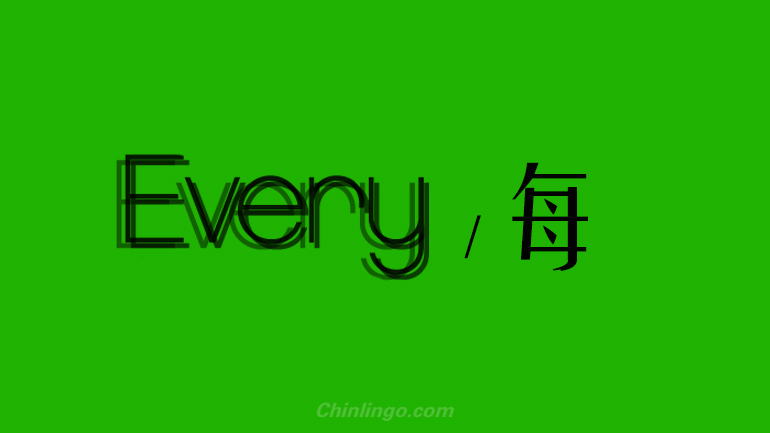 ‍‍‍‍‍‍‍‍
In this article we will look at the structure for saying "every" in Chinese, which is slightly more involved than just throwing in the word 每 (měi).
本文我们将看一看中文里表达"every"的结构,这并非只是在字词前面加个"每"那么简单。
The pronoun 每 (měi) covers the meanings of "each" and "every." It should normally be used with a measure word (MW) and used with 都 (dōu) in a complete sentence.
代词"每"表示的意思是"each"和"every",它一般与量词使用并在完整的句子里会跟上"都"。
每 + MW + Noun + 都
Examples
每个人你都认识吗?
měi gè rén nǐ dōu rènshi ma?
Do you know every person?
老板每个月都要出差。
lǎobǎn měi gè yuè dōu yào chūchāi.
The boss goes on business trips every month.
我每个星期都给妈妈打电话。
wǒ měi gè xīngqī dōu gěi māma dǎ diànhuà.
I give mom a phone call every week.
他每年都来中国。
tā měi nián dōu lái zhōngguó.
He comes to China every year.
每个菜都好吃。
měi gè cài dōu hǎochī.
Every dish is delicious.
他每天都不吃早饭。
tā měi tiān dōu bù chī zǎofàn.
Every morning he doesn't eat breakfast.
每个国家都有不一样的文化。
měi gè guójiā dōu yǒu bù yīyàng de wénhuà.
Every country has a different culture.‍‍‍‍‍‍‍‍
The article is translated and editted by Chinlingo. Please indicate the source for any use, reproduction or transfer.
本文由Chinlingo编译后发布,如需转载,请标明来源。