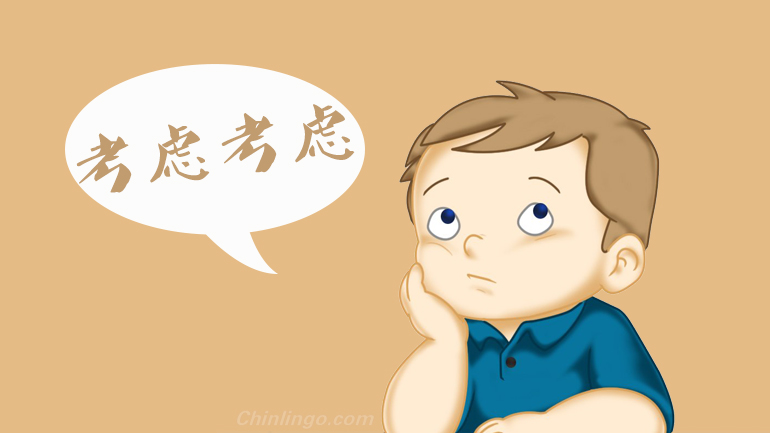 ‍‍‍‍‍‍
One of the fun things about Chinese is that when speaking, you can repeat certain things to express "a little bit." In this article you'll learn how to do it with verbs, creating a casual tone, and a sense that whatever the action is, it's not going to take long.
一个关于中文有趣的事就是:说话的时候,你可以重复某事去表达"a little bit"。你会在本文里学会如何用动词进行重复用法,带上非正式的语气,且给人无论任何动作都不会持续太久的感觉。
Reduplication with VV pattern
In Chinese, verbs can be reduplicated to indicate that they happen briefly or "a little bit."
在中文里,可以重复动词去表示它们会短暂发生或"一点儿"。
Subj. + Verb + Verb
Examples
你看看。
nǐ kàn kan.
Take a little look.
我试试。
wǒ shì shi.
I'll give it a little try.
说说你的想法。
shuō shuo nǐ de xiǎngfǎ.
Talk a little bit about your opinion.
我想出去走走。
wǒ xiǎng chūqù zǒu zou.
I want to go out and walk for a bit.
Reduplication with "一"
Another way to reduplicate verbs is to insert "一 (yī)", in the following structure:
另一个重复动词的方式是插入"一"字,如下面的结构:
Verb + 一 + Verb
Examples
别生气了,笑一笑!
bié shēngqì le, xiào yi xiào!
Don't get mad, smile a little bit!
我可以用一用你的电脑吗?
wǒ kěyǐ yòng yi yòng nǐ de diànnǎo ma?
Can I use your computer for a little bit?
你现在有时间吗?我们聊一聊吧。
nǐ xiànzài yǒu shíjiān ma? wǒmen liáo yi liáo ba.
Do you have a second? Let's talk a bit.
你想尝一尝我做的菜吗?
nǐ xiǎng cháng yi cháng wǒ zuò de cài ma?
Do you want to taste the food that I cooked?
Using this kind of structure lightens the mood and seriousness of the question. It also adds variety to sentence structure. Because these phrases are used colloquially, there is not set rule to which verbs this can be applied to. Obviously, there are some verbs that are often reduplicated and some verbs that sound weird when reduplicated. With practice, you will learn which ones are often used.
使用这类结构减缓了情绪和问题的严肃性,它也给句子结构增添了多样性。由于这些短语使用通俗,所以并没有固定规则指定适用哪些动词。很显然,有很多动词经常被重复,且有些动词重复时听上去有点怪异。多练习,你就会明白哪些动词常常用到。
ABAB Reduplication with Two-Syllable Verbs
In the examples above, all verbs are only one syllable. Those verbs get reduplicated a lot, so these examples are quite useful. Occasionally, though, two-syllable verbs get reduplicated as well. When this happens, it's correct to use the "ABAB" pattern for verbs, and not the "AABB" pattern you use for adjectives.
上面的例子中,所有动词都只是一个音节。这些动词常常会被重复使用,因此这些例子很实用。不过有时候两个音节的动词也可以重复使用。这种情况下,使用动词的"ABAB"形式才是正确,而不是形容词的"AABB"形式。
Examples
考虑考虑
kǎolǜ kǎolǜ
think it over
讨论讨论
tǎolùn tǎolùn
discuss it
商量商量
shāngliang shāngliang
talk it over
打听打听
dǎting dǎting
‍‍inquire about it‍‍‍‍‍‍‍‍
[Key Words]
重复: chóng fù, repeat
音节: yīn jié, syllable
The article is translated and editted by Chinlingo. Please indicate the source for any use, reproduction or transfer.
本文由Chinlingo编译后发布,如需转载,请标明来源。