When you were still a kid, you climbed your father's back and asked him numerous questions. And your father always listened carefully with a big smile and answered patiently.
小时候,你喜欢骑在爸爸背上,叽叽喳喳问个不停。而爸爸总是笑着倾听,并耐心地解答。
As time goes by, you've grown up while your father is getting older. You could hardly figure out when you were talking with your dad last time.
渐渐地,你长大了,爸爸也老了,你才发现已经很久没和爸爸好好聊聊天了。
Sometimes love needs no words, but you just need to listen. Let's listen what dad says on Father's Day!
其实,有时候,爱,无需言语,倾听足矣。父亲节这天,我们一起来听听爸爸的话吧!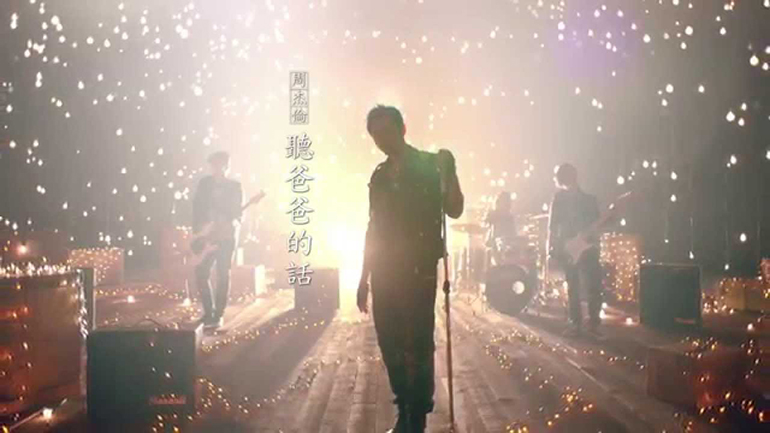 听爸爸的话
你听爸爸的话 说我不是个好东西
送给你的花 不配放在你家花瓶里
他要我越走越远越好
不要在一起那最好
但我听妈妈的话 要我不能轻易放弃
还喜欢的话让我再追回你 求求你
难道你要我不孝顺吗
这是借口 你应该懂吧
你说 谁说 我说 我不爱你
胡说 瞎说 我习惯了
那烟 那酒 也都戒了
证明有多在乎你呢
光上一句 我想你懂
我真的不太会说话
你看你笑了吧
你说我算了吧
一个人的爱情 很简单
两个人的相爱 为什么反而变得很难
我受够我的爱你比较多
也受够你的爱沉默很久
承诺太多 多少会错
你宁愿难过也不要有结果
我受够我的爱你比较多
倒不如回到从前的自由
说好放手 谁先开口 没有对错
反正花开了 终究会落
难道你要我不孝顺吗
这是借口你应该懂吧
Listen what dad says
You asked me who said that my loves not true
The nonsense and lies, I'll get used to
I gave up my darker past for you
Now that your brighter light shines through
All alone, a single love is clear to see
But now with two, me and you why are we so impossibly, miss-understood
I've had enough, I love you more, you see
The silence that we had was killing me
All I did wrong, was waited too long
But I can't let you fall, I believe
Just take hold of my hand and we'll be free
Take a chance and put your trust in me
Break all the doubt, that's holding us down
Or darling we'll drown
So don't give up on what first found
The article is translated and editted by Chinlingo. Please indicate the source for any use, reproduction or transfer.
本文由Chinlingo编译后发布,如需转载,请标明来源。