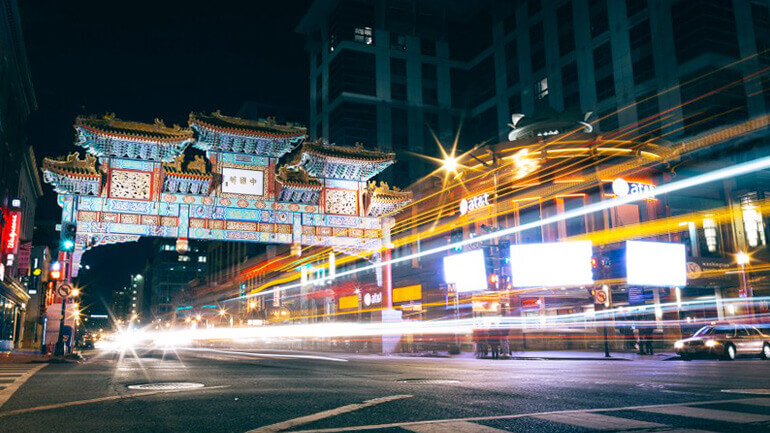 One of the first things Chinese immigrant Sau Fung Lam did upon arriving in Chinatown 24 years ago was go to the grocery store to try to buy an apple. She approached the grocer and opened her mouth, as if the English words she didn't know would, by some miracle, slip out. They didn't. So she formed a circle with her fingers and thumbs, a gesture the grocer seemed to understand. She was handed a large onion.
24年前,中国移民林凤秀来到唐人街,她最先做的事情之一就是去杂货店买苹果。她走到店员面前,张开嘴,仿佛那些不会说的英语会奇迹般自动冒出来,但并没有。于是,她用手指做出一个圆形,店员似乎明白了这个手势,递过来一个大洋葱。
Since Lam moved from East China to Chicago in the early 1990s, Chinatown has flourished, transforming from a partially Chinese community where residents mostly spoke English into one where Lam can easily communicate in Chinese. Most businesses, restaurants and agencies operate bilingually because the majority of residents speak a Chinese dialect, and nearly 65% are foreign-born, experts say.
林在20世纪90年代初从中国的华东移民到芝加哥。自那以来,芝加哥唐人街繁荣发展,从一个居民主要讲英语的社区变成用中文就很容易沟通的地方。专家称,多数公司、餐馆和机构都使用双语,因为大部分居民都讲某种中文方言,而近65%的居民生在外国。
At a time when traditional urban Chinatowns in cities such as New York, San Francisco, Boston and Philadelphia are fading because of gentrification and changing cultural landscapes, Chicago's Chinatown is growing larger – becoming what experts say could be a model for the survival of Chinatowns in the U.S.
纽约、旧金山、波士顿和费城这些城市的传统唐人街因为中产阶级化和变更的文化景观而逐渐衰败,芝加哥唐人街却不断扩大。专家说,这里可能成为美国唐人街生存的典范。
In Chicago, where several neighborhoods are no longer defined by the immigrant or ethnic groups that once dominated them, Chinatown is an exception, having anchored the area centered around Cermak Road and Wentworth Avenue since 1912. Leaders say Chinatown has avoided gentrification because Chinese Americans value a sense of belonging and choose to stay in the neighborhood. Few residents move out, and if they do, they sell their homes to other Chinese.
芝加哥有若干社区已经不再由曾经主宰那里的移民或少数族群定义,唐人街却是个例外。自1912年以来,这里就是一片固定的社区,以舍麦路和永活街为中心。负责人说,唐人街避免了中产阶级化,因为华裔美国人珍视归属感而选择留在这个社区。极少有人搬出去,就算搬出去也把房子卖给其他中国人。
Between 2000 and 2010, Chinatown's population increased 24% and its Asian population increased 30%. Asians make up nearly 90% of the neighborhood's population, according to 2010 U.S. Census Bureau data. Experts also say that of all the foreign-born Asians living in Chicago's Chinatown, nearly 10% arrived in the last three years – a stark contrast to New York and San Francisco, where immigrants no longer fuel Chinatowns.
自2000年至2010年,芝加哥唐人街的人口增加24%,亚裔人口增加30%。美国人口普查局2010年的数据显示,亚裔占唐人街人口的近90%。专家还说,在芝加哥唐人街生活的所有生于外国的亚洲人当中,近10%的人是这三年迁到这里的,这与纽约和旧金山形成鲜明对比:这两个地方的移民不再给唐人街注入新生力量。
About 78% of Chinatown residents speak Chinese at home, and of that population, more than three-quarters report speaking English "less than 'very well,'" according to a 2015 report from the Chicago Metropolitan Agency for Planning. Half of Chinatown residents are employed in one of three sectors: the food and hospitality industry, healthcare and social services, and manufacturing, according to the report.
芝加哥大都会规划局2015年的一项报告显示,约有78%的唐人街居民在家说中文;在这些人当中,四分之三以上的人表示自己的英语说得"不太好"。这项报告称,一半的唐人街居民就职于三个部门:餐饮住宿行业,医疗保健和社会服务,制造业。
The neighborhood allows Lam, now 81, to live comfortably in Chicago without having ever learned English. She spends her days eating at Cantonese restaurant MingHin Cuisine, buying savory turnip cakes from Hong Kong Market and singing alongside her sister in a Chinese choir on Wednesdays.
如今已经81岁的林不用学英语就可以在芝加哥生活得很舒服。她在明轩粤菜馆吃饭,去香港超市买可口的萝卜糕,每周三跟妹妹一起参加华人合唱团的活动。
Recognizing the national decline of other Chinatowns, city planners and Chicago organizations are committed to investing in this one, which could be why the neighborhood is thriving. In 2013, the Chicago Metropolitan Agency for Planning announced a plan to preserve Chinatown's cultural identity by improving public education and elderly care, bolstering transportation infrastructure and creating more public parks.
芝加哥城市规划者和某些机构意识到,全国范围的唐人街都在衰退,因此致力于在这里进行投入,这可能是芝加哥唐人街繁荣发展的一个原因。2013年,芝加哥大都会规划局宣布一项计划,要通过改善公共教育和老年人护理、加强交通基础设施以及建造更多的公园等措施保护唐人街的文化身份。
And in August, the city opened a two-story, $19.1-million branch of the Chicago Public Library that has attracted about 1,500 people a day. It caters to Chinese-speaking patrons, as many residents turn to the library for English classes.
去年8月,两层楼高、投资1910万美元的芝加哥公共图书馆华埠分馆在唐人街开馆,每天吸引约1500人。这里服务于讲中文的客人,因为很多居民都到图书馆上英语课。
Chicago differs from Manhattan and San Francisco in that it doesn't have as high of a demand nor as tight of a supply of rentable apartments, according to a study released in 2015 by New York University and Capital One. But experts and city leaders agree that Chicago's Chinatown could also be thriving because of its commitment to Chinese traditions, which makes it attractive to both Asians and non-Asian visitors.
纽约大学和第一资本金融公司2015年出台的一项研究显示,与曼哈顿和旧金山不同,芝加哥唐人街对出租住宅的需求没有那么高,供应也不那么紧张。但是,专家和城市领袖都认为,芝加哥唐人街繁荣发展的原因可能在于,这里信奉中国传统,因此对亚裔和非亚裔来访者都有吸引力。
Nancy Wong, 62, moved to Chicago in 1988 from Hong Kong. She opened a flower shop on Archer Avenue, near Chinatown, and regularly visits Chinatown to work with clients. She believes Chinatown's numerous services and agencies for immigrants and Chinese speakers are what make it attractive. There are plenty of elderly housing options, employment training services and English classes. Residents' primary use of Chinese for business helps prevent the neighborhood from existing as just a tourist attraction.
62岁的南希·翁1988年从香港移民到芝加哥。她在唐人街附近的亚珠街开了一家花店,经常去唐人街服务客户。她认为,唐人街的吸引力在于有各种部门和机构服务于移民和讲中文的人。这里有很多适合老年人的居住选择,还提供就业培训服务和英语课程。居民们主要用中文从事业务,这也使唐人街避免了仅仅成为旅游点的命运。
"Some young people even work or live in Chinatown just to learn Chinese," she said.
她说:"有些年轻人甚至为了学中文来唐人街生活和工作。"