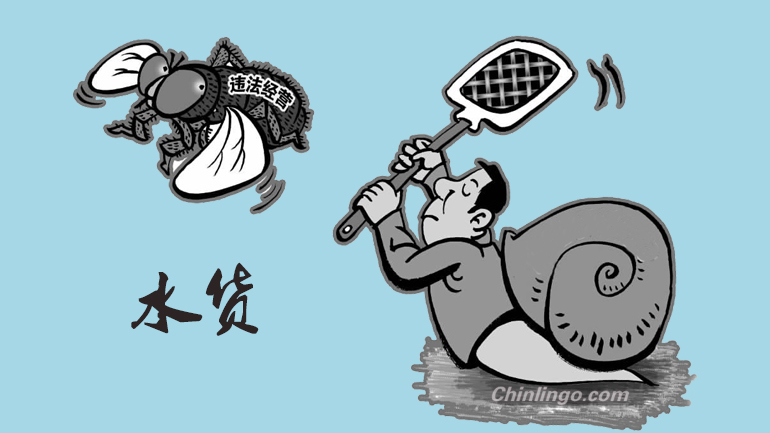 "水货" (shuǐ huò) refers to goods that are sold in a country or district by people other than the sales agents authorized by their manufacturers. It is a general name for smuggled goods and goods that are sold through the illegal channels.
水货指在某国家或地区没有经过原生产厂家所指定的销售代理而进行销售的产品,是走私物品及非正常渠道销售产品的统称。
The word originated in Guangdong, China. In the 1980s, a large number of overseas goods were smuggled into the coastal areas of Guangdong. Most of them were transported in fishing vessels. In order to protect the goods from being found by customs officers, the smugglers always kept the goods in waterproof packaging and bound them to the bottom of vessels. However, as their waterproof means were not professional, water leaked through the packaging and damaged the goods. At that time, China was just open to the world and these goods were rather cheaper than their counterparts in the market, so they were still very popular. As these goods were always provided with some quality problems after being exposed to water, they were called "水货" or "water goods" literally. It is a brief interlude in China's reform and opening-up cause.
"水货"一词来源于广东,在80年代初期,广东沿海地带走私商品很多,走私商品很大一部份是由渔船完成的,走私者为躲过海关船检查,他们经常把走私商品经过防湿包装后,绑在船底——商品贴水而行,由于防湿手段不很专业,往往有些商品进水了——但那时国门初开,老百姓觉得这些商品价格比市面上相同商品便宜多了,故而很有市场。但这类进过水的商品往往产生一些质量问题,老百姓特将这类质量问题商品称为"水货"。这也是中国改革开放30年总的历史中一个小插曲。
Nowadays, as the smuggling practice has become more sophisticated and professional, "水货" have been free from the quality problems and are no longer the token of bad quality. However, if "水货" is used to refer to somebody, it means he or she is incompetent or is more in name than in reality. "水" means "water" as a noun basically, but it can be used as an adjective now. If we say "这个人很水", it means that this guy is incapable or incompetent.
现在的走私手段高明,水货已经不会产生什么质量问题,已不是质量问题的代言词。但是如果说某个人是"水货",那就是说他名不副实,能力不够,滥竽充数。"水"原本是一个名词,现在也变成了形容词。认为哪个人没能力,就会说"这个人很水"。
When somebody is called "水客" (shuǐ kè), we mean that he or she is a smuggled goods dealer.
但是如果说某人是"水客",则意味着其专门从事水货贩运。
The article is translated and editted by Chinlingo. Please indicate the source (info.chinlingo.com) for any use, reproduction or transfer.
本文由Chinlingo编译后发布,如需转载,请标明来源:info.chinlingo.com.