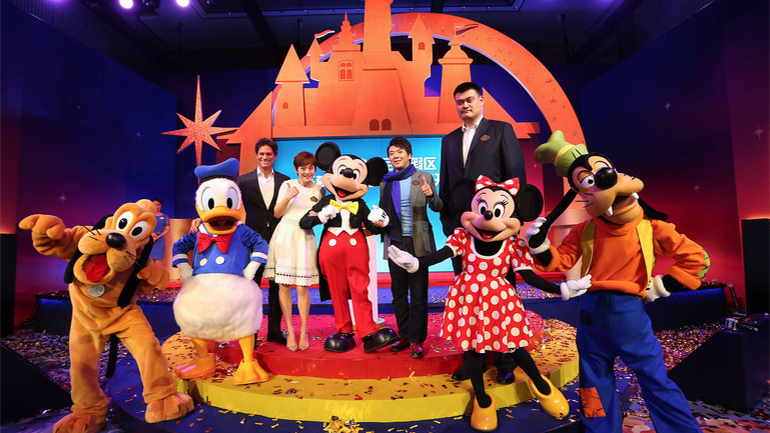 Shanghai Disneyland held an invite-only soft opening last week before officially opening its doors to the eager masses on June 16.
上周,上海迪士尼进行了试营业。今年6月16日,它将正式向期待已久的公众开放。
The China Youth Daily reported that unnamed attendees to the soft opening complained their day trip to the park – including food and souvenirs – cost 2,600 yuan ($400) per person.
中国青年报报道称,参加试营业的游客吐槽他们的一日游——包含就餐和购买纪念品,人均消费2600元(400美元)。
The average monthly income for service industry workers in Shanghai is 4,041 yuan, according to a 2016 report by the Shanghai Bureau of Human Resources and Social Security.
据上海人力资源和社会保障局2016年的一份报告,上海服务行业的人均月薪为4041元。
According to the park's official website, weekday tickets for adults run 370 yuan ($57) and weekend tickets 499 ($76) yuan. This means a family of two parents and a child visiting on a Saturday would spend 1,373 yuan ($211) before entering the gate, media reported.
媒体报道,上海迪士尼官网显示,工作日成人票价为370元(57美元),周末票价为499元(76美元)。这意味着一家三口两个大人带一个小孩星期六来游玩的话,仅门票价格就要花1373元。
Chinese media reports reflected opinions on social media that Disneyland Shanghai was not affordably priced.
中国媒体报道了公众在社交平台上的观点,认为上海迪士尼消费太高人们承受不起。
For context, ticket fees in Shanghai are comparable with other Disney parks in the region. For example, an adult one-day pass to Disneyland Tokyo is 7,400 yen ($68), their third price increase in three years, reported qq.com.
综合来说,上海迪士尼的消费完全可以与其他区域的迪士尼媲美。比如,东京迪士尼成人一日游的票价是7400日元(68美元),这已经是三年来他们第三次上调高价的结果。据腾讯网报道。
Chinese media also focused on complaints about prices in the park, such as a "deluxe edition" souvenir doll selling for 220 yuan ($33) and food costing an average 75 yuan ($11) per person.
对园内消费的吐槽也受到了中国媒体的关注。比如,"豪华版"纪念品公仔价格为220元/个(33美元),就餐价格平均约75元/人(11美元)。