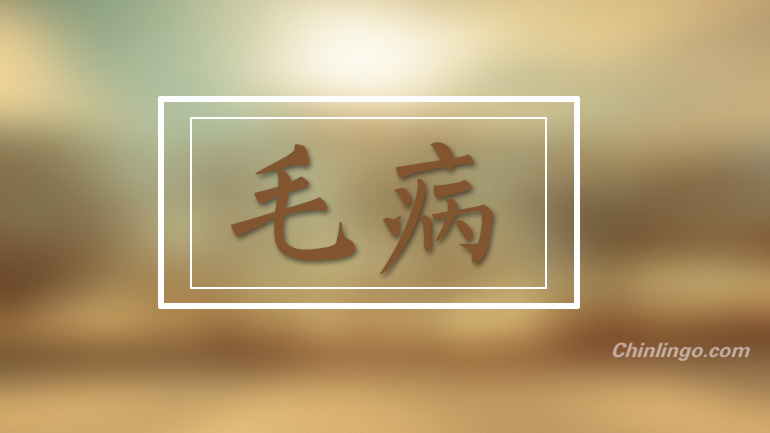 In our daily life, we often use the word "毛病 (máo bìng)" in Chinese. We can say "挑毛病 (tiāo máo bìng)" to describe someone who likes picking at others. When something goes wrong, we say "出毛病 (chū máo bìng)". The chronic diseases or bad hobbies or habits are called "老毛病 (lǎo máo bìng)". But why is a flaw or fault called "毛病 (máo bìng)"?
在我们日常生活中,常常会使用到"毛病"这一中文词。专挑别人的缺点,我们会说挑毛病;东西出现了差错、故障,就说是出毛病;长期好不了的疾病或有不良的嗜好、习惯,则叫作老毛病。那么,为甚么把缺点或错误称为"毛病"呢?
In ancient times, horses were used for dragging, loading, war and riding. Therefore, people at that time chose a horse strictly by judging from the color and shape of the hair. The word "毛病 (máo bìng)" originally referred to the flaws on the hair color of a horse, and a horse with flawed hair was of little worth.
在古代,马可以拉车、载重、作战,及供人骑用。因此,古人相马要求十分严格,首先要看马的毛色,再看马毛的形状。"毛病"一词原是专指马的毛色有缺点,而不好的价值并不高。
Later, as the demand for horses decreases, the word "毛病 (máo bìng)" is seldom used by people, and it's no longer confined to choosing a horse. It has become a word meaning a person's shortcoming or fault.
后来,人们对马的需求日减,"毛病"一词就少用了,也不再局限于相马,而渐渐成为用来泛指人的缺点,或事物的瑕疵、差错等问题。
The article is translated and editted by Chinlingo. Please indicate the source (info.chinlingo.com) for any use, reproduction or transfer.
本文由Chinlingo编译后发布,如需转载,请标明来源:info.chinlingo.com.