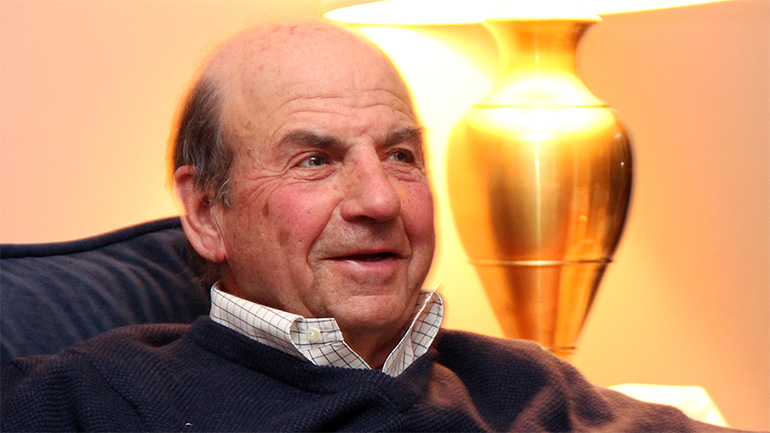 Calvin Trillin, 81, is an American famous journalist, humorist, food writer, poet, memoirist and novelist. in New York. Recently, he published a doggerel "Have They Run Out of Provinces Yet?"on New Yorker to play a joke on Chinese food, and that became an internet hit. Some people even considered the poem unfunny and prejudiced.
Calvin Trillin 是美国知名记者、幽默作家、美食作家、诗人、传记作家和小说家,今年已经81岁了。在4月4日出版的《纽约客》杂志上,他写了一首调侃中餐的打油诗《Have They Run Out of Provinces Yet?》(他们的省还有完没完?),没想到引起轩然大波。有批评人士认为这首诗很无趣且充满偏见。
The poem reads:
诗的内容是酱紫滴:
Have They Run Out of Provinces Yet?
他们的省还有完没完?
BY Calvin Trillin
Have they run out of provinces yet?
If they haven't, we've reason to fret.
Long ago, there was just Cantonese.
(Long ago, we were easy to please.)
But then food from Szechuan came our way,
Making Cantonese strictly passé.
Szechuanese was the song that we sung,
Though the ma po could burn through your tongue.
Then when Shanghainese got in the loop
We slurped dumplings whose insides were soup.
Then Hunan, the birth province of Mao,
Came along with its own style of chow.
So we thought we were finished, and then
A new province arrived: Fukien.
Then respect was a fraction of meagre
For those eaters who'd not eaten Uighur.
And then Xi'an from Shaanxi gained fame,
Plus some others—too many to name.
他们的省份到底有完没完?
如果没完的话,我们可就有的烦了。
很久以前,我们只有粤菜。
很久以前,我们很容易知足。
但是后来,四川菜来了。
于是广东菜就有点过时了。
我们对四川菜赞誉有加,
虽然麻婆豆腐会把你的舌头辣穿。
然后来的是上海菜,
我们啜起了小笼汤包。
再然后,是毛泽东的家乡湖南,
带着他们的菜来了。
我们以为差不多就这样了,然后
又有一个新的省份来了:福建。
再之后,没有吃过维吾尔菜的人,
就不怎么遭人待见了。
然后,陕西的西安菜又声名鹊起,
还有其他的省份——太多了,我数不过来。
Now, as each brand-new province appears,
It brings tension, increasing our fears:
Could a place we extolled as a find
Be revealed as one province behind?
So we sometimes do miss, I confess,
Simple days of chow mein but no stress,
When we never were faced with the threat
Of more provinces we hadn't met.
Is there one tucked away near Tibet?
Have they run out of provinces yet?
现在,每当新的省份出现,
都会制造紧张,增加我们的担忧:
每次我们发现一个新的地方,
背后是不是都藏着一个全新的省份?
所以有时候我们会怀念,我承认,
那些只有炒面而没有紧张的简单的日子,
那时我们不需要面对新的威胁,
来自我们从来没见过的省份。
在西藏附近是不是也藏着一个省份?
他们的省份到底有完没完?
The doggerel has received mixed response from media.
来自媒体的评价褒贬不一。
– Calvin enjoys Chinese food, but gets frightened by the huge variety of Chinese food. He wrote the poem to show his confusion about the names of the provinces.
有媒体这样分析这首诗:"这首诗的主角很喜欢吃中国菜,但是又被中餐的丰富多彩给吓坏了。在诗的第一句他问,"中国的省份到底有完没完?"他很困惑,因为这些中国省份的名字很难分清楚。
– The poem reflects the arrogance of a white viewing the cultures of other ethnic groups in an egocentric way.
也有华裔对这首诗提出了严厉的批评。他们总体的观点是,这首诗体现了一个白人站在白人文化中心去审视少数族裔文化的傲慢。
– What's it? Chinese cuisine in the eyes of a white? Hey, you're not Columbus, China isn't the continent you discovered. (Karissa Chen, American born Chinese)
一位名叫Karissa Chen的华裔说:"这是什么?一个白人眼里的中国菜系?兄弟,你不是哥伦布,中国也不是你发现的新大陆。"
– Calvin is not a racist. He's not mocking at Chinese food, instead, he's mocking at some whites themselves. (Samuel Cohen, a professor from the University of Missouri)
他也不是一个种族主义者,又这么聪明,不可能这么直白地写这样种族主义的诗。作者的真正用意恰恰是在反讽那些白人。
"Simply a joke by a bourgeois foodie", Calvin Trillin himeself told The Guardian.
"只不过是向迷恋食物的资产阶级开的一个玩笑"。
The article is translated and editted by Chinlingo. Please indicate the source (info.chinlingo.com) for any use, reproduction or transfer.
本文由Chinlingo编译后发布,如需转载,请标明来源:info.chinlingo.com.