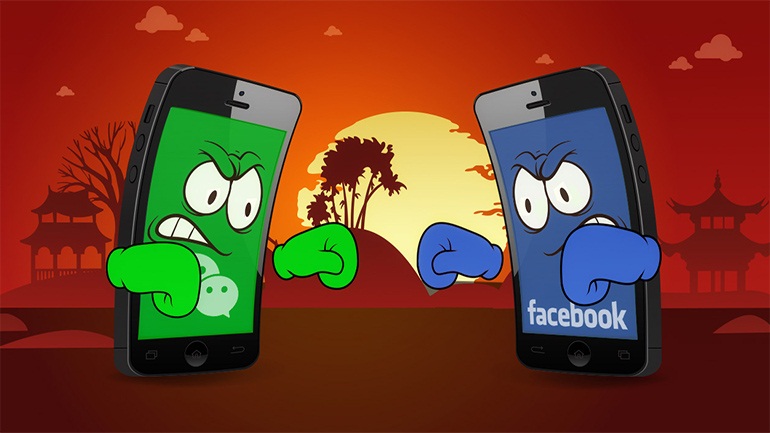 Chinese social media platform WeChat is better for marketers than Western offerings such as Facebook, the chief executive of Havas, a top advertising firm, told CNBC on Monday.
据美国财经新闻频道CNBC4 月18日报道,全球顶级广告集团哈瓦斯(Havas)CEO亚尼克·博洛雷(Yannick Bollor),对商人来讲,微信这一中国社交媒体平台要比脸书(Facebook)等西方平台好得多。
WeChat is owned by Chinese internet giant Tencent and boasts 700 million monthly active users, according to data tracker Quest Mobile. It is the dominant messaging service in the world's second-largest economy.
微信为中国互联网巨头腾讯旗下的一款软件,根据数据服务公司贵士移动(QuestMobile)的数据显示,微信月活跃用户达7亿,为中国主流通信软件。
The app allows people to text and voice call each other, make payments, and interact with "bots" – a similar feature to what Facebook unveiled last week.
通过微信,用户可以发信息、语音通话、付款,还可与"机器人"互动,而脸书上周才发布了类似"聊天机器人"的功能。
The ability to make payments and even book restaurants means WeChat has become a big part of Chinese phone users' lives.
鉴于微信有付款和餐馆预定的功能,该软件很可能占据中国手机用户的大部分生活。
For marketers looking to advertise to Chinese consumers, this is attractive.
对于想要在中国市场投放广告的商人来说,微信的吸引力十分巨大。
"Social platforms are very important in my industry. I would say that the best social platform in the world for me is WeChat, it's much better than the Facebooks of the world," Yannick Bolloré, the chief executive of Havas, told CNBC in a TV interview on Monday.
在18日CNBC的电视采访中,博洛雷表示:"广告行业中,社会平台至关重要。对我来说,世界上最好的社交平台是微信,它比脸书等社交平台要好得多。"
"We always say that Chinese people are very good at copying. Now they are very good at creating things, it could roll out one day eventually in the rest of the world," he added.
"我们总说中国人擅长抄袭,但现在看来,他们也善于发明。可能有一天,微信会风靡全世界。"博洛雷补充说。
Bolloré's comments were part of a wider discussion about the Chinese economy, in which the head of the French company said China was still attractive for businesses.
一直以来,中国经济一直被广泛讨论着,博洛雷的评论也对其中一部分。这位法国公司的管理者表示中国仍是一个十分具有吸引力的市场。
"If you look at China in the last 20 years, it's by far the most impressive recovery story for a country. And we still have only a few portions of Chinese people that have accessed the Middle Class, and it's already a booming economy," Bolloré said.
"如果你看最近20年的中国,它是至今为止最引人注目的经济复苏。而目前进入中层阶级的中国人只是一小部分。但是中国的经济正在继续走向繁荣。"
"If you imagine in the future, more and more people will join the Middle Class in China – for me China will continue to grow in the next decade at a very high rate."
"可以想见,未来中国将会越来越多的人加入中层阶级的行列——我认为,在未来十年内,中国经济仍然会以高速继续增长。"
Havas is one of the world's largest advertising and communication companies, with a market capitalization of around 3 billion euros ($3.4 billion).
哈瓦斯是世界大型广告和传媒集团,其市场资本达30亿欧元(约合人民币220亿元)。